3 Tips To Care For Your Kitchen Cabinet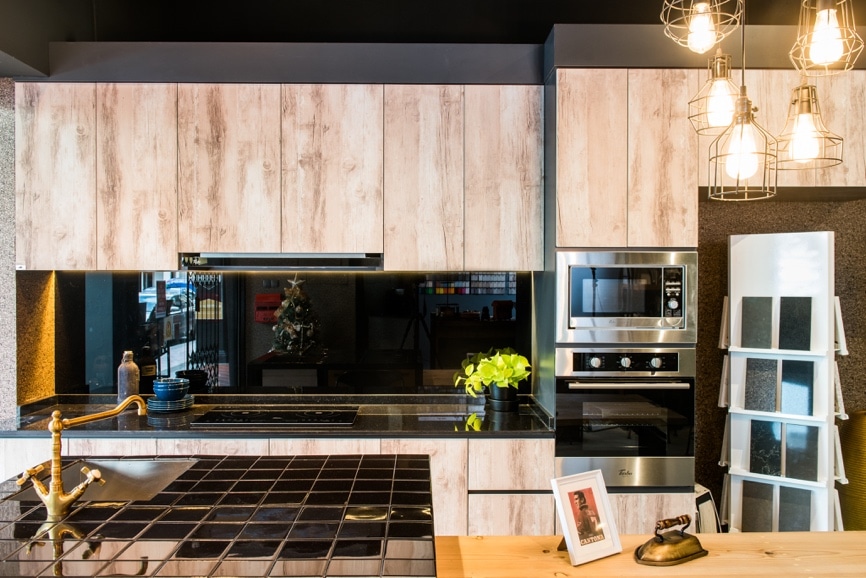 Featured laminates: PJ2257WY (Woodgrain), RP2192T (Dark grey)
Kitchen cabinets are one of the few furnishings in your house that can be irreplaceable for a long time, provided that you take good care of them. Not only that, it's where you cook up a scrumptious meal for yourself or your family, brew a cup of coffee or tea to start your day, or bake some cookies.
Aside from being a space for food preparation, the cabinets contribute to the overall appearance of your kitchen, which makes a great conversation starter when you have guests around. Besides, it provides storage for you to keep all your pots and pans for a clutter-free kitchen.
While you serve all the good stuff from this dynamic space, it can be a breeding ground for house pests if you exclude regular cleaning and maintenance from your daily to-do list. Regular cleaning helps to prolong the lives of your kitchen cabinets to ensure it stays sleek and stylish for days to come. With a variety of tips sprawled on the web about how to care for your kitchen cabinets, we've decided to make it simple by curating three tips to help you maintain your laminated kitchen cabinets.
Choose your cleaning materials wisely
Laminated kitchen cabinets are much easier to clean than traditional wooden cabinet as the surface doesn't have wood grains that absorb dirt and grease. You can use natural and commercial cleaning products, but be sure to avoid abrasive products to protect the laminate's finish.
Avoid using any type of cleaning product that contains harsh abrasives and chemicals such as petroleum solvents, wax base, silicone base, powder bleach, glass cleaner, spray cleaner, citrus cleaner, scouring pads, magic erasers, and ammonia. These products can leave scratches and residue on the laminate's finish.
Use gentle cleaning products such as a microfiber cloth and mild dish soap to clean the surface of your laminated kitchen cabinets. You can also use water, but avoid soaking-wet cloth as too much water can damage the laminate. After that, use a clean and dry cloth to remove any remnants of water from the surface.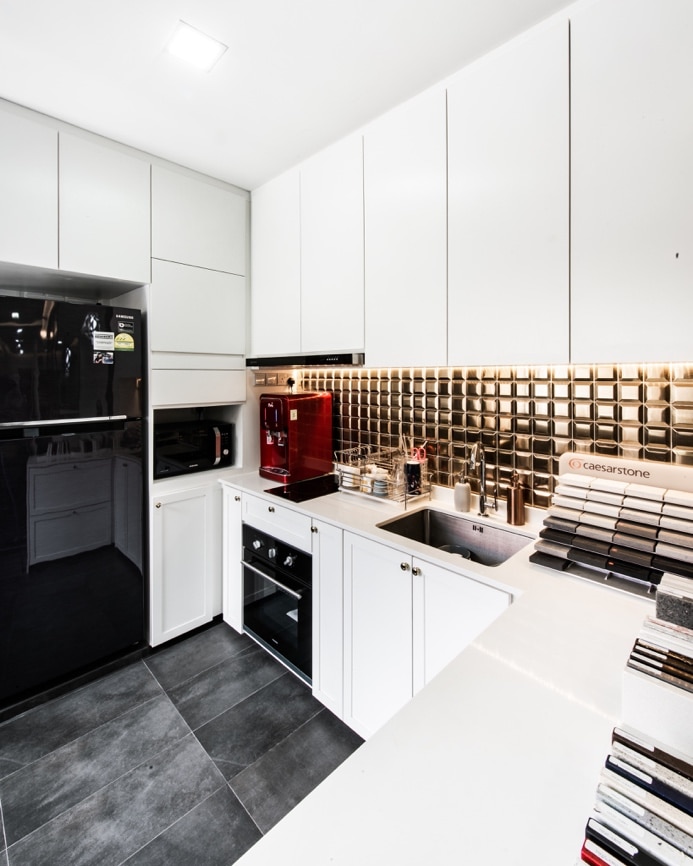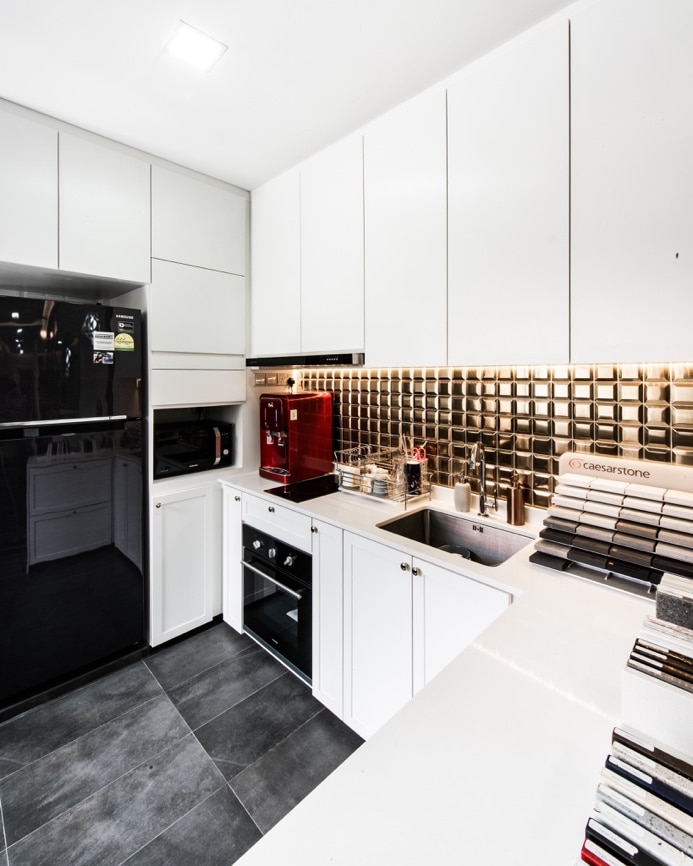 Keep your cabinets clean from dust & spills
Keeping your laminated kitchen cabinets clean is probably the easiest as the material responds well to natural and commercial cleaners, aside from the regular maintenance.
However, dust can still accumulate on your kitchen cabinets as a result of the constant ventilation in your home. You can keep them from collecting dust by regularly wiping down the surfaces with microfiber cloth. That way, you can prevent unwanted visitors (pests) from making a home in your kitchen.
Aside from dust, any type of spills may alter the appearance of your laminated kitchen cabinet if you don't clean it instantly. Take white laminated kitchen cabinet as an example. The grease and oil splashes might leave a stain which sticks onto the surface. Luckily, you can clean them with vinegar, baking soda or lemon. Remember to always wipe off the surface with a clean and damp cloth.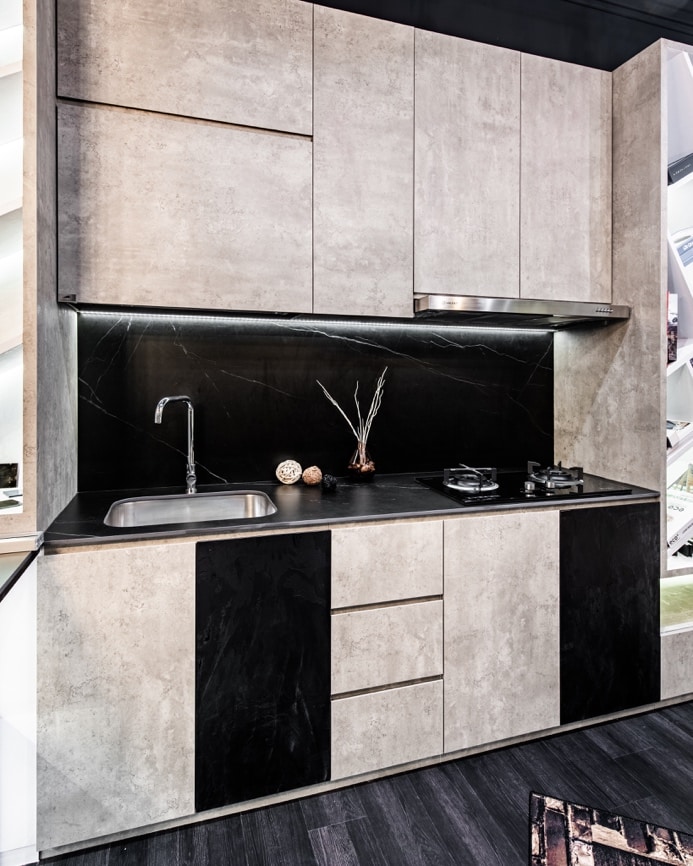 Select a proper finish for your cabinets
Laminates come in an array of finishes – smooth, textured, high gloss, matte, and metallic. Each of these finishes has its benefits and can do the work of preserving the life of your cabinets.
Some of the finishes are also scratch resistance which makes cleaning quick and simple. Take our Advance Surface Technology (AST) collection as an example. The glossy and high scrub resistance will ensure your kitchen cabinet stays free from scratches. But, this doesn't mean you can use a scouring sponge to clean the surfaces.
Besides, the multiple layers of high pressure laminates can ensure that your kitchen cabinets stay free of mould and mildews. With a high resistance to moisture, bacteria cannot proliferate on your laminated kitchen cabinets, giving you an antibacterial space to work at.
Caring for your laminated kitchen cabinets goes a long way to ensure their long-lasting appearance. At Jennings Laminates, we offer a wide variety of laminate sheets to give you an irreplaceable kitchen cabinets. Among the type of laminates we have are technology-integrated surfaces, marble, industrial and colours.
View our full catalogue for more options and inspirations for your kitchen!