Choosing the Best Kitchen Cabinet Finish: Acrylic or Laminates?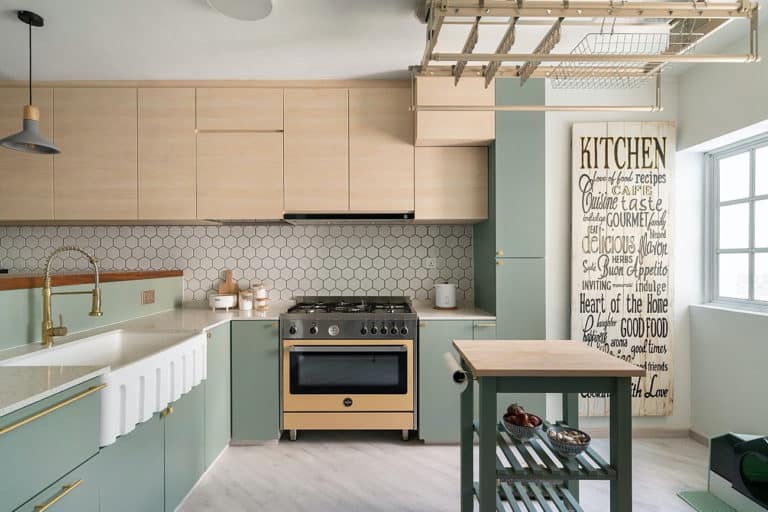 Choosing the best finish for your kitchen cabinet can be a difficult task. There are many different options to choose from such as acrylic, wood and surface laminates in Singapore, etc., and it is hard to know where to start.
After all, your kitchen cabinet's finish is what adds aesthetic value to it, giving your kitchen a unique personality. However, it is important to know that not all finishes are made equal. The differences in quality can impact how long your cabinets will last and how they look.
That said, acrylic and laminates are among the most popular finishes for kitchen cabinets but they differ in terms of visual appeal, durability, and pricing. Here's what you need to know about these finishes before deciding on one for your kitchen.
What is Acrylic Finish?
Acrylic is a type of finish similar to lacquer, which is non-toxic with a reflective high gloss finish that can give your kitchen cabinets a smooth appearance. It is available in a wide range of colours with a scratch-resistant surface that renders your kitchen a flawless look.
Meanwhile, high-gloss acrylic kitchen cabinets are usually made out of MDF board or hardwood, which is usually covered with acrylic sheets in the preferred colour and pattern to achieve your desired look.
Pros of Acrylic Finish Kitchen Cabinets
If you ever decide to choose an acrylic finish for your kitchen cabinets, here are the benefits of it:
Acrylic is available in various colours that can make your kitchen cabinet appear glossy always while retaining its colours and brightness for many years to come.

Acrylic cabinets can give your kitchen a sophisticated look, making it appear classy and chic.

An acrylic finish is made of plastic resins, which makes the upkeep simple as you can clean them with plain water.

It is highly resistant to moisture and heat, and is non-toxic and anti-bacterial, making it safe for kids and pets.
 

Cons of Acrylic Finish Kitchen Cabinets

 

Despite the benefits above, acrylic finish kitchen cabinets also have their drawbacks:
Its glossy finish can reflect the tiniest speck of dust, dirt, or grime on your kitchen cabinets, which means it requires regular cleaning and maintenance.

Its premium look can sometimes come at a high cost, depending on the gloss level.

You will need to be gentle with the kitchen cabinets because acrylics are susceptible to scratches.
What is Laminate Finish?
Laminates are the most common finish for kitchen cabinets as this surfacing material is made by pressing thin layers of kraft papers with plastic resins under high temperature and pressure. The top layer is usually printed with colours and decorative patterns.
They are often known as high-pressure laminates and in some cases, low-pressure laminates, depending on their manufacturing process.
Pros of Laminated Kitchen Cabinets
Like acrylic, laminates offer some of the following benefits for your kitchen:
They are available in various colours, textures, and finishes such as matte, high-gloss, and natural textures like marble and wood.

They are more affordable compared to acrylic finishes. This is because laminates are produced to mimic real materials such as marble and wood surfaces.

They are easy to maintain as laminates can be cleaned with a damp cloth.

They can withstand better levels of wear and tear compared to acrylic.
Cons of Laminated Kitchen Cabinets
While there are several advantages of using laminates on your kitchen cabinets, they too have their drawbacks.
Due to its composite structure, laminate for kitchen cabinets can never be refinished. Once it has worn out, the surface laminate must be replaced.

Laminates are resistant to moisture and water but if the edges or sides aren't sealed properly, the wood can warp over time as the water penetrates the plywood.
By the looks of the pros and cons between the two finishes, choosing laminates over acrylic finishes for your kitchen cabinets is likely your best option. This is because you get to reduce the emission of VOC while having a kitchen that's uniquely yours.
Besides, you get to do it based on your budget range as laminates are more affordable than an acrylic finish. Plus, laminates are easier to maintain than acrylic.
If you're looking to install laminates for your kitchen cabinets, you can reach out to us at Jennings Laminates! We offer a wide variety of laminates to give you the real deal at a more affordable price. View our full catalogue for more options and inspirations for your interior!