Modern Marble Laminates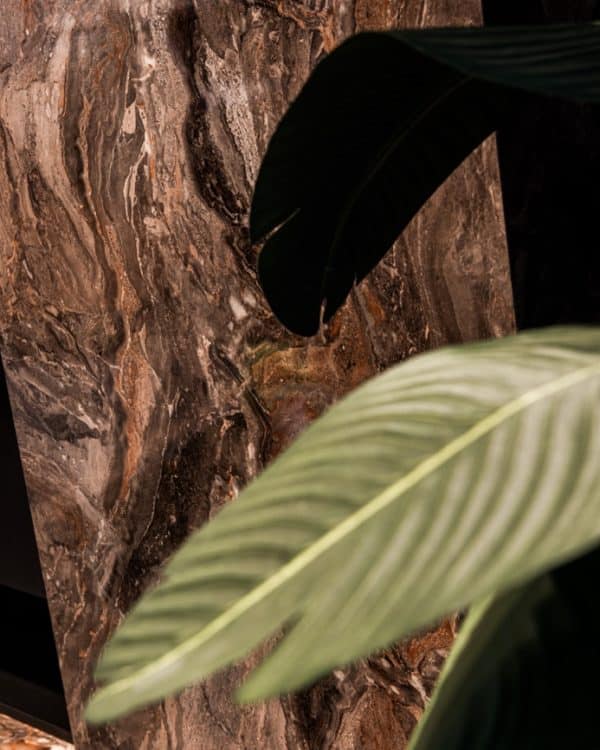 Since ancient times, humankind has had an ongoing love affair with all things marble, especially when it comes to interior design and home décor. Up till today, the use of this luxurious material shows no sign of waning.
Thanks to modern technology, everyone including you can now have marble elements in your home without the hefty cost and extra weight. Instead of the original marble stone, marble laminates allow homeowners the sheer convenience of creating a stylish-looking home without breaking the bank or back.
As the kitchen gradually becomes a part of many open-concept living spaces, it makes great sense to pay attention to its aesthetics. Besides, you'll be the one to cook up a scrumptious meal for yourself or your family in a kitchen with a countertop that looks utterly modern and luxurious.
 So, if you love the upscale modern luxury look of show units, what's stopping you from recreating them into your home? Ahead, we're sharing some tips for you to use marble laminates in your home.
Tips on Using Marble Laminates
When it comes to choosing a marble laminate for your home, there are many ways for you to mix and match it with other materials in your house. Take a look at how it transforms the spaces below.
Create a Luxurious Living Room
As most of Jennings' marble laminates come with a glossy finish, you can use them to create a luxurious feature wall that adds some sophistication to the room. Also, it helps to create a focal point among other elements in the room. Just take a look at the living room pictured above. The wall-hung TV on the Grey Stone marble feature wall is backlit with white light, causing the room to appear cosy and cooling at the same time.
Add a Touch of Sophistication
Marble laminates can add a touch of style anywhere in your home, be it in the living room, bedroom, kitchen, or bathroom. That said, it can also be used as the headboard of your bed. Take the bedroom pictured above as an example. With a monochromic theme, the white core marble laminate helps to add class to a seemingly bland-looking bedroom.
Bring Modern Luxury into your Kitchen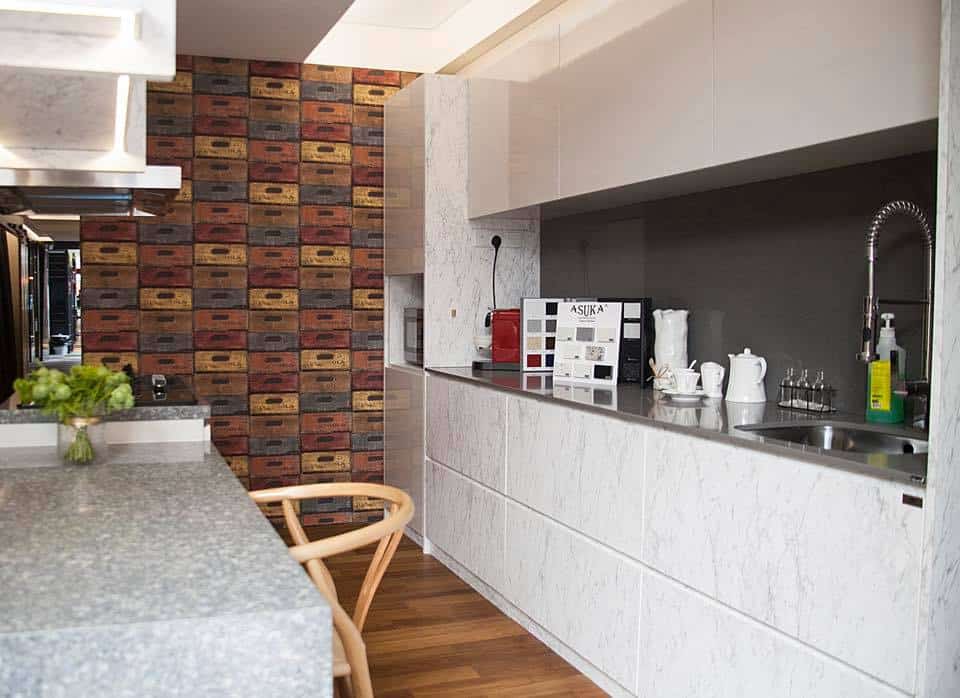 The simple white marble laminate of this kitchen cabinet is matched up with grey laminate to create a neutral palette with a hint of luxury. Also, the colourful sidewall helps to make the kitchen appear more lively.
Transform Simple Home Décor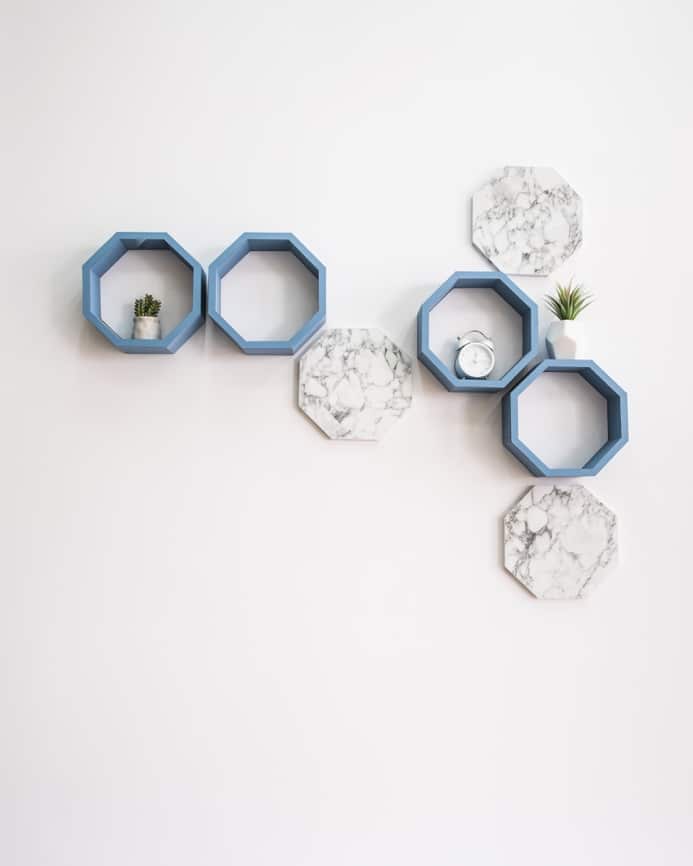 Not only are marble laminates suitable for use in the living room, bedroom, and kitchen, it's also apt as your home décor. Depending on the theme of your interior, you may have some constraints about adding marble to your home.
So don't fret if you can't create a marble feature wall or use them as your headboard as you can always incorporate them in the form of tiny home décor like the one pictured above. It's fairly simple and stylish.
 Is Marble a Good Choice for Countertops?
Definitely! Aside from adding subtle luxury to your kitchen, Jennings' marble laminates can help you achieve the kitchen aesthetic you crave as well as make your space appear more classy and stylish. Also, it has major benefits over the real stuff.
Affordability
Marble is a natural stone that's known to be notoriously expensive. Some can afford the real stuff but it can be prohibited for use in renovation projects based on the government's rules and regulations. Jennings' marble laminates, however, are available for a fraction of the cost, allowing anyone to incorporate marble into their homes.
Ease of Installation
Jennings' marble laminates are easy to install if you let your interior designer find the right hire to complete the job. Real marble, on the other hand, requires wit and manpower as the real stuff is likely to be heavier than any of your marble laminate combined.
Cleanliness
Unlike real marble which has a porous structure, Jennings' high-pressure marble laminates are highly durable against scratches, impacts, and water infiltration thanks to its non-porous structure. That way, you can use a slightly damp cloth to wipe the surface to keep it clean.
Marble Cleaning Tips
When it comes to maintaining your marble laminate countertop, it's important to know how to clean it the right way to keep it looking stylish. The best way to keep them clean is to wipe the spills immediately as the longer it stays on your countertop, the more likely it is to stain.
For your daily cleaning, use a soft cloth with mild liquid detergent to remove all the food grease and grime. That way, it won't lead to unsightly build-ups. Avoid using too much water on your kitchen counter, especially near the seams as it can penetrate and cause your marble laminate to swell and crack.
To remove stains from your kitchen countertop, mix a bit of baking soda with a mild household cleaner and apply them to the spot. Let it sit for a few minutes before you rinse the spot with a soft cloth. Another way you can remove the stains is to rub the spot with a cotton ball moistened with bleach. Make sure to rinse and dry the spot afterwards.As an affordable alternative for your home's interior, marble laminates can enhance any space with their stylish appearance and clean lines. At Jennings Laminates, we offer a wide variety of marble laminates to give you the real deal at a more affordable price. View our full catalogue for more options and inspirations for your home!