All About Laminates: Types, Price & More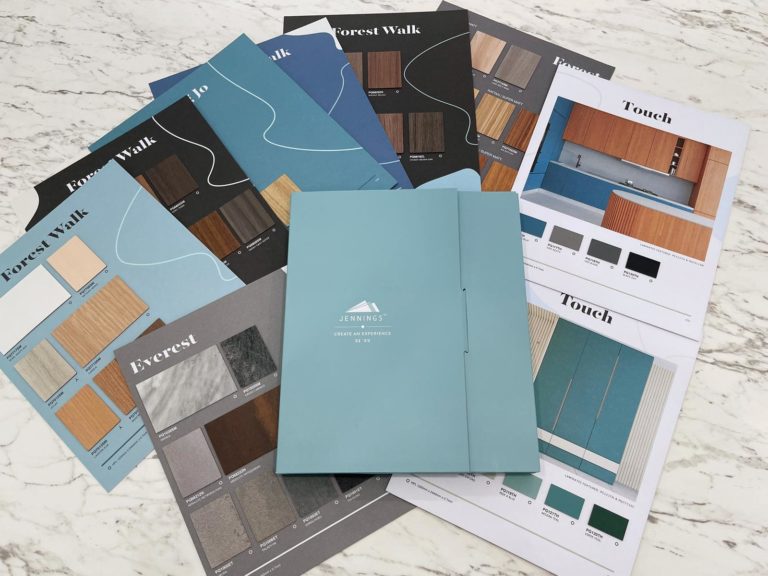 As the most widely used surfacing materials in Singapore, laminate sheets are suitable for both residential and commercial space makeovers. This is because they can be used to enhance the appeal of numerous types of surfaces, including on walls and furniture.
Not only do they offer a great way to beautify your space, but they also provide strength and protection to your property's elements. After all, laminate sheets are available in a wide range of options, making them ideal for horizontal and vertical applications.
In this article, we will discuss the different types of laminate sheets, their sizes, colours and patterns, finishes, pricing, and lastly, maintenance. So, read on to learn all about laminate sheets.
Types of Laminate Sheets
There are several types of laminate sheets – all produced under varying conditions such as temperature and pressure for numerous purposes such as decorative, industrial, and interior design purposes.
1. Decorative laminate sheets
As the name suggests, decorative laminate sheets have a greater aesthetic appeal in terms of their finishes and patterns.
2. High-pressure (HPL) and low-pressure laminate (LPL) sheets
Differing from the previous type of laminates, HPL and LPL are produced under different pressures with which the laminate is applied on a substrate. Also, High Pressure Laminate is widely preferred compared to LPL due to its exceptional durability and impact resistance.
3. Post-formed laminate sheets
Different from most laminate sheets, post-formed laminate sheets are a grade of laminates that are thinner and more flexible than conventional horizontal laminates. They are commonly used for wrapping the edges of counter tops, tables, and columns.
4. Compact laminate sheets
Unlike the laminate sheets above, compact laminate sheets offer strong, water-resistant properties that can be used for a range of residential and commercial applications, from interior wall paneling to outdoor furniture. The laminates are also made to be of varying thickness and need not be glued to any other material.
Sizes of Laminate Sheets
Depending on the type of application, laminate sheets are available in a variety of sizes such as sheets, panels, and boards. For decorative purposes, most of Jennings' laminates come in standard sizes of 2440mm (length) x 1220mm (width) x 0.7mm (thickness).
Should you require much larger sizes of the laminates available, you can opt for the panels and boards. This will be much easier to apply and reduce the appearance of unsightly joints between the laminates.
Colours and Patterns of Laminate Sheets
Thanks to the latest manufacturing technology, laminate sheets are produced to resemble a wide range of building materials such as stone, marble, and wood. After all, these materials are generally expensive, especially those of high quality.
To make these surfacing materials accessible to many, laminate sheets are produced as inexpensive alternatives which have also given rise to a wide selection of colours and patterns. This allows many homeowners to create their desired interiors without breaking the bank.
Not only do they come in various natural patterns, but laminate sheets are also available in bright colours and fun motifs like our Hello Kitty laminate sheets that are loved by many.
Finishes of Laminate Sheets
Like the previous point, laminate sheets also come in a range of finishes such as matte, glossy, textured, and solid colour. However, the most common finishes used in interior designs are smooth, medium to high gloss, and matte finishes.
1. Glossy finish laminates
When a laminate sheet has a glossy label to it, you will find that it gives off a shiny, glossy effect on the surface. This results in a luxurious look and often makes the furniture or room appealing and inviting. In general, these laminate sheets are easy to clean.
2. Matte finish laminates
In contrast to glossy finish laminates, these laminates are not shiny, hence giving off a muted effect on the surface. However, laminate sheets with a matte finish tend to make marks and scratches less noticeable, making them the perfect surfacing material in the kitchen.
3. Textured finish laminates
As the name suggests, textured finish laminates allow you to feel the texture on its surface. They are a kind of decorative laminate that enhances the surroundings by creating impressive impacts on the sensory and visual. Generally, these laminate sheets are often used for feature walls and wardrobes in homes, wall cladding in corporate offices and commercial spaces.
4. Solid colour laminates
These laminate sheets are the most common in which the entire laminate has one solid colour without any print or texture to it. For this reason, solid colour laminates are best suited for use to match with wood or marble design laminates.
Pricing of Laminate Sheets in Singapore
Laminate sheets are produced as an alternate surfacing material for natural materials such as wood, stone, and marble. For instance, wooden laminates are inexpensive when compared to solid hardwood. Therefore, you can expect that the pricing of laminate sheets to be much lower than expected.
However, this also depends on the type of laminate and its texture and finish. For a better estimate of laminate sheet pricing, it is best to contact your preferred laminate supplier in Singapore.
Maintaining Laminated Surfaces
While high-pressure laminates are generally easy to clean and maintain, it requires minimal cleaning effort to ensure that they last a long time. Simply use a microfiber cloth that's slightly damp for daily cleaning and combine with a glass cleaner for occasional cleaning.
Avoid using abrasive cleaners or steel wool scrubbers as this can damage the laminated surfaces. You should also protect the laminated surfaces from prolonged exposure to water and heat as moisture can seep into the layers and damage the laminate from the inside out.
With that, you've learned all you need to know about laminate sheets. If you're looking to install laminate sheets for your residential or commercial project, you can reach out to us at Jennings Laminates!
We offer a wide variety of laminate sheets to give you the real deal at a more affordable price. View our full catalogue for more options and inspirations for your home!