Bring Out the Beauty of Your Kitchen with Laminate Kitchen Cabinets
Back in the day, kitchen cabinets and their doors were made from solid wood, which explains the weight and durability of old kitchen cabinets. Today, we are lucky enough to have the technology that allows us to create lighter yet durable kitchen cabinets using high-pressure laminates (HPL).
It is a game-changer for designers, contractors, and of course, homeowners like you because you can choose from a wide range of laminate sheets for your kitchen such as wood grain, marble, industrial, solid colours, and more. Besides, laminate kitchen cabinets typically cost less than natural materials like stone and solid wood.
So whether you are renovating your current kitchen or designing your new home, laminate kitchen cabinets can bring out the beauty of your kitchen while minimising the costs that go into your home renovation or design project.
That said, let's discover some of the tips for selecting the right high-pressure laminate for your kitchen cabinets as well as the process of refacing your kitchen cabinets.
Tips to Finding the Right Laminates for Your Kitchen Cabinets
It is easy to be overwhelmed by the sheer variety of high-pressure laminates for your kitchen cabinets. Thus, the following are some things you should keep in mind when making your selection for laminate kitchen cabinets.
1. Choose your laminate colour with care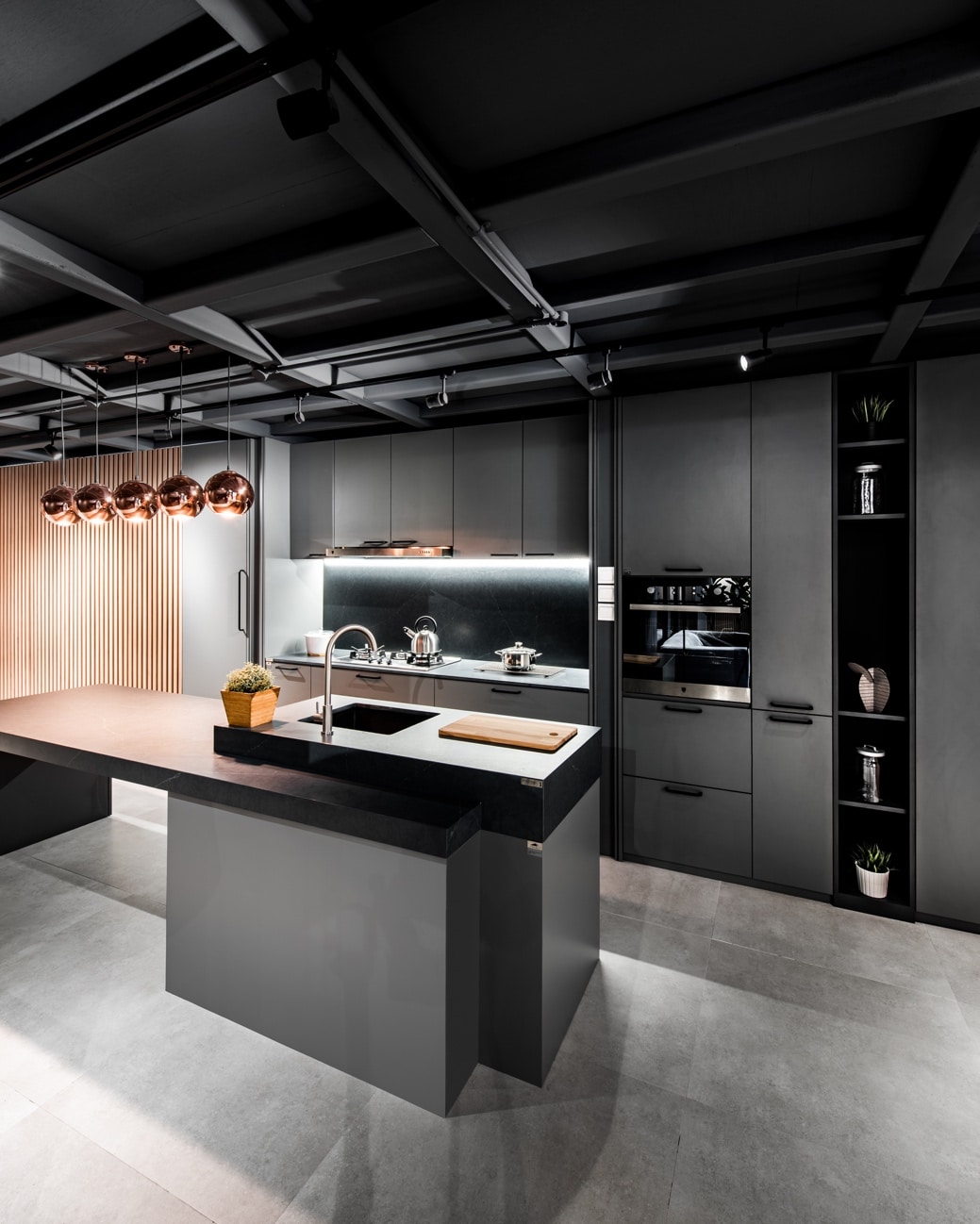 Featured laminates: RP2189T (Cloud Grey), RP2193T (Mouse Grey)
The colour(s) you pick will play a large part in the overall aesthetic of your kitchen. For instance, the kitchen pictured above uses three colours to bring out the beauty of grey hues with a tone of rose gold which makes the kitchen appear simple yet spacious.
If you already have a theme for your home, you will need to choose the colour(s) of your laminate wisely to either match or complement your home interior. Also consider the size of your kitchen, the amount of natural light it receives, your cooking style, and your taste when making your colour selection for a laminate kitchen cabinet.
2. Opt for high-pressure laminates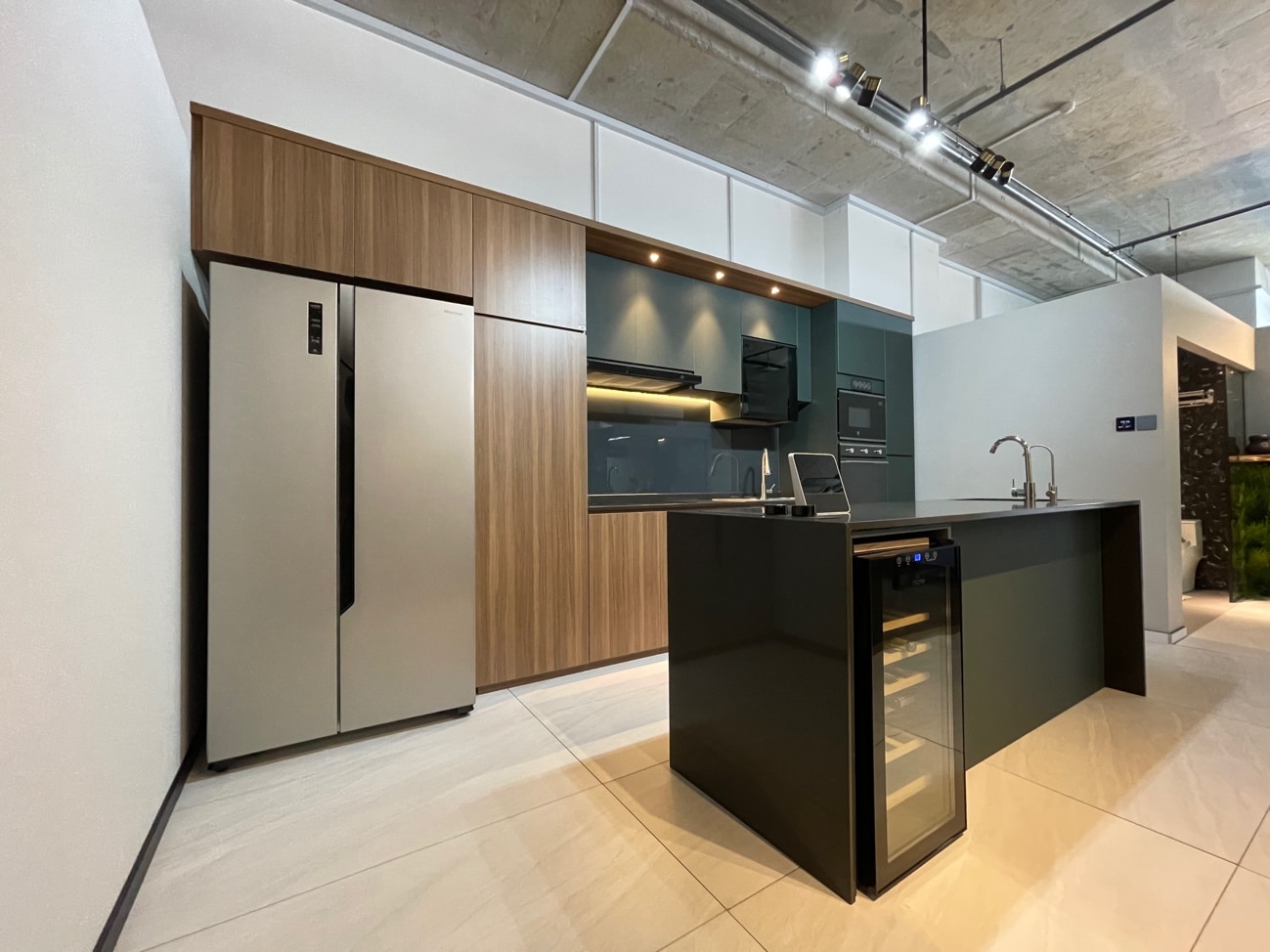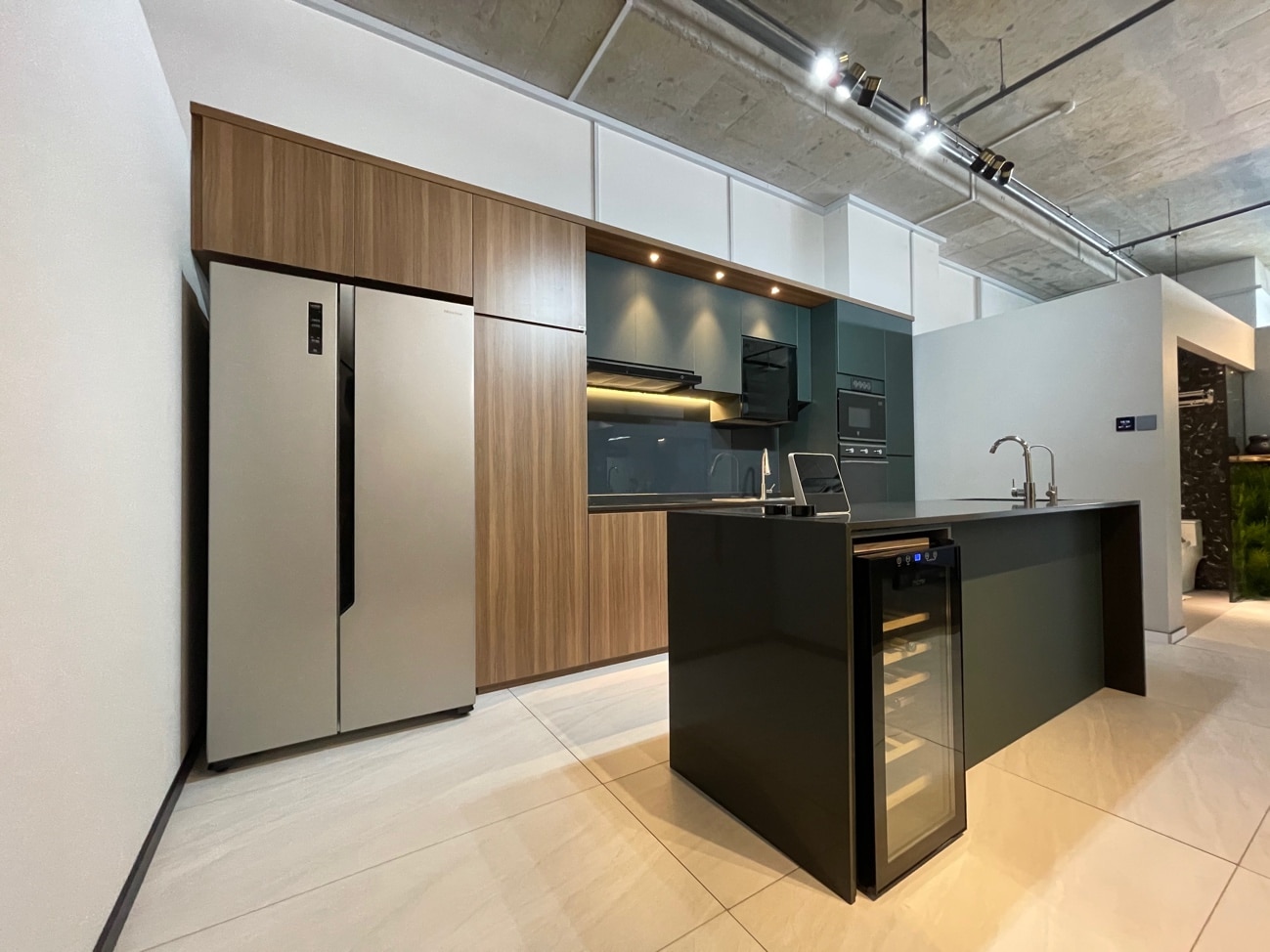 Featured laminates: PH1555T (Wood grain), PK058CT (Green Clean Touch)
High-pressure laminates are created through a multi-step process that involves pressing layers of resin-impregnated kraft paper, decorative paper, and a clear overlay together under high pressure and high temperature to produce laminate sheets. Hence, the exceptional durability and impact resistance of most high-pressure laminates.
For these reasons, high-pressure laminates like the ones pictured above are suitable for use in your kitchen as every surface must be able to withstand occasional heat and moisture. However, prolonged exposure to water and dampness is not advised as this can damage your laminate kitchen cabinets over time.
3. Look for anti-bacterial laminates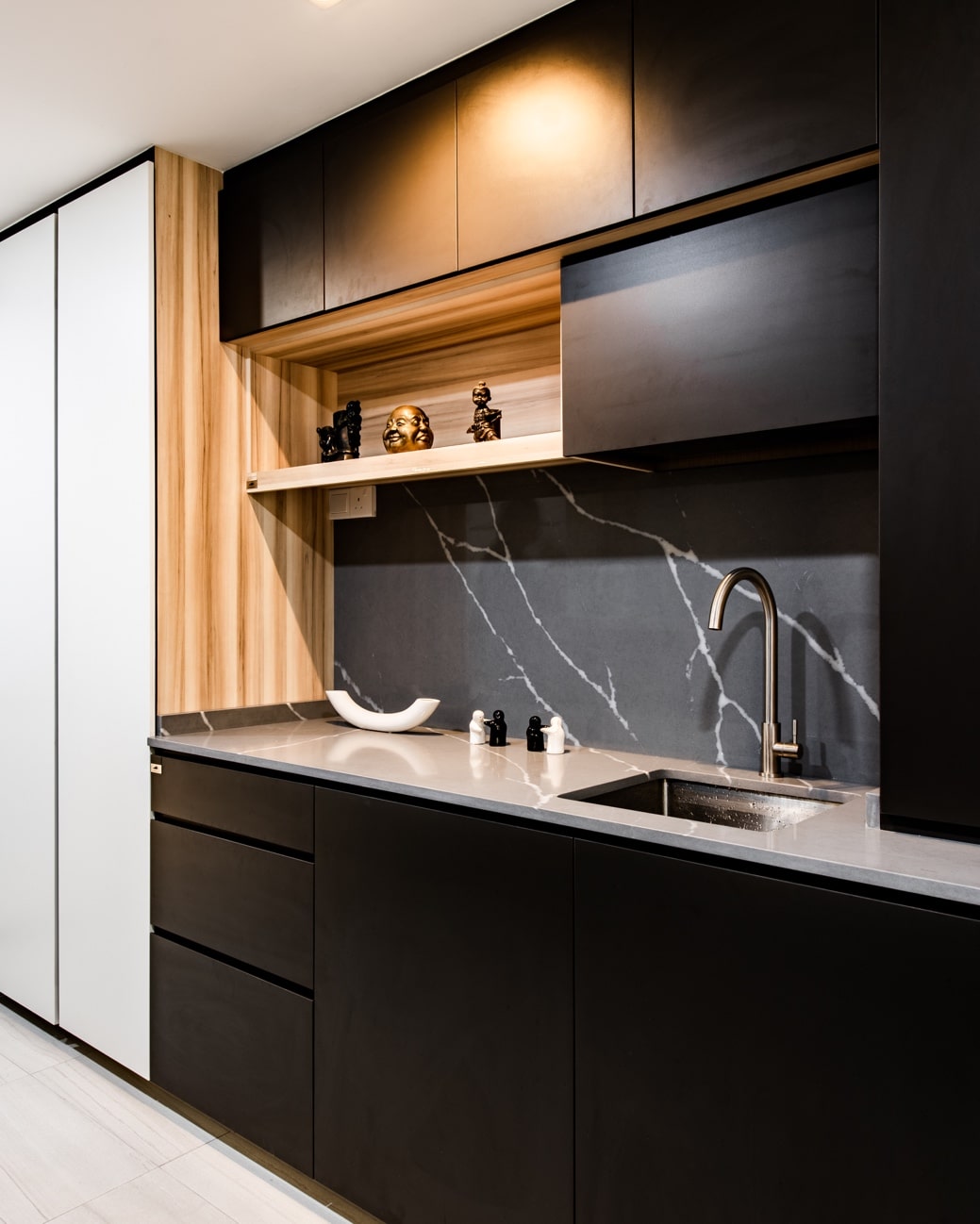 Featured laminates: WPL2902S (Wood grain), RP2174T (Graphite)
4. Get edge banding for your laminates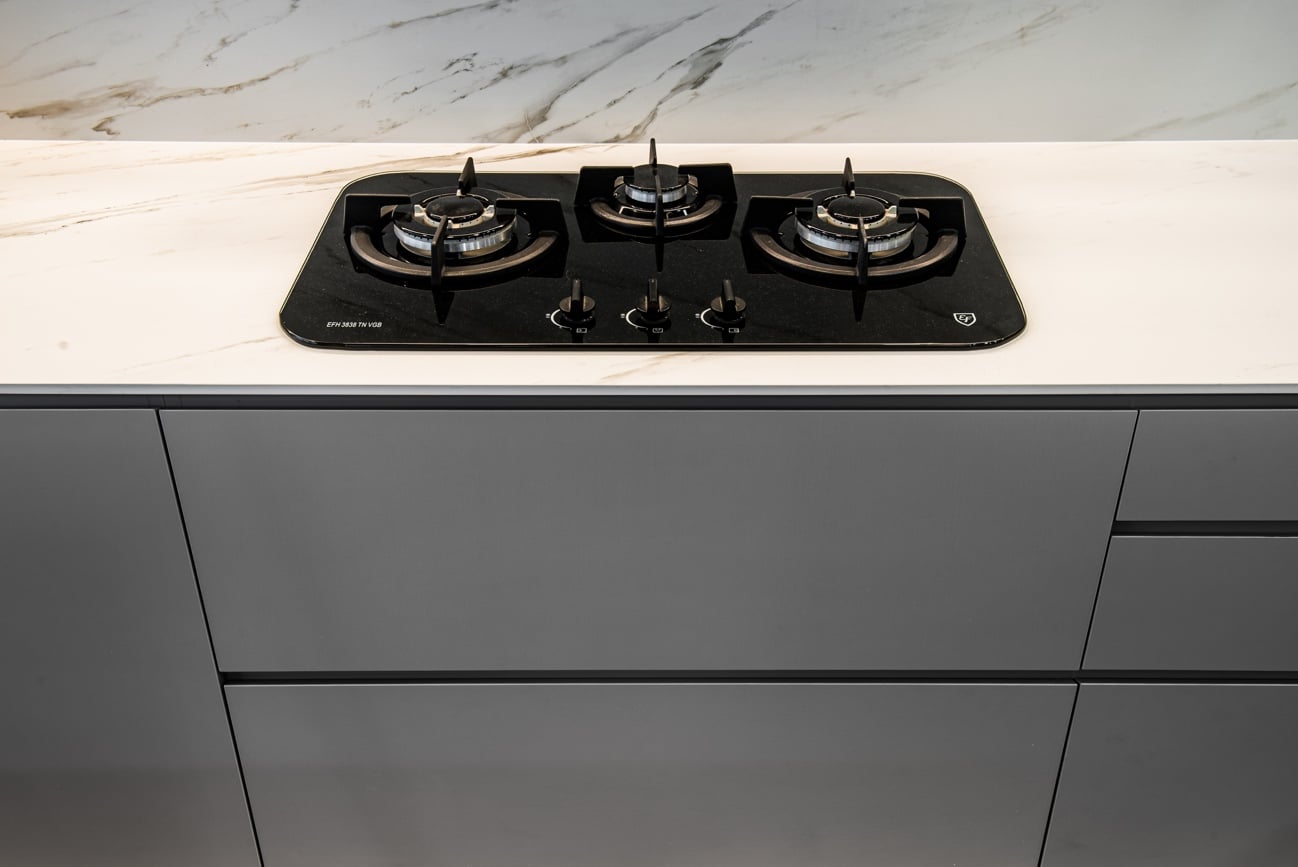 Featured laminate: RP2108T (Fog)
Regardless of the laminate, you choose for your kitchen cabinets, they will usually have an edge-banded finish that seals the exposed sides of your laminates. This gives your kitchen cabinet a neat look as well as adding to the dimensional stability of your laminates.
Besides, the edge band seals the surfaces of your laminate shutters to protect the core material from humidity. In some cases, the selection of edge band depends on the thickness and colour of your laminate selection.
Update Your Old Kitchen Cabinets
If you are looking to give your kitchen a style makeover, you will likely make some changes to the look of your cabinet. Or perhaps your old kitchen cabinets hold a sentimental value to you and you just want to update their appearance. One way you can do so is to install laminates.
While laminate sheets are flexible, they often require professional installation as it can get tricky when it comes to cutting the laminates. If your kitchen cabinets have curves, the professionals will know what to do and how to execute the cutting to ensure a flawless installation.
While you're at it, consider updating the hardware on your kitchen cabinets to match your laminate selection as this will affect the overall feel of your kitchen. In a nutshell, you can certainly find the right laminate for your kitchen cabinets with the tips above to bring out the beauty of your kitchen.
At Jennings Laminates, we offer a wide variety of high-pressure laminates to give you the real deal at a more affordable price. View our full catalogue for more options and inspirations for your home!