Kitchen Cabinets with Laminate Makeover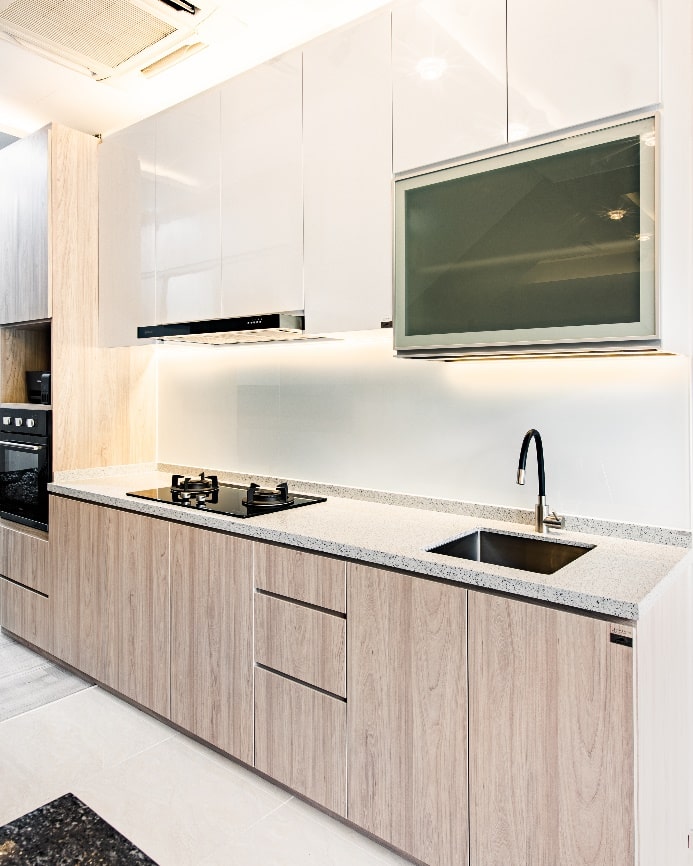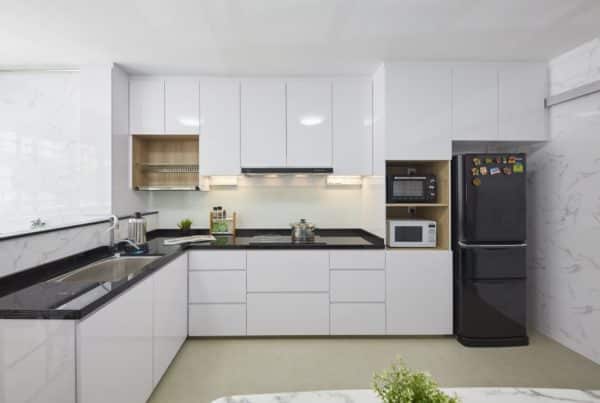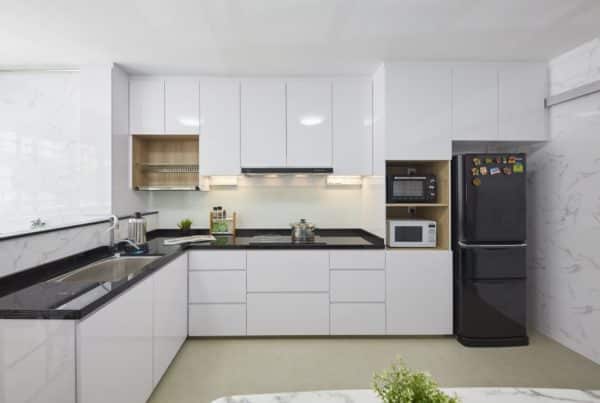 Featured laminates: P0949HG (White), PQ8388SY (Woodgrain)
Choosing the right material for your kitchen cabinet can be tough when you have to consider a variety of factors such as the cost, range of colour and finishes, durability, and ease of maintenance. Besides, kitchen cabinetry takes up most of the space in your kitchen as it provides you with space to prepare and store your foodstuff and kitchen wares.
Materials like natural wood, stone, and marble can cost you half of the average kitchen renovation budget. Though these materials can offer timeless beauty for your kitchen, they require proper maintenance, especially natural wood as they can warp and stain from excess moisture.
Should you want to keep the expenses down, consider a laminate finish for your kitchen cabinet as they typically cost less than natural materials. In this article, we'll explore the benefits of using laminates for kitchen cabinets along with its features. Before that, let's recap what laminate sheets are.
What are laminate sheets?
Laminate sheets can be manufactured in two ways, under high pressure or low pressure. Depending on the amount of pressure applied, the laminates will have different characteristics and durability. This results in two types of laminates – high pressure and low-pressure laminates.
Low-pressure laminates (LPL) are often known as melamine boards that comprise a single-wear layer and a single decorative sheet. They are subject to low pressure but high temperatures to create a highly customisable laminate, making it less durable and more affordable than high-pressure laminates. Because of that, LPL can only be used on vertical surfaces or low traffic areas such as furniture, shelves, or low-usage offices.
High-pressure laminates (HPL), on the other hand, comprise multiple layers of kraft paper bonded together by melamine and phenolic resins. They are then subject to high pressure and high temperature to produce a single laminate sheet that looks good, has exceptional durability and impact resistance. Also, HPL is preferred by interior designers as it can be used on both vertical and horizontal surfaces as well as high traffic areas such as the kitchen cabinet, etc.
Benefits of Using Kitchen Cabinet Laminate Singapore
Featured laminates: RP2174T (Graphite), WPL2902S (Woodgrain)
Laminated kitchen cabinets are cost-effective
One of the major advantages of using laminates for your kitchen cabinets is that it's cost-effective. As we pointed out earlier, updating your kitchen can be an expensive undertaking and if you're looking to keep the budget manageable, laminate sheets may just be what you need.
Compared to natural materials such as wood, stone, and marble which can cause you to break the bank, laminates are the more affordable option. Besides, you can splurge on other features in your kitchen such as the sink and tap.
Laminated kitchen cabinets are durable
The kitchen is where you prepare countless meals a day for yourself or your family. Depending on what you cook, proper ventilation is necessary to create a consistent and healthy indoor air quality. Not only that, but the moisture content will also vary from time to time. If you use natural wood for your kitchen cabinet, you can expect it to warp over time.
However, kitchen cabinet laminate Singapore have exceptional durability thanks to the way they're manufactured. Given the laminate's high resistance towards impact, scratches, moisture, heat as well as general wear and tear, you can expect your laminated kitchen cabinets to serve you well over time.
Laminated kitchen cabinets are easy to maintain
Aside from being cost-effective and durable, kitchen cabinet with laminate are easy to maintain as you can quickly wipe the surfaces with a dry cloth to keep the dust, dirt, and grime in check. For more detailed cleaning of your laminated kitchen cabinet, use a damp cloth with an all-purpose cleaner and dry with a clean cloth.
Regardless of the type of finished of your laminated kitchen cabinet, you can use the above method to clean them. Besides, the colour of your laminate won't fade with time, so you don't have to reface your cabinets often. That's unless you're looking to switch up the style of your kitchen.
Laminated kitchen cabinets are stylish
Depending on your style and taste, laminates can be used in both traditional and modern kitchens. Also, thanks to modern manufacturing technology, laminate sheets can imitate almost every natural material available out there, enabling many homeowners to have stylish kitchen cabinets.
As laminates are available in a wide variety of colours, patterns, and finishes, you can customise your kitchen cabinets to your heart's content. After all, you'll be spending a lot of time in the kitchen preparing scrumptious meals for yourself, your family or even your guests.
Features of Laminated Kitchen Cabinets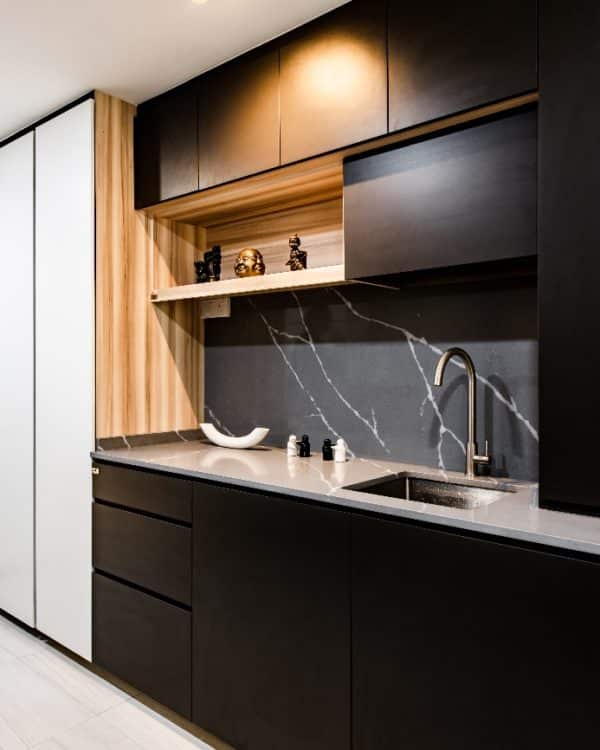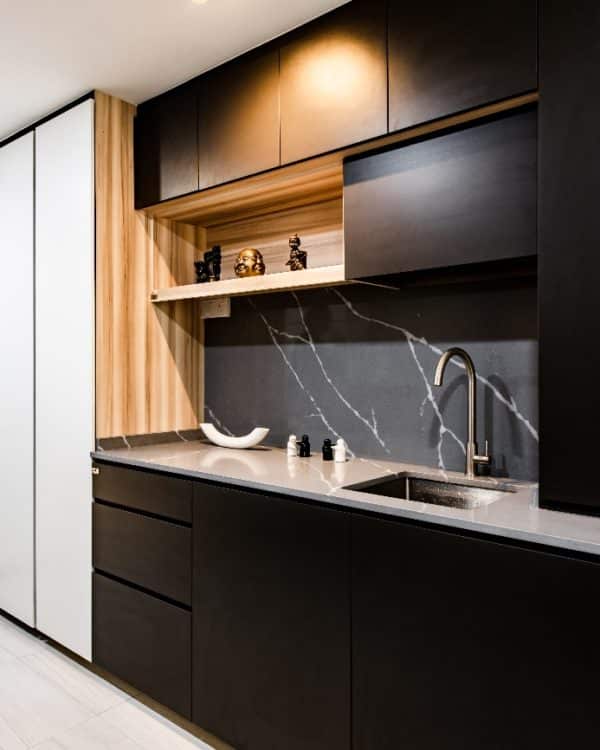 Featured laminates: PG2255HG (Upper Cabinet), PG1158SM (Woodgrain)
Hygienic properties
With high resistance to moisture and scratches, bacteria cannot proliferate on your laminated kitchen cabinet, making it a safe, non-toxic, and hygienic material to be used in the kitchen. Not only that, but its non-porous feature also helps to prevent harmful material from forming on the kitchen cabinet doors and worktops which makes it safe for handling food preparation.
Infinite choices
Laminates are essentially the more affordable surfacing material for interior design as they can be manufactured to imitate colours, textures, and designs of natural materials like wood, stone, and marble. This also allows designers to play with their imagination to either make the kitchen space appear bigger with a glossy-finished laminate or more serene with matte ones.
As an affordable alternative for your kitchen cabinet, laminates can enhance your kitchen cabinet with its stylish appearance and low maintenance. At Jennings Laminates, we offer a wide variety of laminates, ranging from wood and marble to simple designs, to give you the real deal at a more affordable price. View our full catalogue for more options and inspiration for your home!