5 Ways to Use Laminates in your Home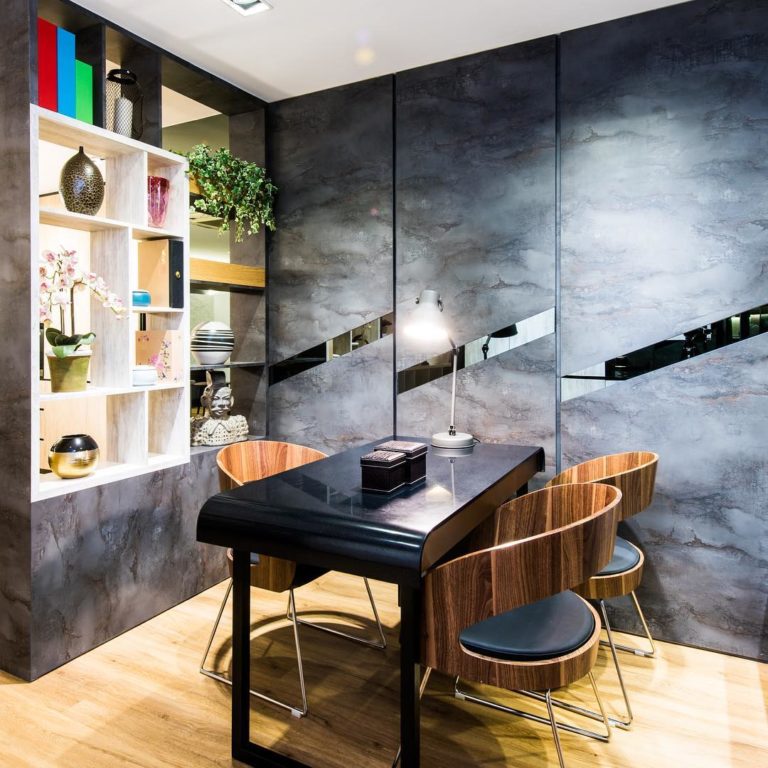 High Pressure Laminates (HPLs) are highly-durable, decorative surfaces that you should be considering for your next renovation or home project. Besides the obvious benefits of durability, HPLs are known to be extremely versatile in their use. HPLs can be applied and used to fabricate feature walls, cabinets, bed platforms, tables, open shelvings, TV consoles, daybed or dining benches. You can have it almost anywhere in your home except on your flooring. If you are wondering how a HPL can add to your interior designs, fret not. Here are five different ways to use High Pressure Laminates in your home!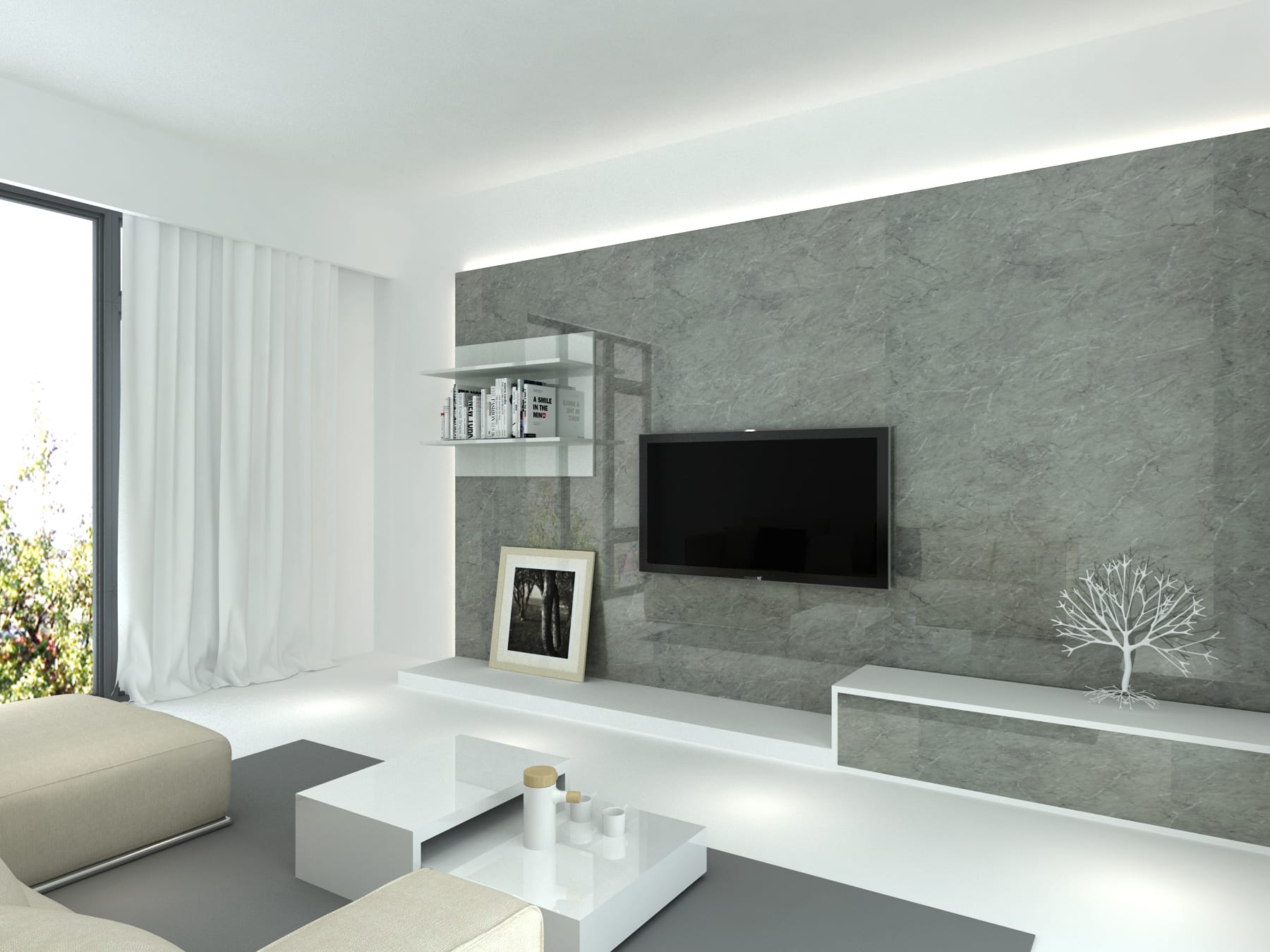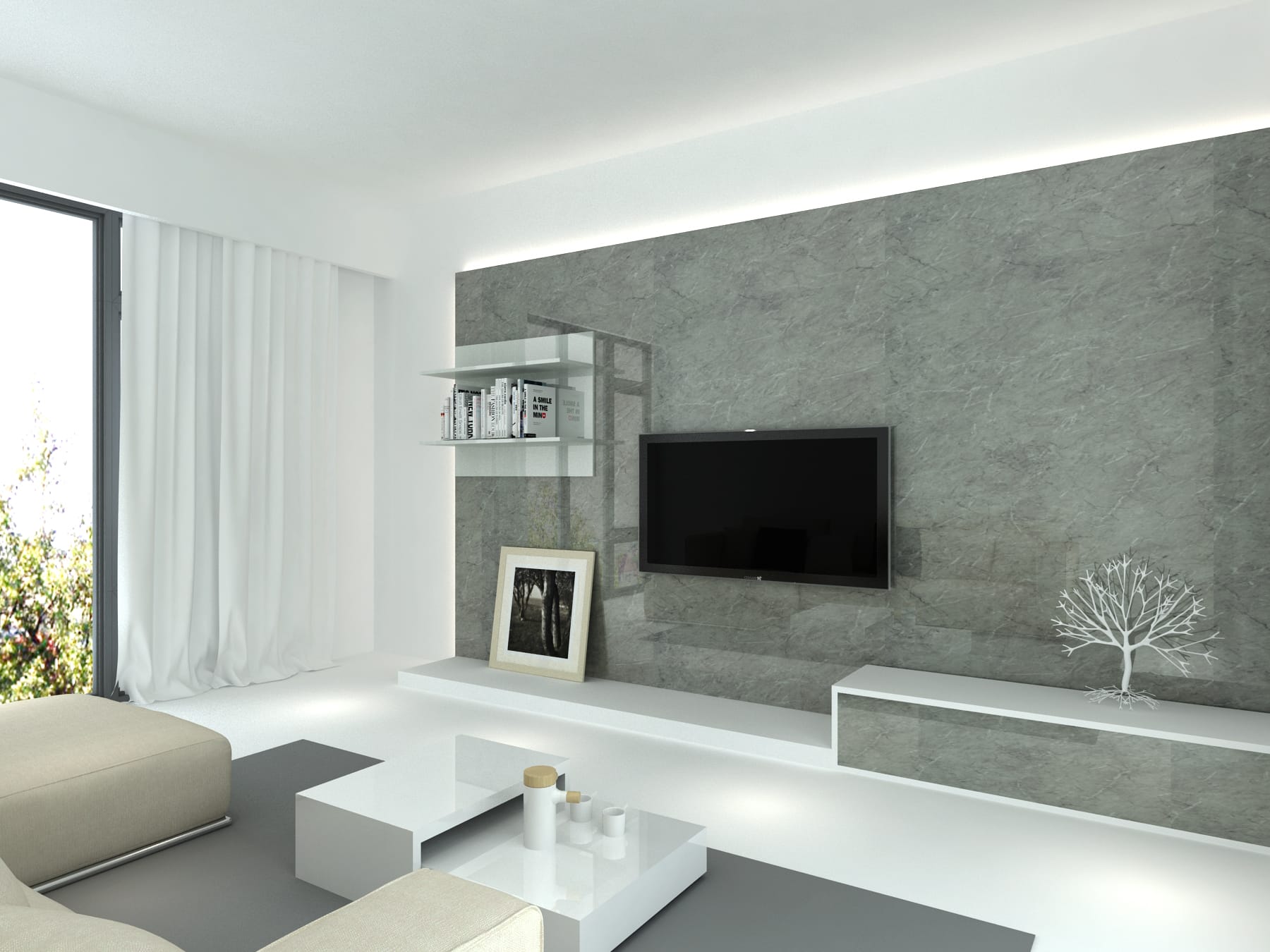 Featured laminate: WW8838WC (feature wall)
1) Create A Luxurious, Living Room
These durable surfaces can also be beautiful, and help you replicate looks that might be more costly to create. Real marble, for example, are both difficult and expensive. However, there are marble laminates that can be used to achieve effects similar to real marble, at a much lower cost. The beauty of Grey Stone (WW8838WC) marble-styled laminates is clear to see when you take a look at this living room. This marble laminate adds that touch of class to the room without all the complications, giving the room a feel of understated cool.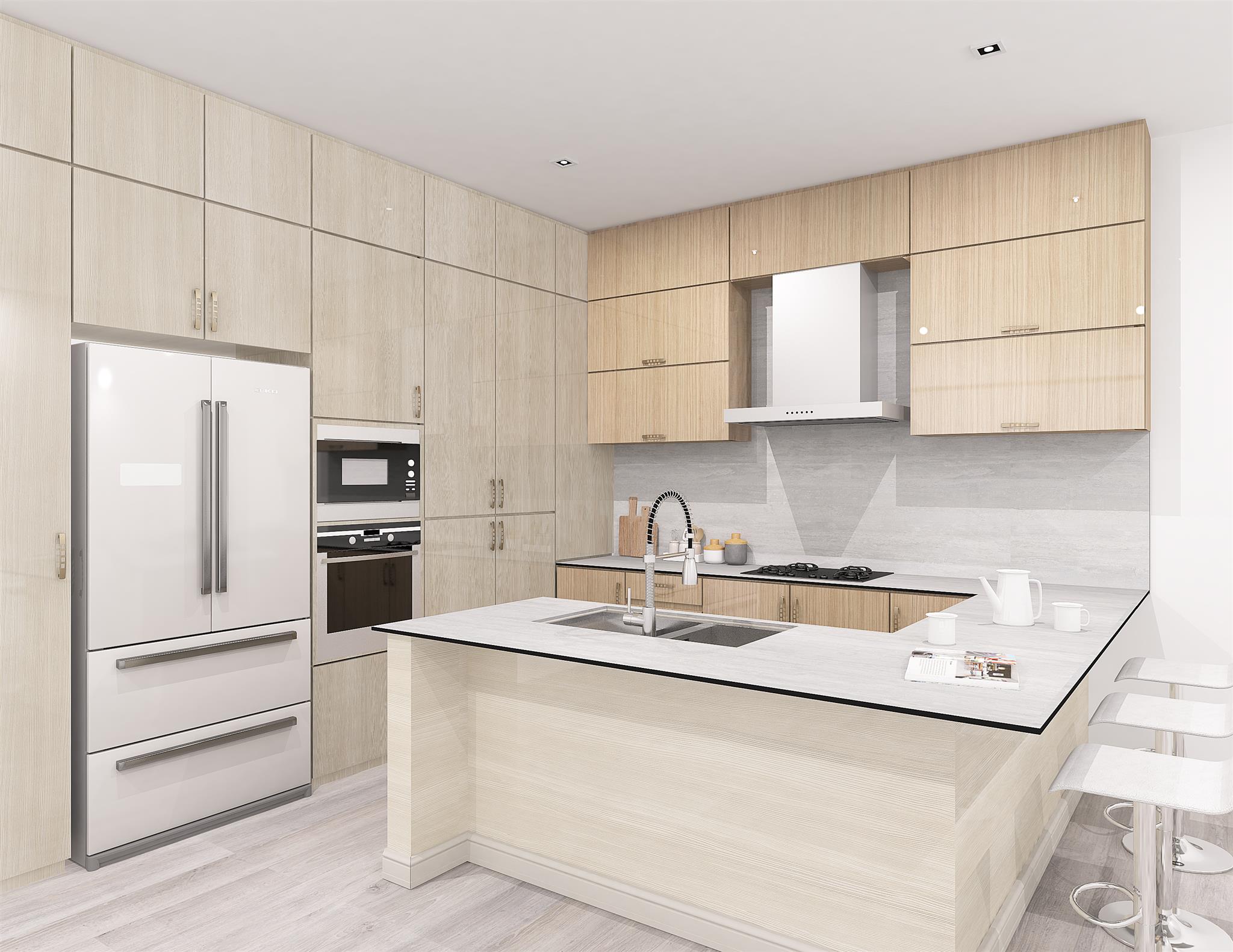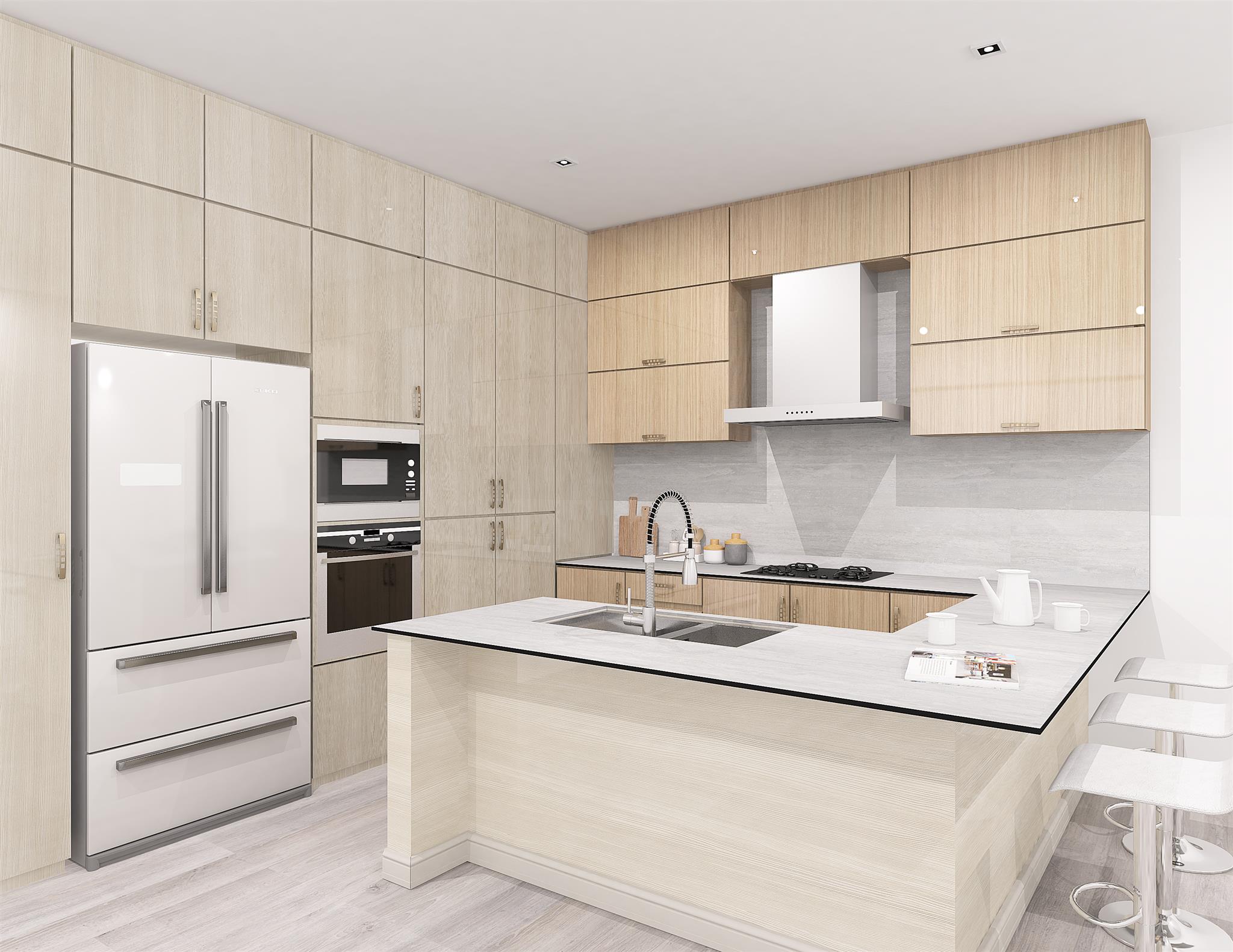 Featured laminate: PQ8844HG (floor-to-ceiling cabinets), PQ8855HG (kitchen cabinets), CPB1232GL (kitchen tabletop, backing)
2) Down-To-Earth Kitchens
High Pressure Laminates are also fantastic to use in your kitchen cabinets. HPLs can take reasonable amounts of scratches and blunt-force impacts, and are heat-resistant. These makes them perfect for use in the kitchen. In this instance, Laricina (PQ8844HG) and Tenino Pak (PQ8855HG) laminates welcomes more comfort with their varying shades of brown. An additional Sorvette Wood Perle (CPB1232GL) compactable offers a classy touch to the kitchen's cabinets, helping to create a gorgeous environment worthy of the best home cooks.
3) Beautiful Bedrooms
Most bedroom walls are monotone occurrences made up of colours meant to put the owners to sleep. Very few people think about using textured surfaces to create a soothing, natural effect in the most private of their spaces. This is where darker wooden shades of Gris Taupe Washed Oak (PJ2269WY) laminates can be used on the walls to give your bedroom a stunning makeover. Strips of our beautiful woody Beige Dune Washed Oak (PJ2268WY) laminates are pieced together to form a pattern for the bed head, achieving this unique symmetry.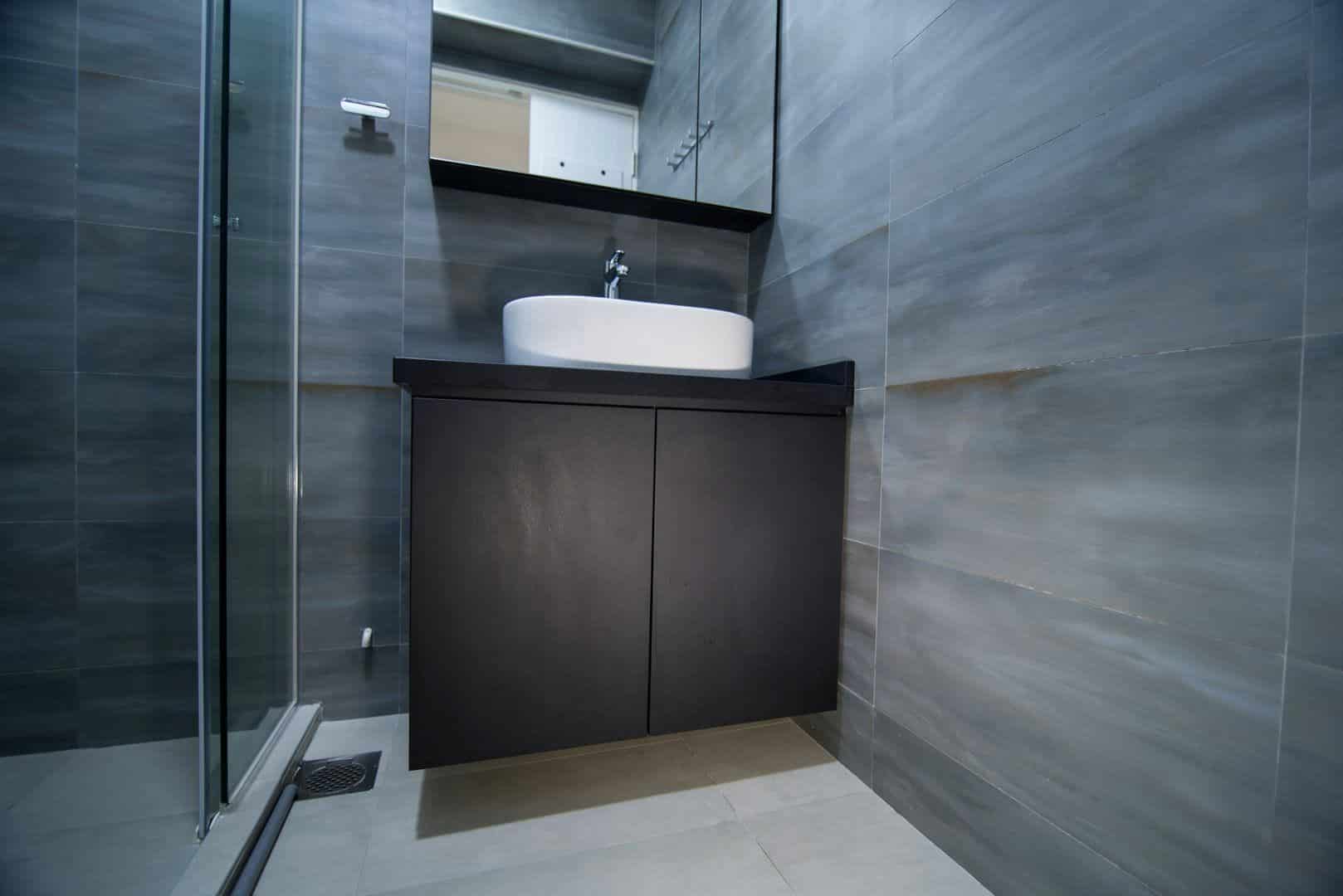 Featured laminate: WPL1833L (basin cabinet) | Credit: De Exclusive Interior Group
4) Enhancing Bathrooms
We spend a good portion of our mornings and evenings in our bathrooms, so we should definitely find a way to make them comfortable and aesthetically appealing! Instead of a solid black for the basin cabinet, you can consider choosing one with textures such as Nero (WPL1833L) laminates. You will notice the visual difference is actually quite big. The leather texture gives the bathroom a little bit of character and style. Choosing a darker shade helps the white of the wash basin to stand out, giving some visual contrast to the entire room.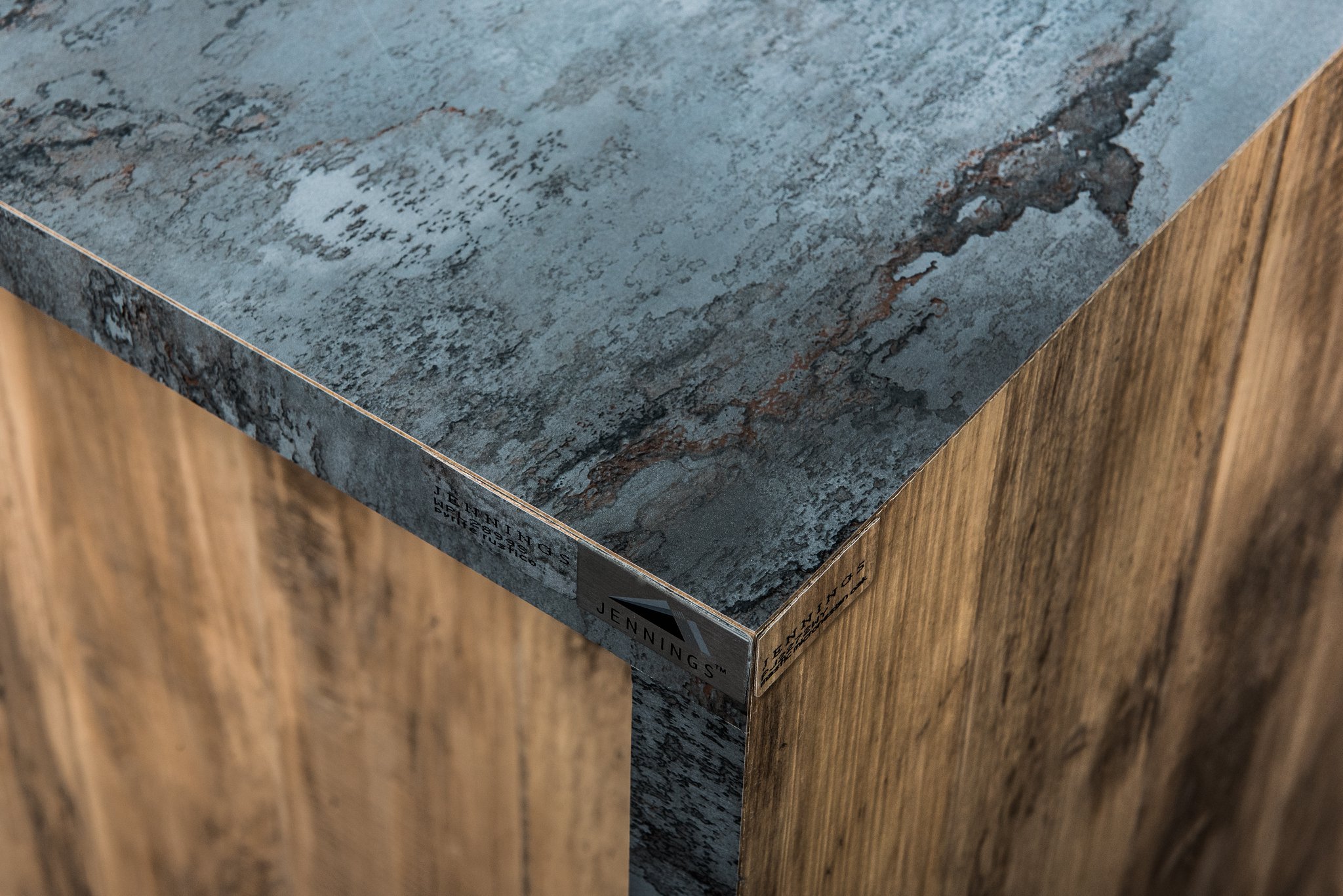 Featured laminate: WPL2899S (storage spaces) | Credit: Darwin Interior
5) Delectable Dining Rooms
Dining room designs do not need to be austere affairs with smatterings of colour. There are many ways that HPLs can create great looks for your dining room, and one of them is to give it a modern industrial feeling. The storage spaces in this dining room feel like cool metal, but are actually overlayed with industrial metal-styled Pyrite Rustico (WPL2899S) laminates for that slightly liquid metal look. This adds an edgy sense of cool to the dining room, and will definitely be a talking point amongst future dinner party guests!
Better Than The Real Thing
HPLs are not just a substitute for other building materials. They are hardier, more affordable, and come in an array of colours and textures to suit your home's interior design needs. HPLs can be used to create looks that replicate luxurious marble, homely wood or even cutting-edge industrial styles that will give your rooms that extra special touch.
---
 Ready to get started?
Don't forget to first visit our blog for more nifty tips and get the latest updates on our Facebook page today!
Need more information? Drop us an online enquiry and we'll be happy to help!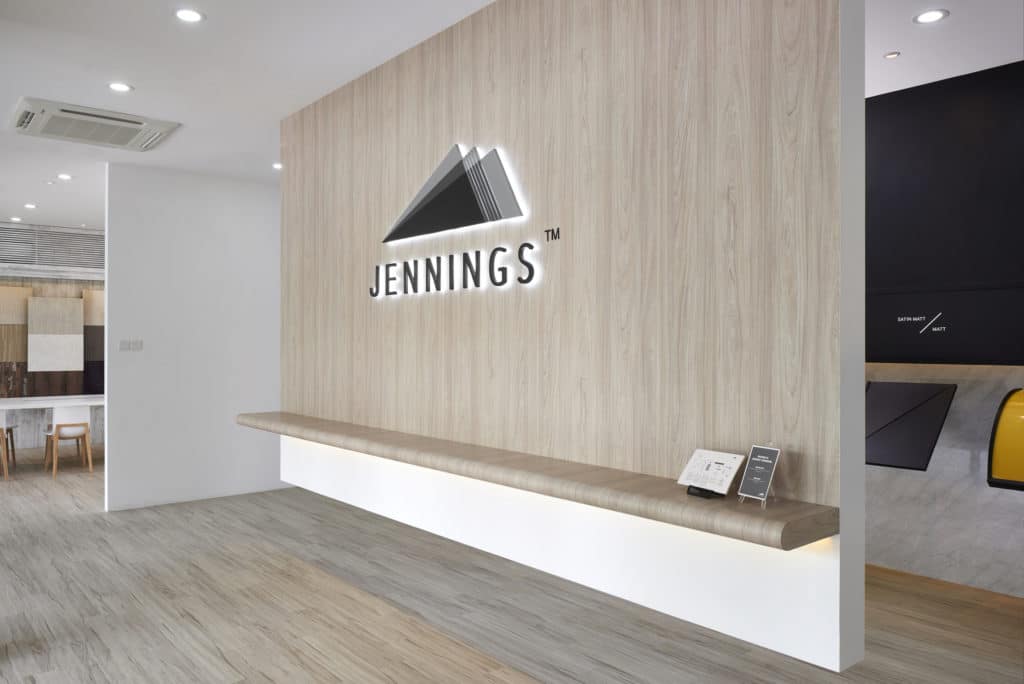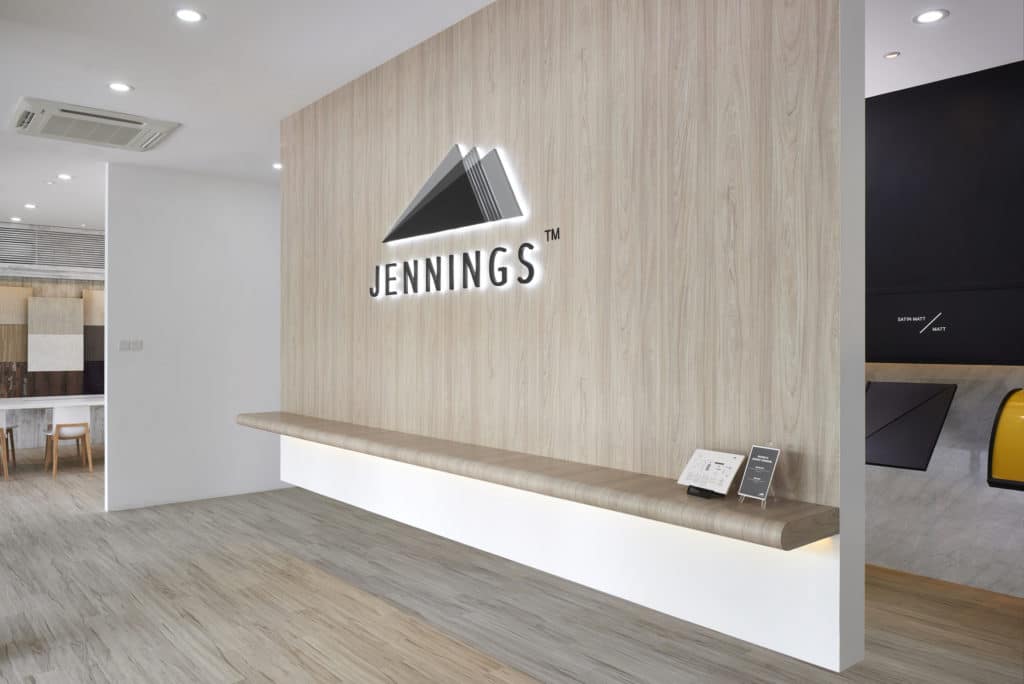 Address:
23 Sungei Kadut St 1
Singapore 729323
Mondays – Fridays:
8:15am to 5:15pm
(last walk-in at 4:45pm)
Saturdays:
8:15am to 3:15pm
(last walk-in at 2:45pm)
Closed on Sundays and Public Holidays