Laminate Colour Ideas for Your Kitchen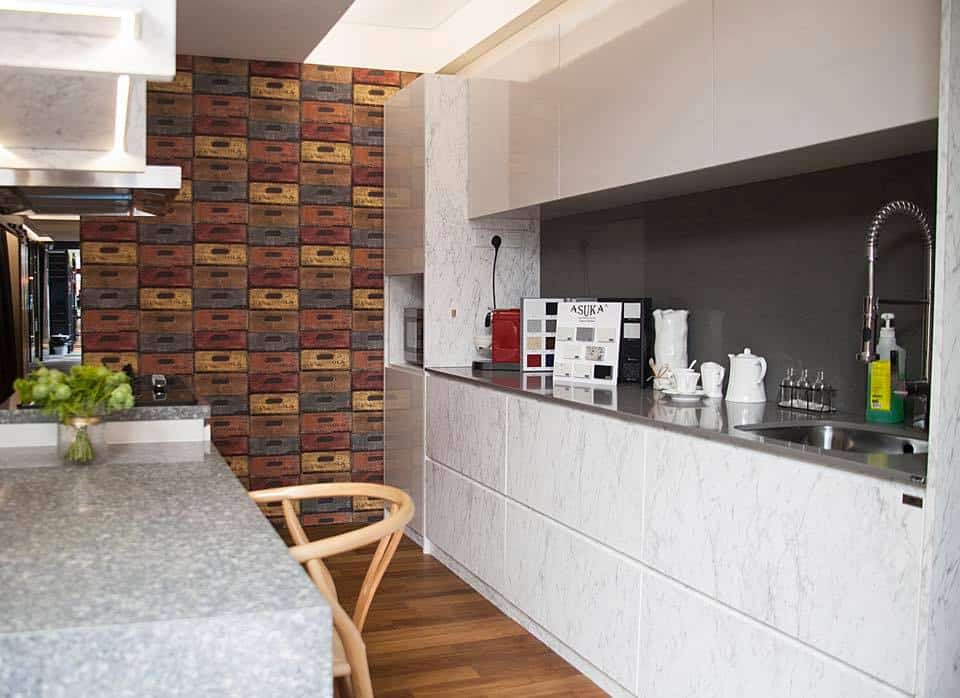 Thinking of giving your kitchen a style makeover but worried about going too bold or too dull? Well, not to worry cause we're here to help. After all, the colour of your kitchen cabinetry can really affect the way your kitchen looks.
Whether you have a compact kitchen or a spacious one, we will share with you some of the laminate colour ideas for your kitchen. So, continue reading to check out some laminate  colour combinations that will make your kitchen décor pop!
Laminate Colour Palette Ideas
1. Stark white with minimal wood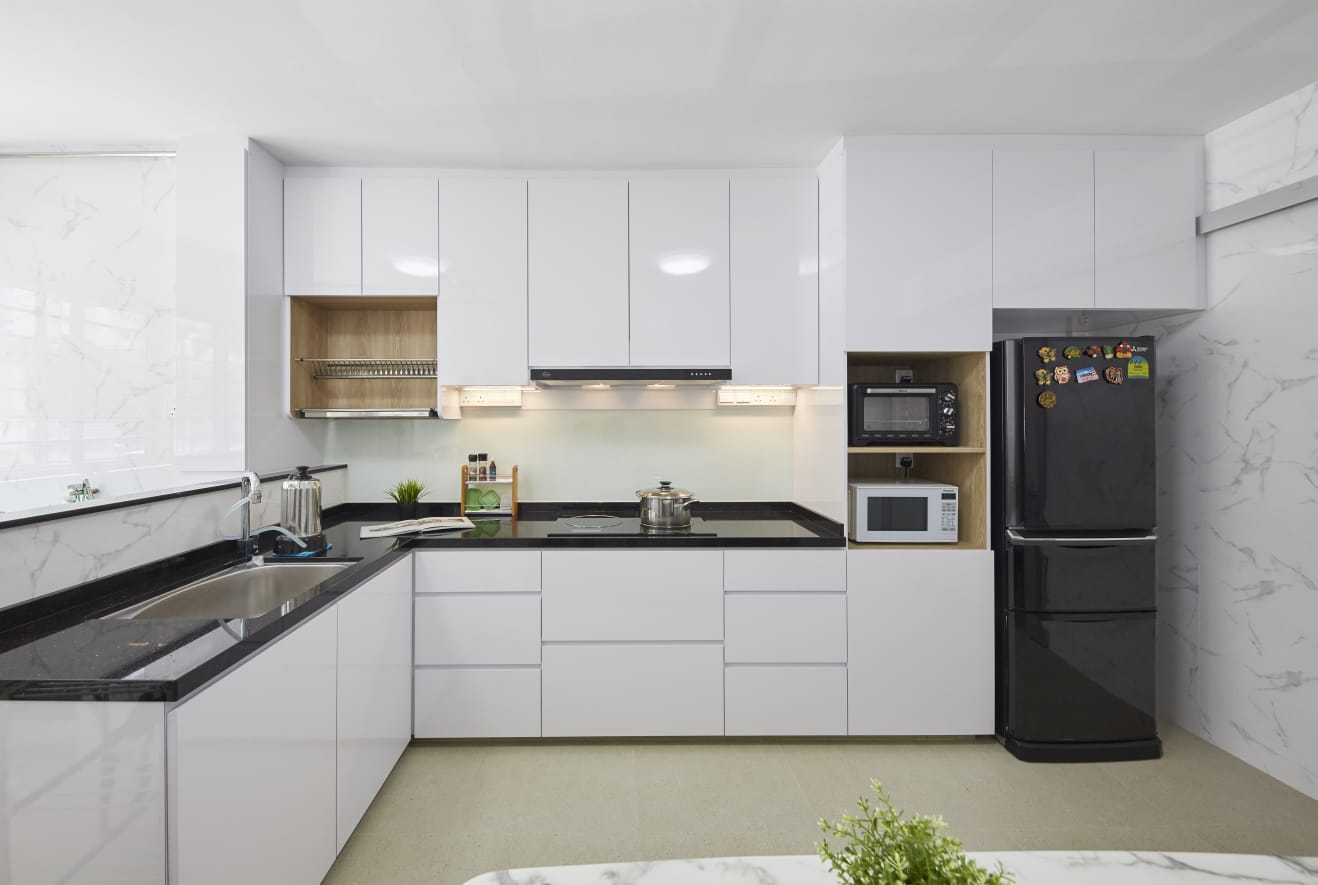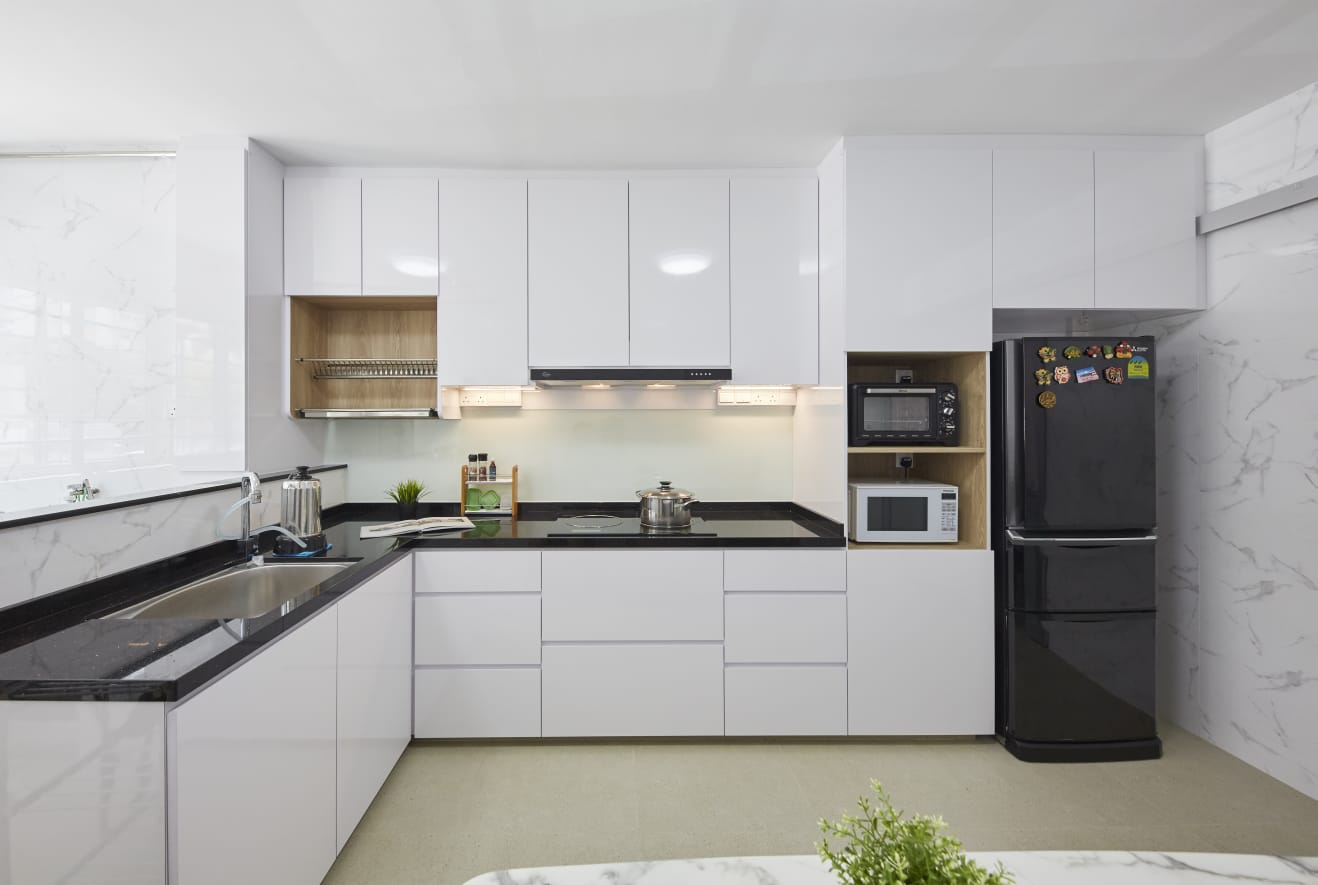 Featured laminates: P0949HG (White Cabinets), PQ8388SY (Woodgrain)
You will never go wrong with this laminate colour combination thanks to the timeless beauty of glossy white laminate and the minimal touch of woodgrain. This simple and cool colour palette is popular among homeowners who want their kitchen to look simple yet sophisticated.
On top of that, this laminate colour makes it easy to clean because you can easily spot stains or dirt. This gives you time to react accordingly and restore the laminate colour to what it once was.
2. Woody Blueish Green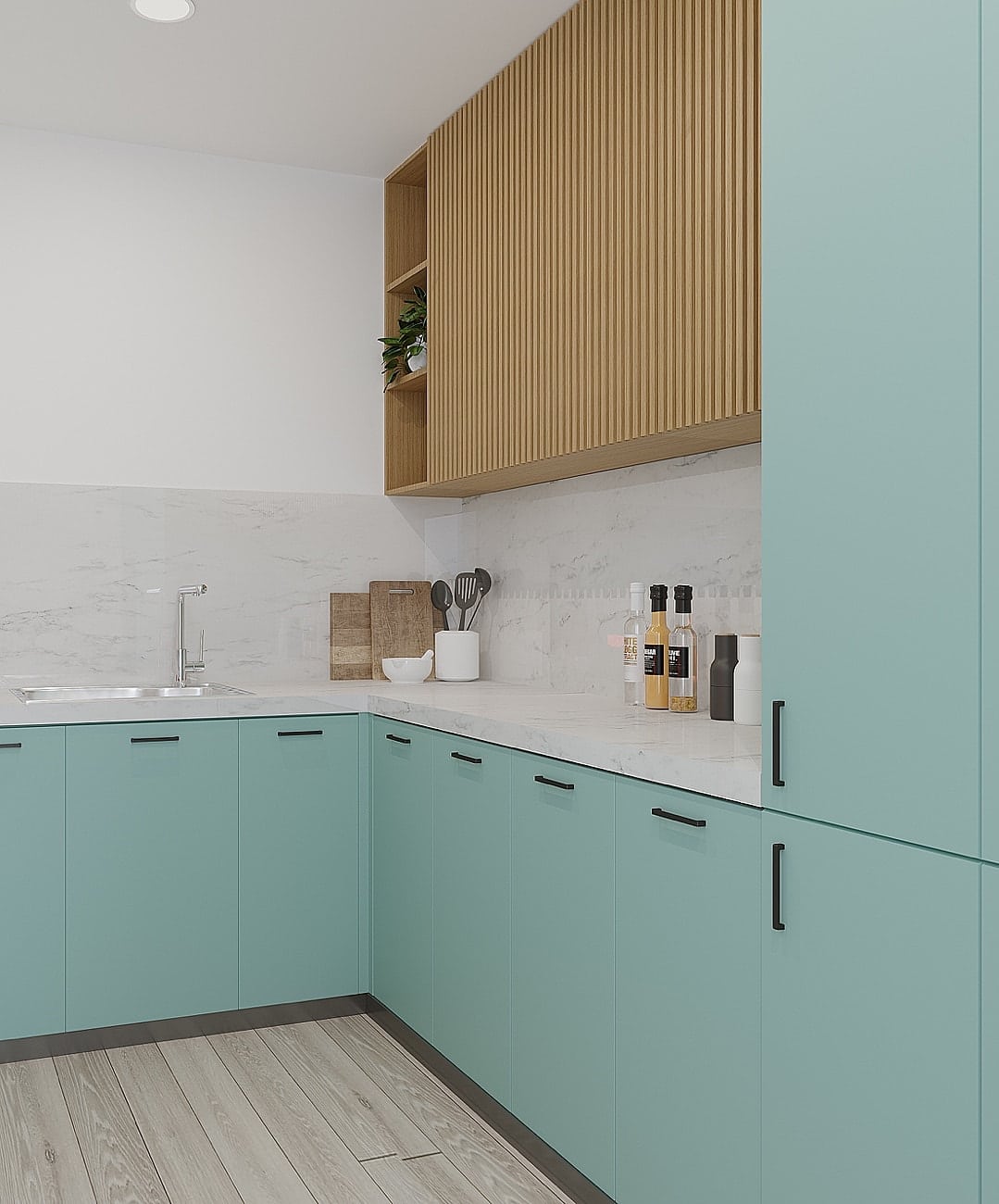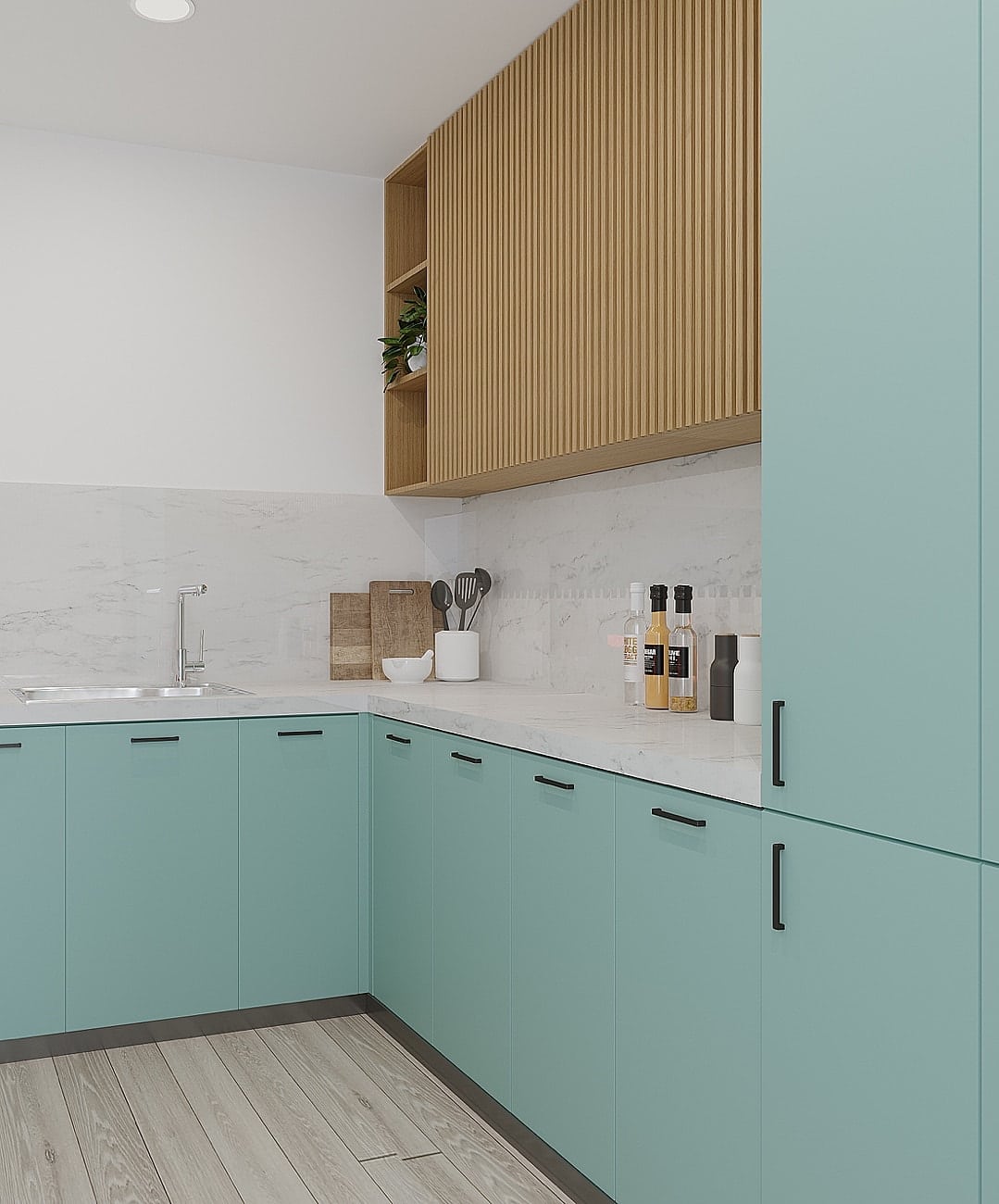 Featured laminates: PG119TH (Peek a Blue), PG5886MT (Woodgrain)
Kitchens incorporating green and a tinge of blue laminate with some woodgrain is rare but it's a unique laminate colour combination if you want to create a contemporary-style kitchen for your home. These colours exude a sense of warmth and coolness, both at the same time.
In addition, the greenish blue laminate is an extremely soothing tone, which gives your kitchen the feeling of space and respite – perfect for someone like you who spends a lot of time in the kitchen perfecting a certain recipe.
3. Taupe and Woodgrain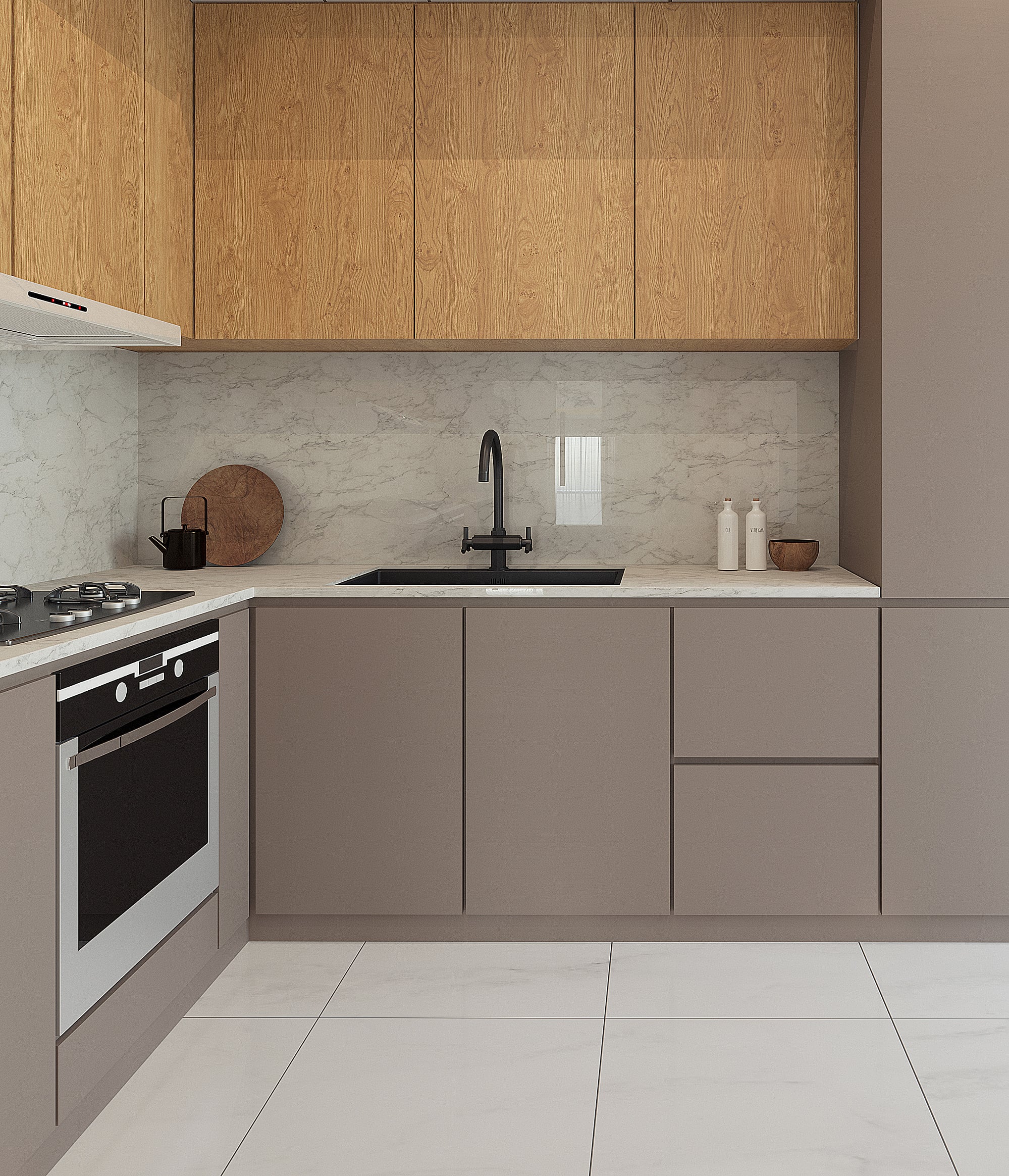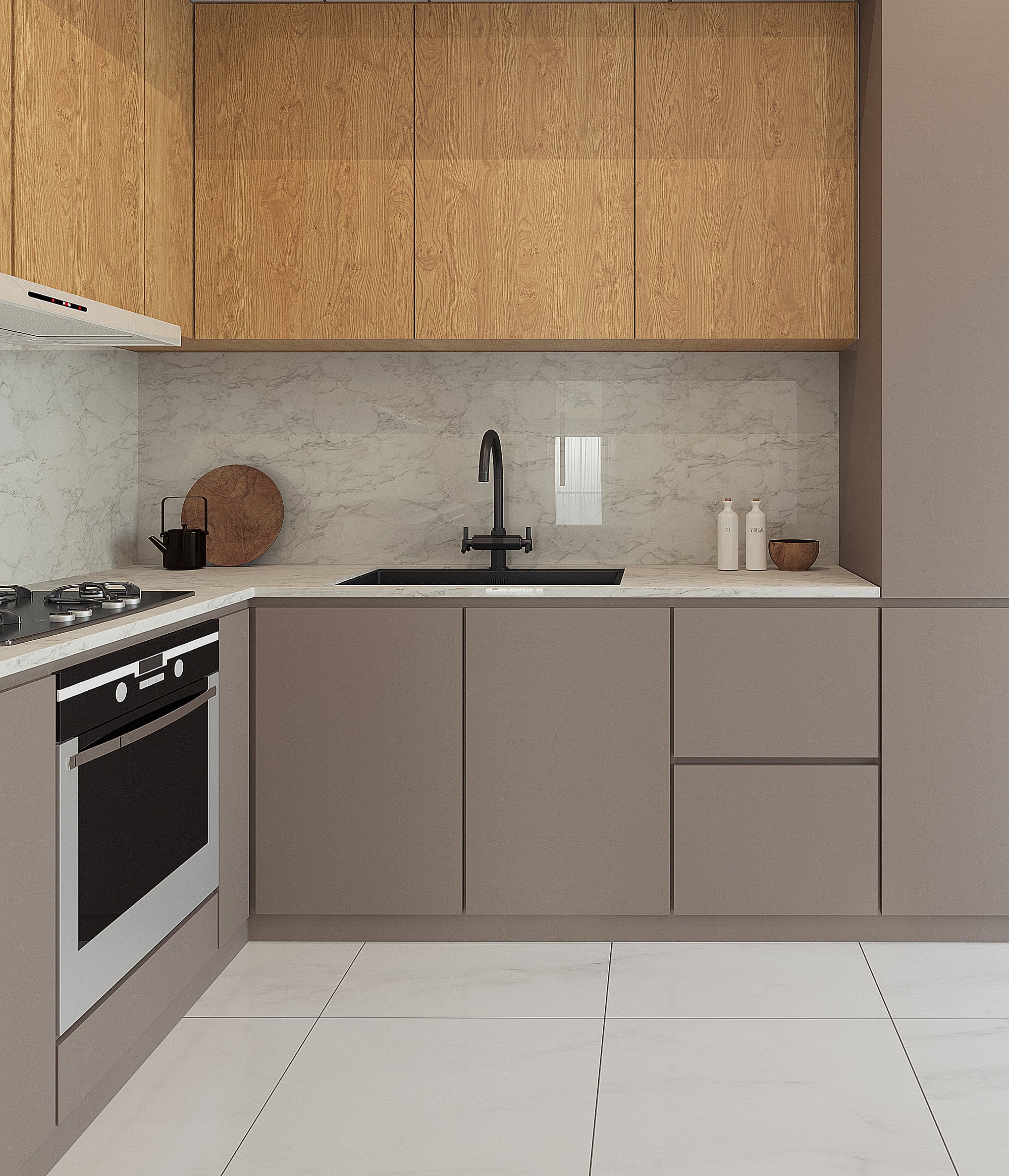 Featured laminate: PQ1113SM (Woodgrain), RP2165T (Taupe)
When it comes to modern homes, the theme isn't limited to dark interiors. Take this kitchen as an example; the combination of taupe and woodgrain makes the perfect spot for cooking hearty meals.
Stripped down beauty with cabinets in Taupe and wooden laminate helps keep the kitchen looking sleek, while the choice of colours is easy on the eyes and refreshing.
4. Mysterious dark tones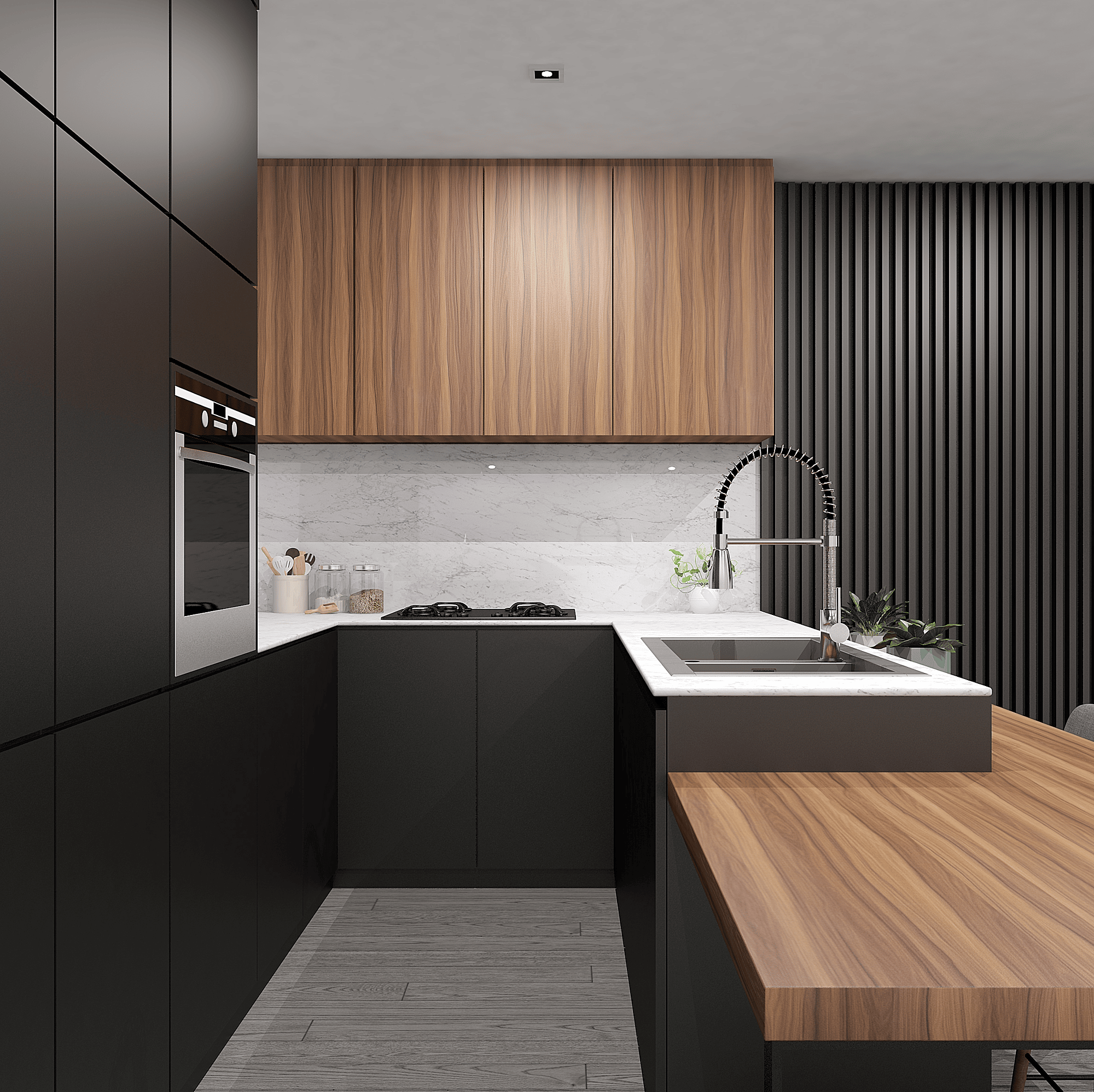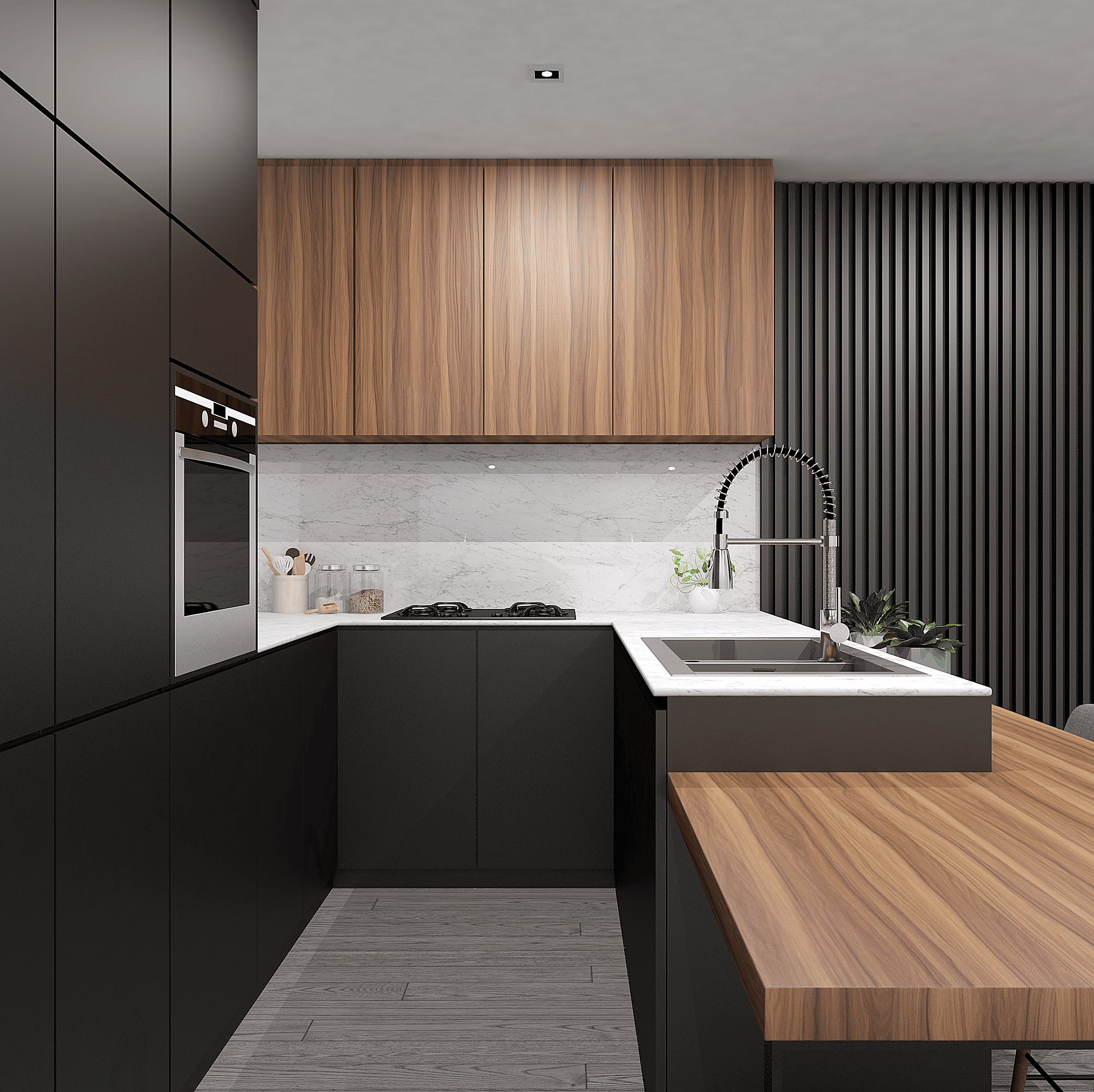 Featured laminates: PK078CT (Kitchen Cabinets), PG1533MT (Woodgrain)
A dark kitchen isn't always the ideal theme that comes to mind when designing a kitchen. That said, you can't deny the sleek effect that these grey cabinets give.
Here, we created a dark kitchen that does not look gloomy thanks to an injection of woodgrain laminates. In a way, this industrial-like kitchen is definitely rare among many homeowners in Singapore. If you have so much kitchen space to play with, this laminate colour idea is something you should experiment with!
6. Bold and impactful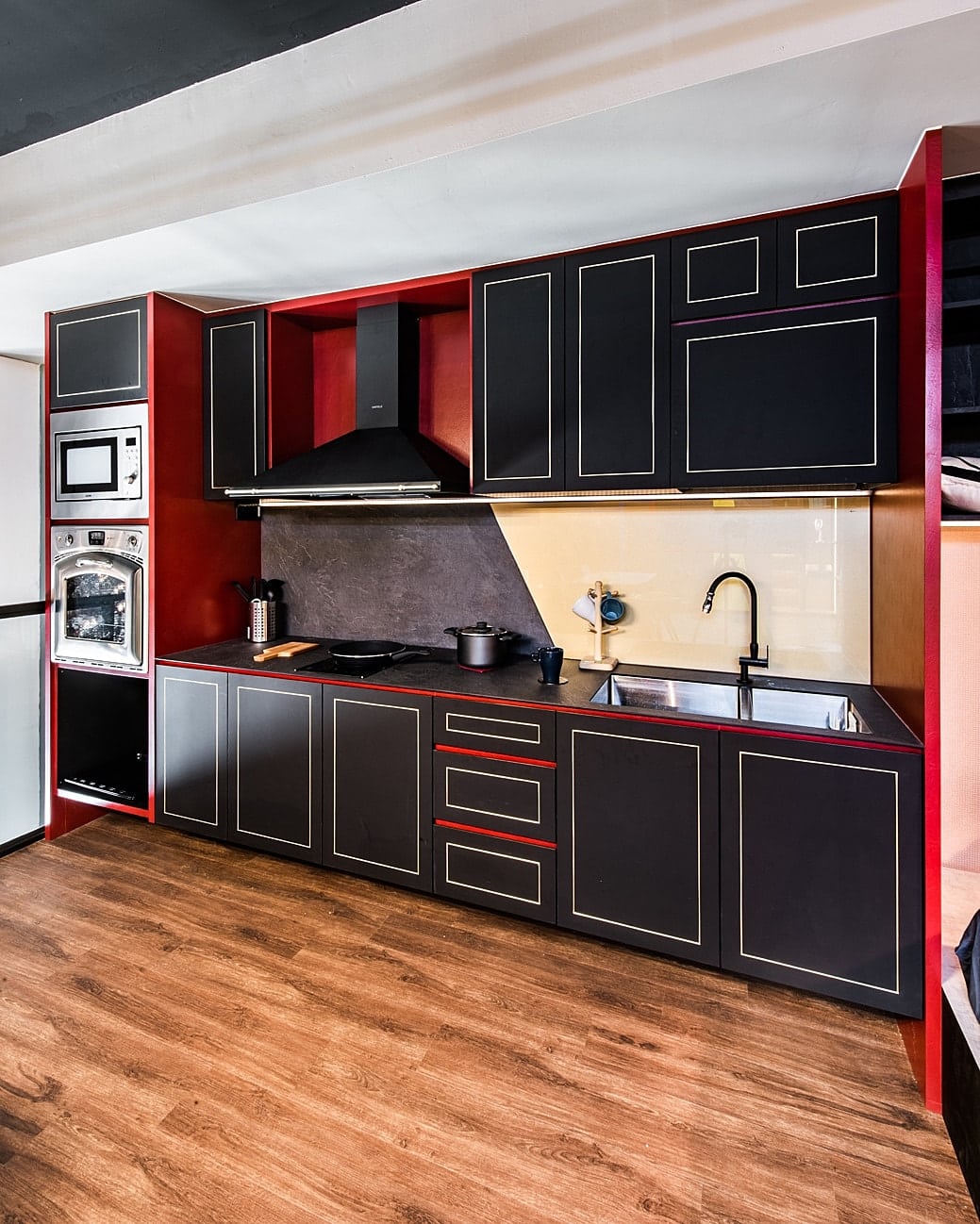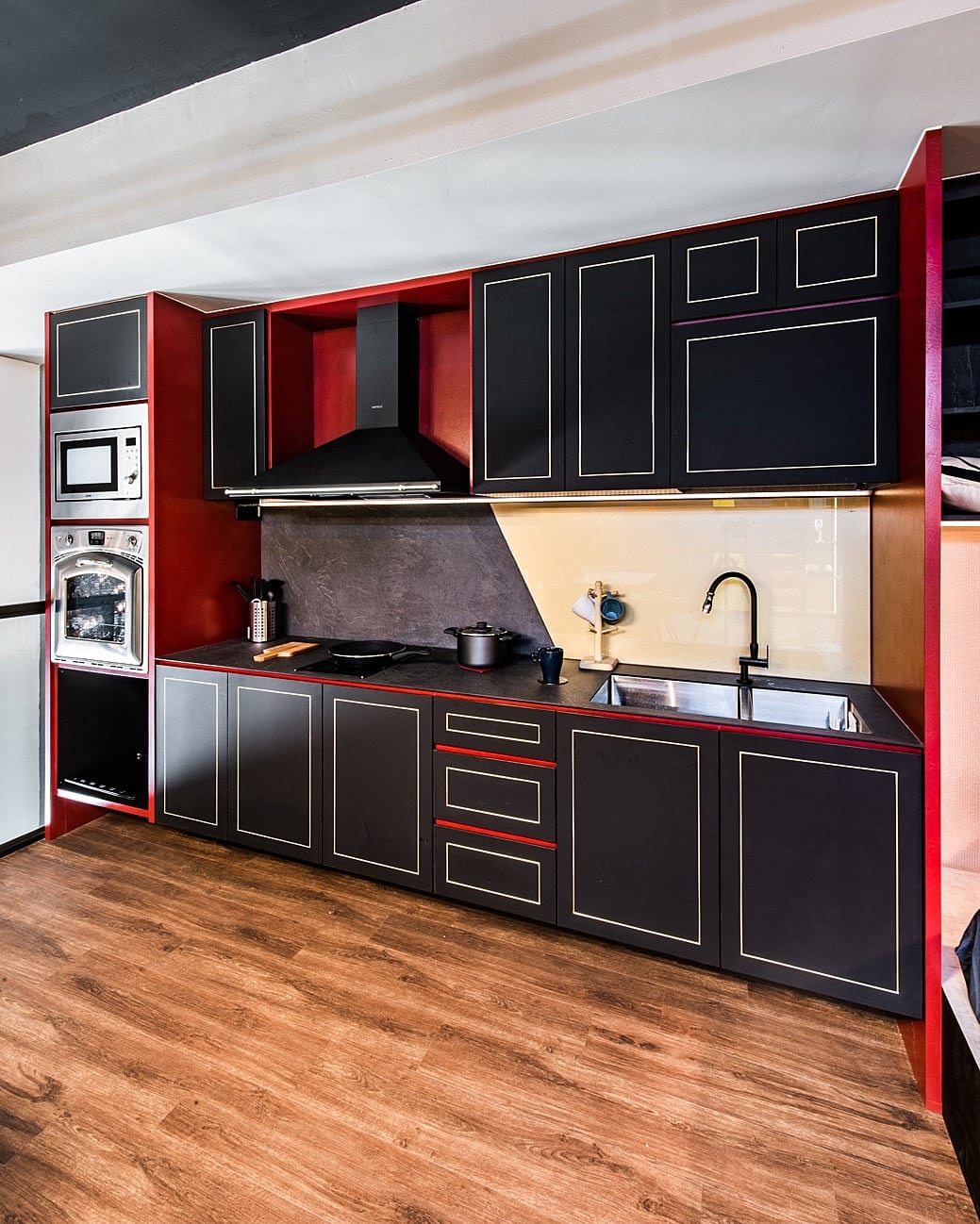 Featured laminates: PK088CT (Black Cabinets), PQ1377LT (Burgundy Edges)
Black and burgundy laminates is a colour combination that rarely strays far from every designer's look book. It's bold and impactful, which is a guaranteed showstopper in your home whenever your guests come to visit.
It can also be an excellent choice of laminate colours if you dare to do some cooking experiments to create new delicious meals. On top of that, this laminate colour idea is great to boost your spirits whenever you feel down.
Importance of Choosing the Right Laminate Colour for Your Kitchen
Given the plethora of laminate colours, it's relatable if you want to try every colour combination available for your kitchen. After all, change is the only thing that's constant in life.
However, choosing the right laminate colour for your kitchen shouldn't be a problem if you have a theme in mind and already envisioned how your kitchen should look like. You only need to consult your interior designer and laminate supplier to discover the properties of different laminates.
At Jennings Laminates, we offer a wide variety of laminate colours to give you the real deal at a more affordable price. View our full catalogue for more options and inspirations for your home!