Colours and Textures of Laminates
Are you having a difficult time choosing your desired laminates from the wide range of laminate sheets? Well, not to worry because we're here to help you find the right laminate sheet for your design makeover.
Like any other surfacing materials, laminates are available in a wide range of colours, textures, patterns, finishes, and sizes.
What makes them special or different from paint, tiles, or natural materials like stone or timber, is the affordability and significant durability forged during the manufacturing process. Hence, it's the preferred surfacing material by most designers.
You see, the selection of texture and colour of your laminates depends on what type of surface you're going to install the laminates on. Because different surfaces receive varying amounts of traffic and are exposed to different environments.
The kitchen, for instance, is one of the most functional and important parts of any residential or commercial property. This makes it essential to put additional importance when it comes to designing this space.
Be it the performance or design aesthetics, your kitchen design needs equal emphasis of the two if you want a stylish yet functional kitchen. Here's where laminates come into the picture due to their affordability, durability, and ability to make any space look stylish.
If your kitchen furniture is already laminated and you want to replace them, then you've come to the right place. So read on to discover the benefits of switching your old laminates to texture white laminate and how you can choose the right laminate for your kitchen.
What are the benefits of switching to texture white laminates?
Space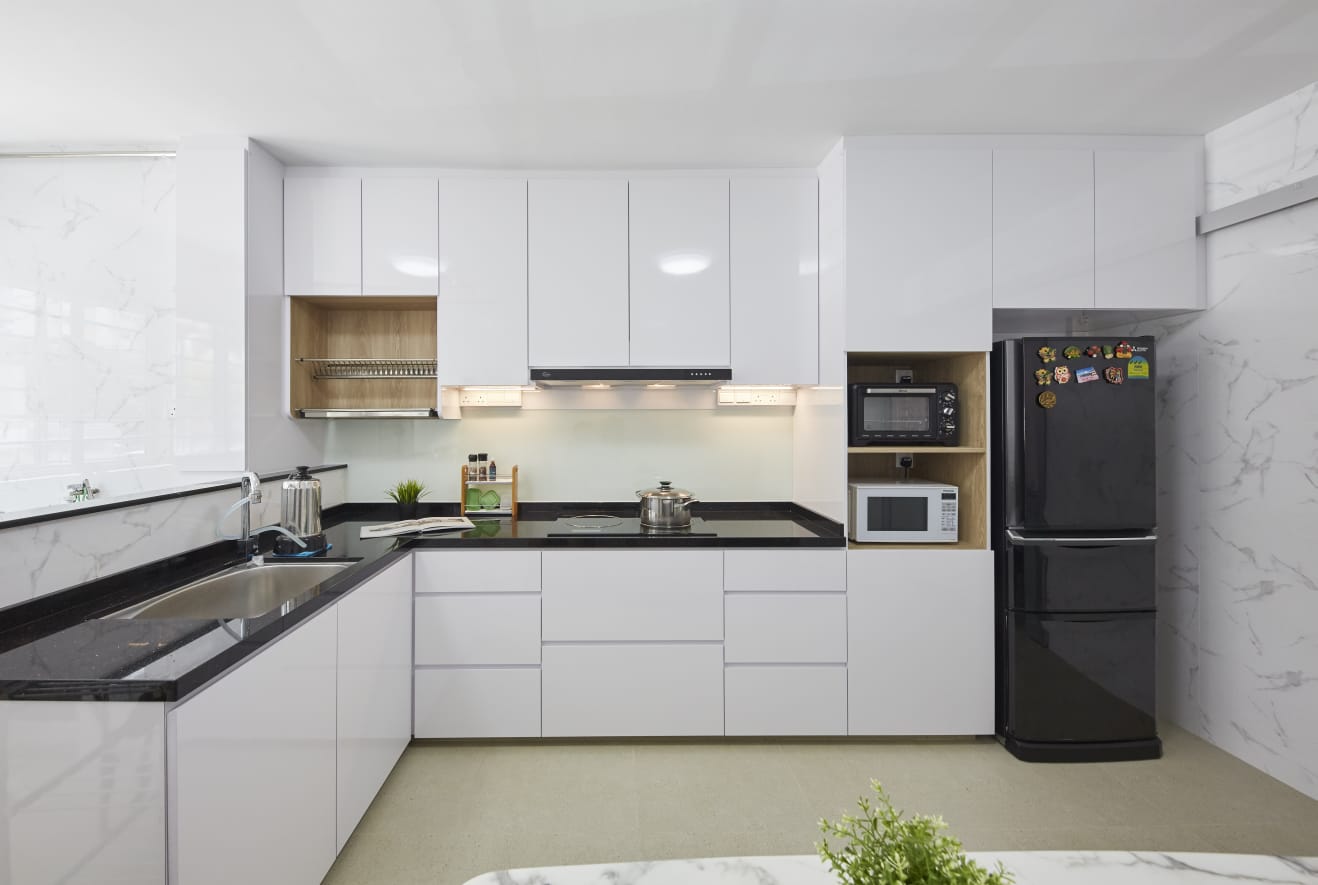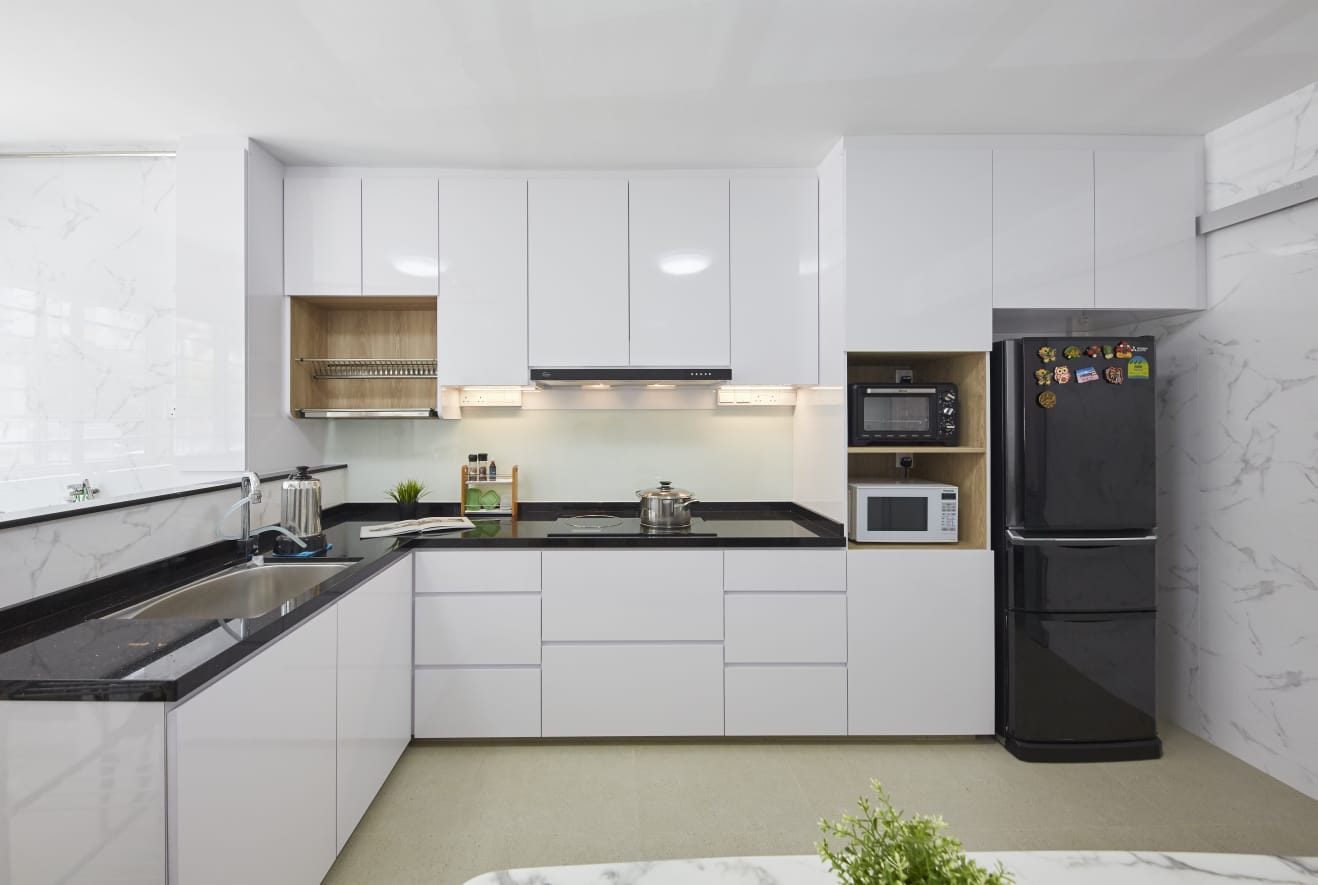 Featured laminates: P0949HG (White), PQ8388SY (Woodgrain)
Ever noticed how light colours can make a room appear bigger and brighter while dark colours make the room appear otherwise? That's because certain colours can reflect varying amounts of light. Other than that, it can also affect the ambience of a room.
Just take a look at the kitchen design pictured above. The texture of white laminate on the cabinets makes the entire kitchen look clean, bright, and spacious. If you didn't know already, white laminate is a classic choice when it comes to achieving a clean, bright space.
Maintenance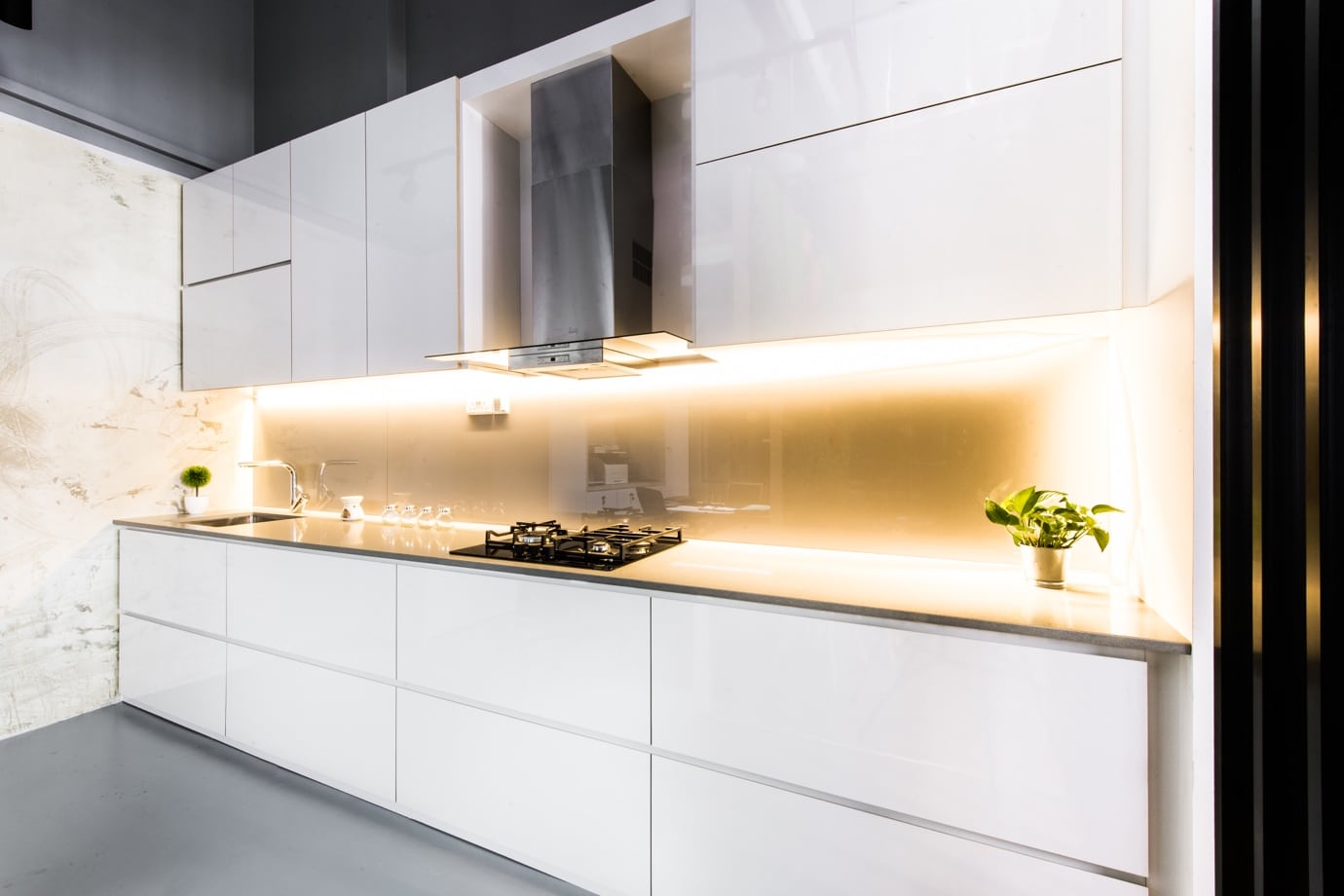 Featured laminate: PG02HG (Kitchen Cabinet)
White laminates make cleaning and maintenance much easier compared to other colours like black or patterns like wood grain. Let's say you're frying some chicken or fish for dinner, you can't avoid the tiny droplets of oil splashing onto the counter. Once you're done cooking, you can wipe off the oil droplet to prevent them from staining your laminate.
Additionally, should there be any damage to your texture white laminate, you can identify and seek solutions to either get it replaced immediately by professionals or find other ways to salvage it without needing to replace your entire laminated cabinet.
Design palette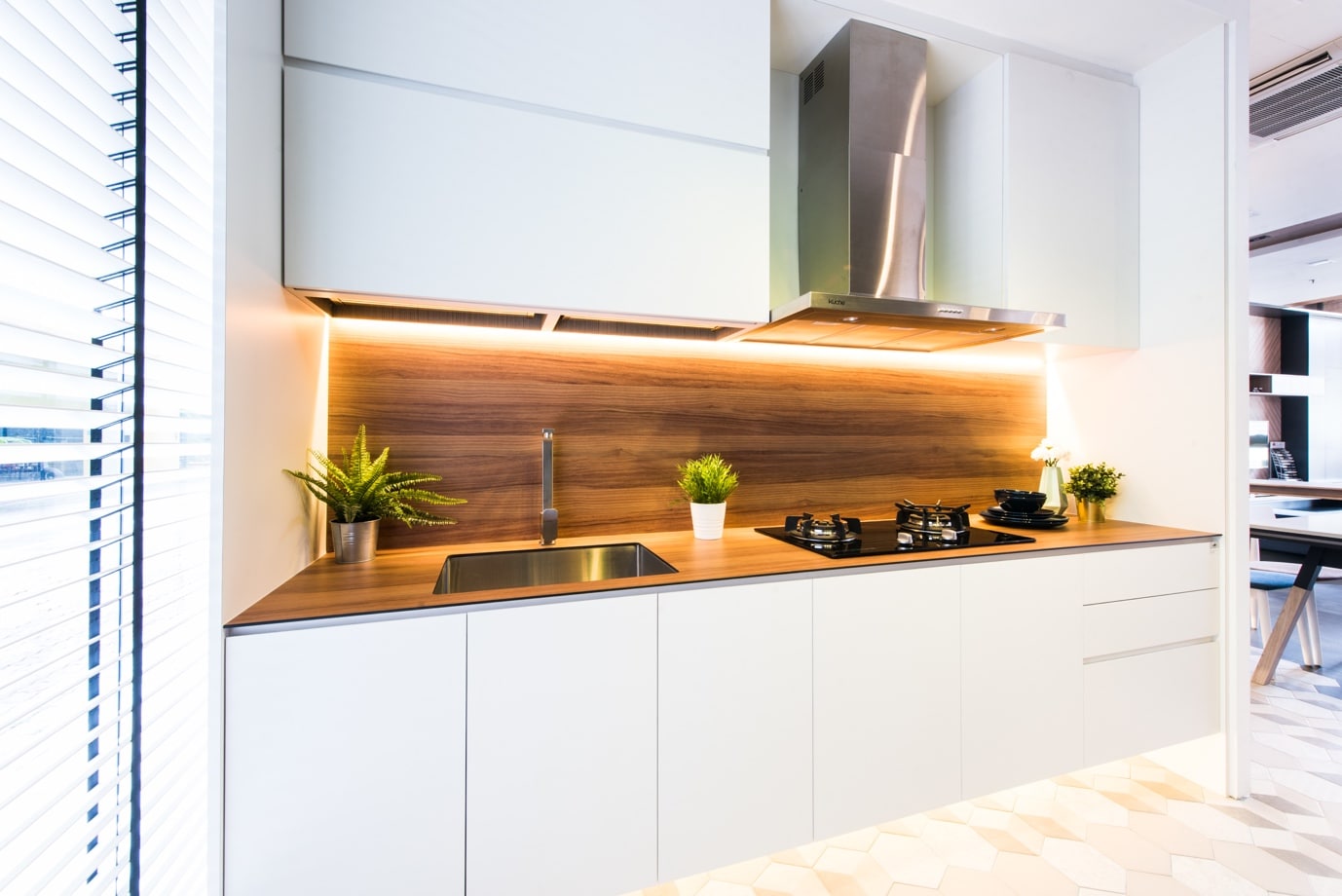 Featured laminate: RP2111T (White)
Like a painting canvas, you can easily mix and match white laminates with other colours and patterns to create a more nuanced look for your kitchen. One such example is pictured above. The mix of white laminates and wood grain worktop work to add some warmth and softness to your kitchen space.
You can also have a design palette that's easy on the eyes by mixing white laminates with different tones of white. This will make your kitchen appear all white but it's different when you look closer.
Which laminate to choose for the kitchen cabinet?
Given the wide range of colours, textures, patterns, finishes, and sizes of laminate sheets, it's understandable that everyone including you will have a difficult time making your choice. To help you make an informed decision, here are the laminates that may be suitable for your kitchen design.
Solid coloured laminate
Solid colours like white, black, and grey are commonly used on both kitchen cabinets and countertops due to their clean look and feel. A single solid colour textured laminate sheet may work well across your whole kitchen but you can also mix and match between two or more solid coloured laminates to create a distinct look.
High gloss laminate
Laminates with a high gloss finish tend to have a shiny and reflective surface, allowing them to make smaller kitchens appear more spacious. On top of that, they are also very smooth to the touch, which makes them easy to clean. If you want your kitchen to appear bright and glossy, opt for high gloss laminates.
Matte laminate
Laminates with a matte finish give a muted appearance and are less likely to reflect as much light as high gloss laminates do. However, it's easier to conceal any scratches or surface blemishes with a matte laminate.
Textured laminate
Laminates with a textured finish often mimic the look and feel of natural materials like timber and stone at a considerably cheaper cost. Not only do they offer the appeal of natural materials, but also offer better dimensional stability. But, regular maintenance is necessary to ensure that dirt and dust don't stay trapped on the surfaces.
While textured laminates can add a dash of richness and elegance to your kitchen space, they may not be ideal if you cook regularly. Nevertheless, you should consult your designer and laminate provider if you're going to incorporate white-textured laminate in your kitchen. 
As a stylish and affordable alternative for your interior, laminate sheets can enhance any space with their polished appearance and clean lines. At Jennings Laminates, we offer a wide variety of laminate sheets to give you the real deal at a more affordable price. View our full catalogue for more options and inspirations for your home!