The World of Wood Laminate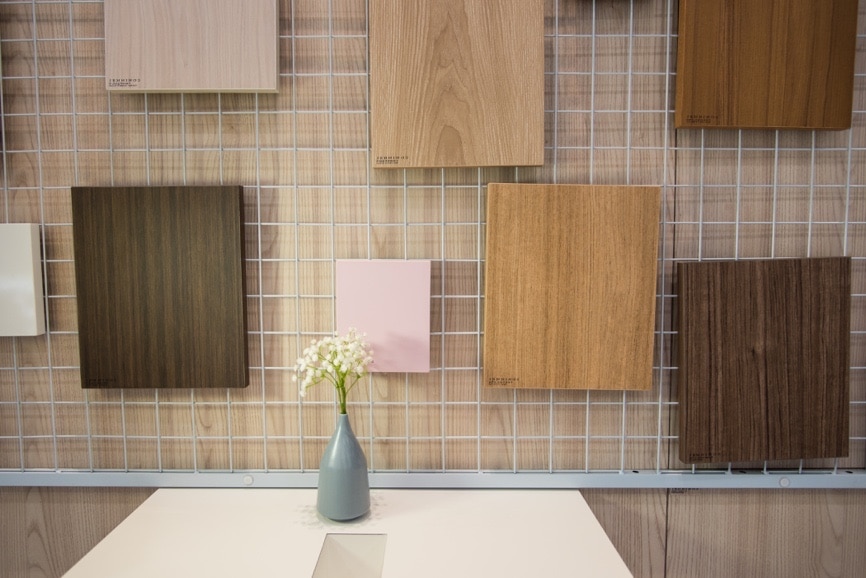 Wood has long been an element that's loved by many. Its traditional, timeless, and beautiful design makes it a highly sought-after material by design experts. With so many varieties available in terms of colour, grain pattern, and texture, there's a look to suit every taste.
As a result of its versatility, wood has been a major decorative element in residential and commercial projects. From wall panelling, flooring, doors, mouldings, window joinery to furniture and more.
In the same way that popular design materials have been made accessible to many, the manufacturing technology has also resulted in various products that allow individuals and design firms to incorporate the wooden look into their desired spaces and design projects.
While products such as solid wood, plywood, and wood veneers have been around for years, technology has enabled many manufacturers to emulate the look of wood using laminates. In this article, we'll explore about wood laminates and the benefits of using laminated wood.
What is Wood Laminate Singapore?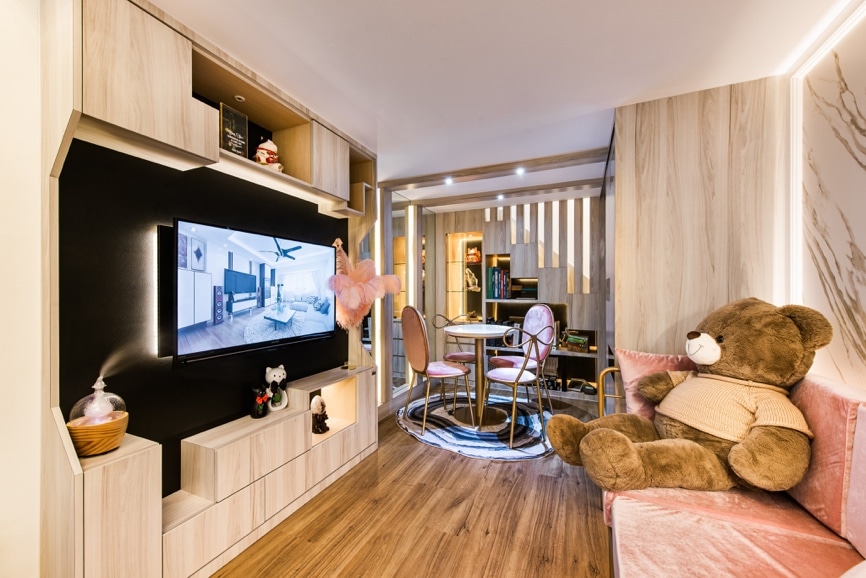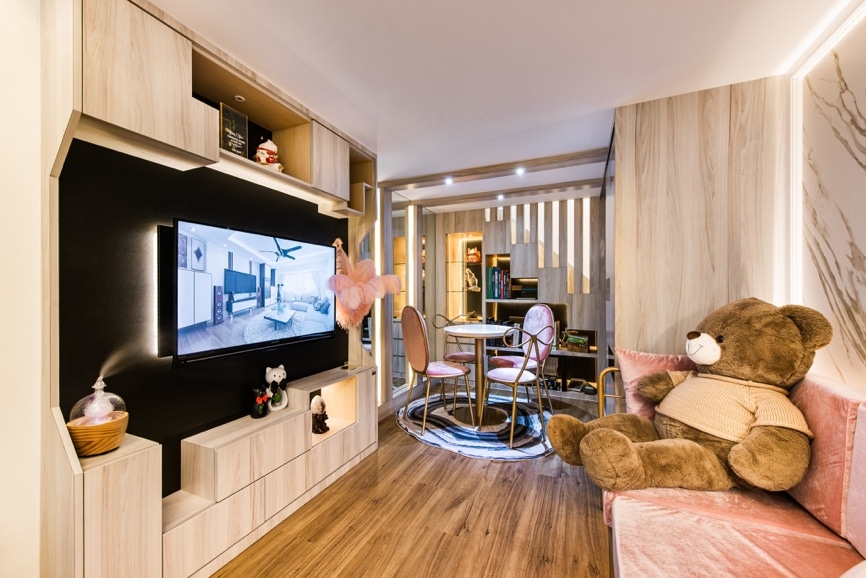 Featured laminates: PG1502T (Woodgrain Cabinet), WPL1833L (Black Feature Wall)
Wood laminate Singapore is essentially made of a composite material consisting of sheets of paper with decorative woodgrain paper as the outer layer. These are then glued together with thermosetting resins and subjected to high pressure and temperature.
When the wood laminates are subjected to such manufacturing condition, it results in a surfacing material that is highly durable and resistant against impacts. This makes it suitable for changing the appearance of various surfaces such as walls and cabinets.
Ahead, we'll be sharing the benefits of using wood laminates in various spaces.
Benefits of Wood Laminates
Wood laminates have long been prized for their ability to emulate the beauty of real wood with a plethora of practical and design benefits. Among them are affordability, durability, ease to clean, and versatility of the wood laminates.
Affordability
Much like marble, real wood can be expensive and hard to procure. Even if you procure one at a reasonable cost, you have little to no guarantee about the wood quality. Not only that, but you also have to find ways to process the wood into your desired product. Sounds like a lot of work, no?
Wood laminates, on the other hand, cost less than real wood thanks to the latest advancement in design and manufacturing technology. This means you can have wood-like surfaces fabricated in the form of laminates and installed in your home or office at a fraction of the cost, saving some of your budget for other things.
Durability
Real wood may be attractive but various environmental and artificial factors such as moisture, heat, termites, and scratches can affect its durability. Without proper finishing or care, the wood may appear damaged and unattractive over time.
Wood laminates, on the other hand, are manufactured under high pressure and high temperature to make them highly durable and resistant against impacts and damages. With the right finish and protective layer, wood laminates can withstand the demands of high-traffic areas.
Easy to clean
Cleaning real wood requires the use of proper methods with the right products to maintain a hygienic surface without damaging the surface. However, when it comes to cleaning wood laminates, you don't have to exert much effort in maintaining their appearance.
Thanks to its non-porous, hygienic surface, you can easily clean them using a damp cloth or other suitable cleaning methods. As a result of this, wood laminate Singapore makes the ideal surfacing material for cabinets and walls where high traffic is expected.
Versatility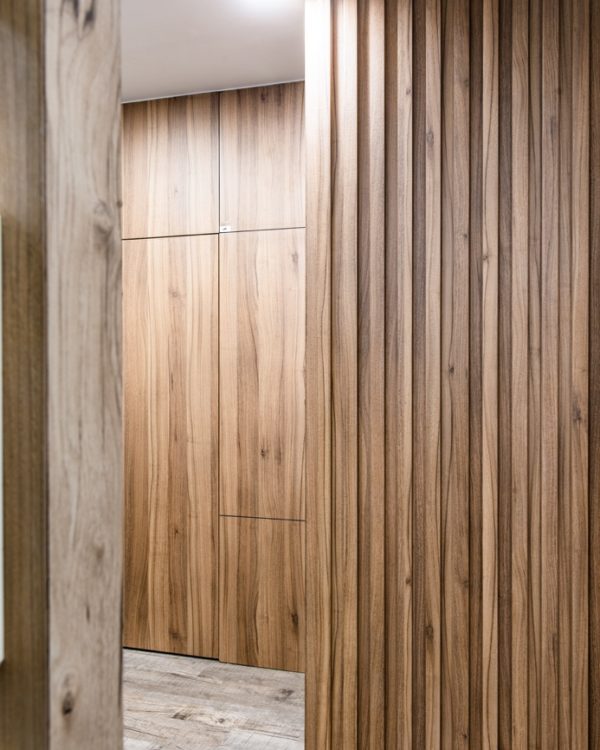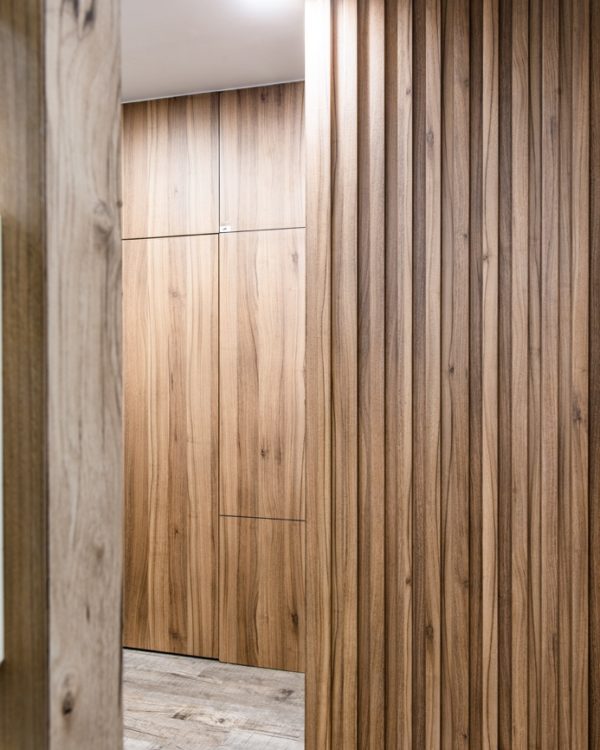 Featured laminate: WPL2667ST (Woodgrain)
Using advanced manufacturing technology, wood laminates can now look like the real thing. With large-scale scans of real wood, it provides a foundational artwork for laminate makers to produce a variety of wood laminates across the colour spectrum.
Not only that, but it can also enhance the grain pattern to simulate the real deal. With such versatility, it's no surprise if you see wood laminates everywhere you go. Besides, you also get to have patterns that are not available in real wood products.
Colour consistency
Just like paint that fades over time, real wood can change colour when exposed to light or other environmental factors. Also, it can be difficult to match the stains when different batches of materials are involved.
Compared to real wood, laminated wood offers consistent colour across various elements of your design project, even if they're completed at different times. This means you can have consistent colour on different surfaces such as your kitchen cabinet and feature walls.
Environmentally friendly
Aside from their exorbitant cost, some real wood comes from fragile ecosystems, which makes them not so environmentally friendly.
Jennings' wood laminates, on the other hand, are certified green by Green Label Singapore. This means that our wood laminates have fulfilled the requirements of low emission and low toxicity, making them suitable for use in extended periods.
Depending on the project that you're planning to use the wood laminate for, you will certainly benefit from the above. At Jennings Laminates, we offer a wide variety of wood laminates to give you the real deal at a more affordable price. View our full catalogue for more options and inspirations for your home!