Trending Bedroom Wardrobe Design Ideas using Laminates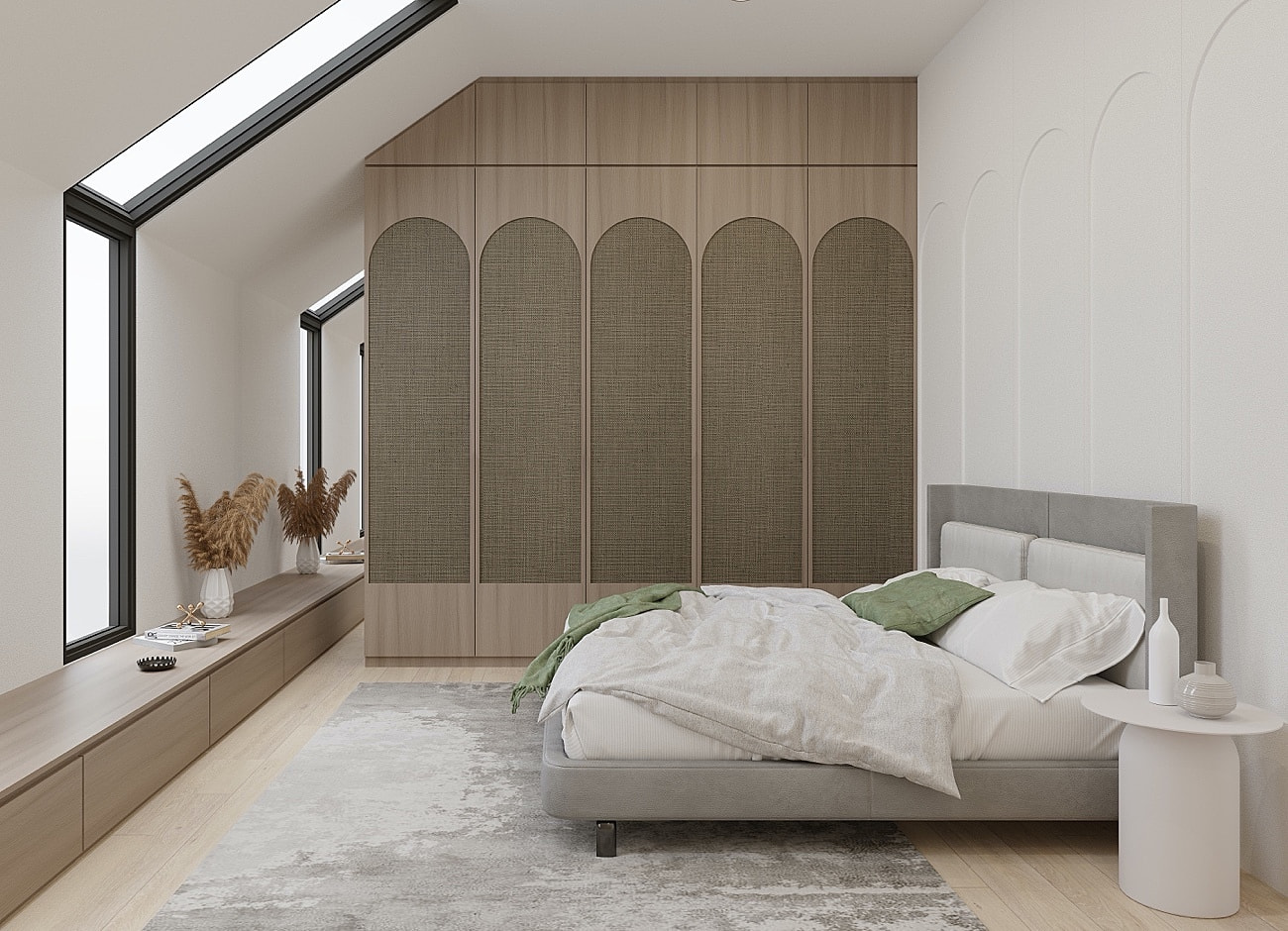 Featured laminates: PQ7719RT (Woven Rattan), PQ3770SM (Woodgrain)
If you're looking to give your bedroom wardrobe a makeover, you must have read all about the latest wardrobe design trends and have come up with a fantastic idea. The problem, however, is that it can be challenging to transform your wardrobe without disrupting your bedroom. And this is where laminates come in.
With laminate sheets, you can easily transform your old dresser or wardrobe into an interesting display case for your clothes. The best part? You don't need to replace anything; all your unused items will be hidden from sight. Here are some trendy bedroom wardrobe design ideas using laminate sheets.
5 Trendy Bedroom Wardrobe Ideas You'll Love
Using laminate sheets on your wardrobe is an excellent alternative to expensive hardwood, as they are easy to clean and resistant to moisture, making them a perfect choice for any bedroom wardrobe. Here are some of the trending wardrobe designs.
1. Woven Rattan on Wardrobe Door
Featured laminates: PQ7718RT (Woven Rattan), PQ1090N (Woodgrain), PS104TH (Pink Wardrobe), PS126TH (White Floating Cabinets)
Rattan holds a special place in furniture-making, as it is one of the materials that can be easily woven to create various furniture pieces. Woven rattan remains relevant in the interior design world, from room dividers to armchairs and wardrobes.
Like the image above, you can incorporate woven rattan into your wardrobe using laminate sheets to make your bedroom feel more cosy and inviting. At the same time, it's eco-friendly and gives off a rustic feel to the space.
2. Colour-Blocking Wardrobe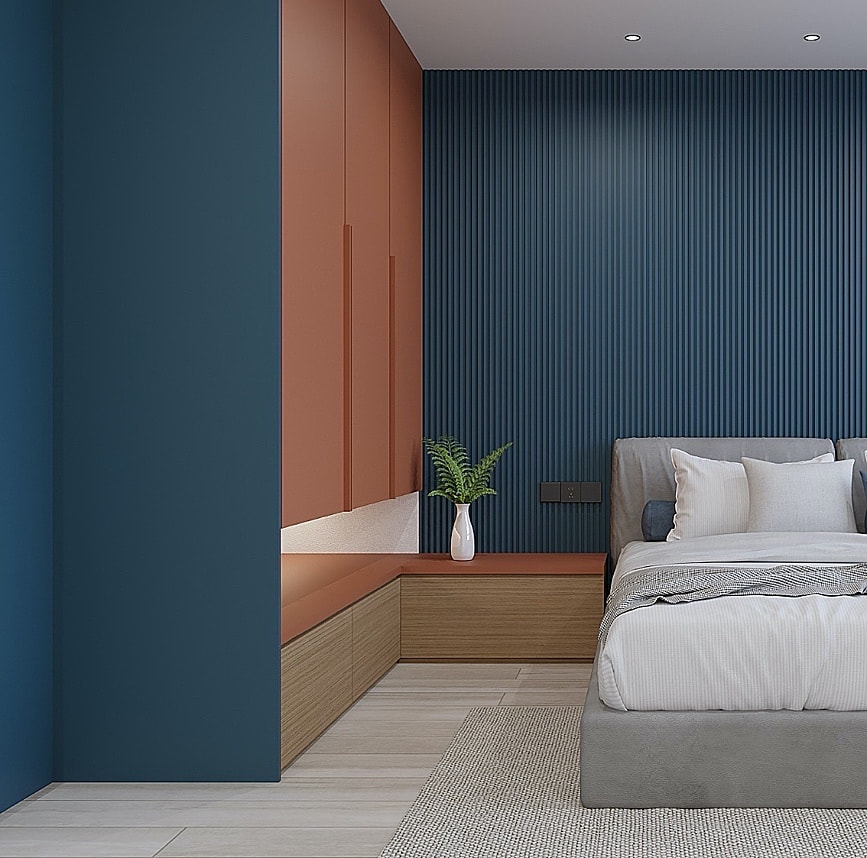 Featured laminates: PS129TH (Terracotta), PS130TH (Blue), PG5886MT (Woodgrain)
Your wardrobe should be a fun addition to your bedroom furniture. You can add some colours to your bedroom with unique and trendy wardrobe designs. This allows you to reflect your style and preferred design.
For instance, the image above perfectly shows how you can colour-block your bedroom without causing the colours to clash. Besides, your wardrobe can function as a design statement instead of your bed.
3. Woodgrain Wardrobe with Louvred Doors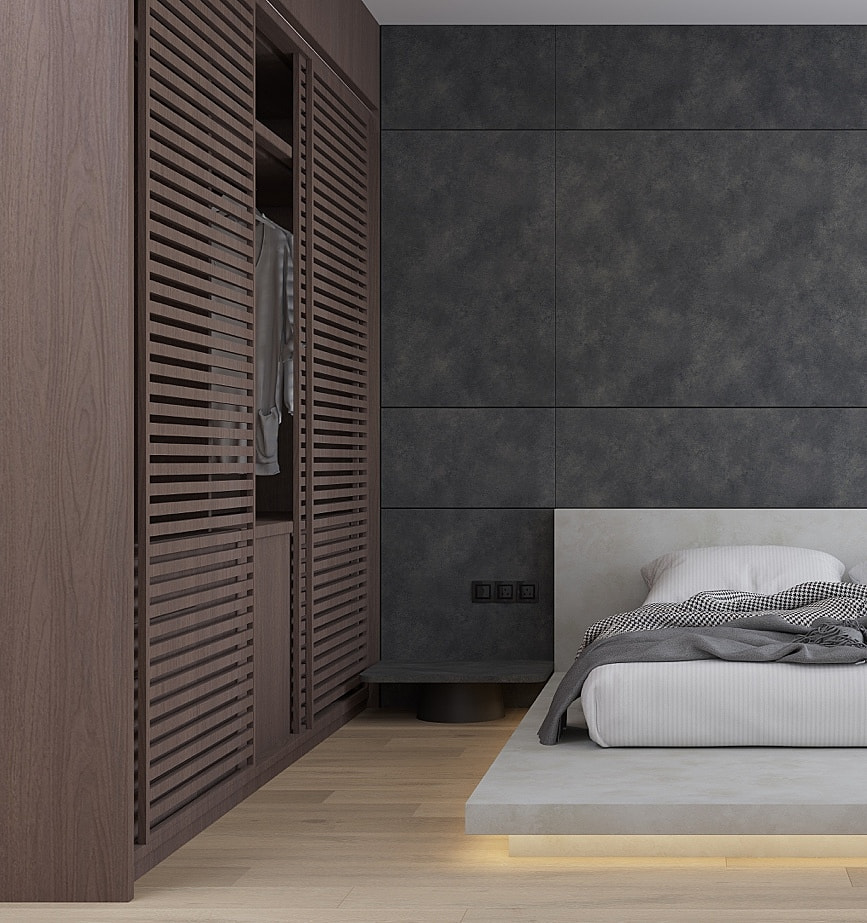 Featured laminates: PG3833MT (Woodgrain), PQ1001ET (Industrial Wall), PG2848ST (Platform Bed)
When you live in a hot and humid climate like Singapore's, having a wardrobe with louvred doors is likely your best option. This is because the louvres can help with air circulation and keep moisture at bay from your clothes. Plus, they look super stylish!
Like the image above, you can choose to have the entirety of your wardrobe with louvred doors or simply only a part of it. That way, you can add some character to your furniture while keeping true to your style preference.
4. Modern Wardrobe with Study Table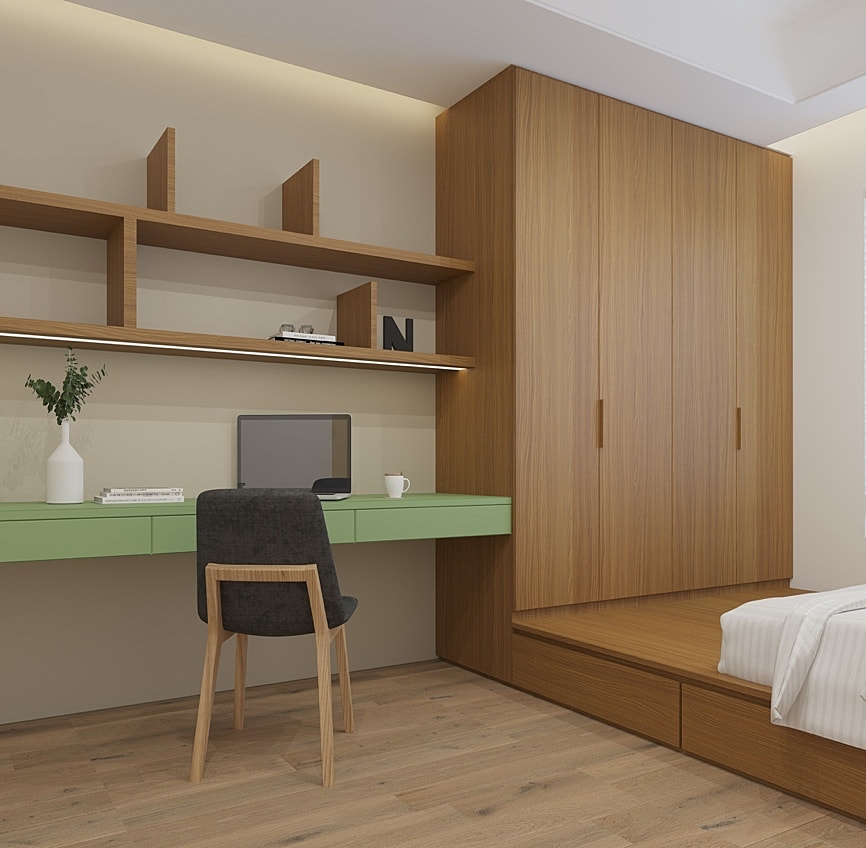 Featured laminates: PQ6813SM (Woodgrain), RR7826VF (Green), RR7819VF (Matte Wall)
Want a functional yet space-saving solution for your bedroom? Check out this modern wardrobe design with a study table. It's a brilliant way to maximise your bedroom space while keeping the interiors simple.
You can also utilise the shelves to keep your books or anything you would like to display on the walls above the study table. Like the image above, adding the woodgrain laminate to your wardrobe offers a design that's uniquely yours.
4. Classic Wardrobe Design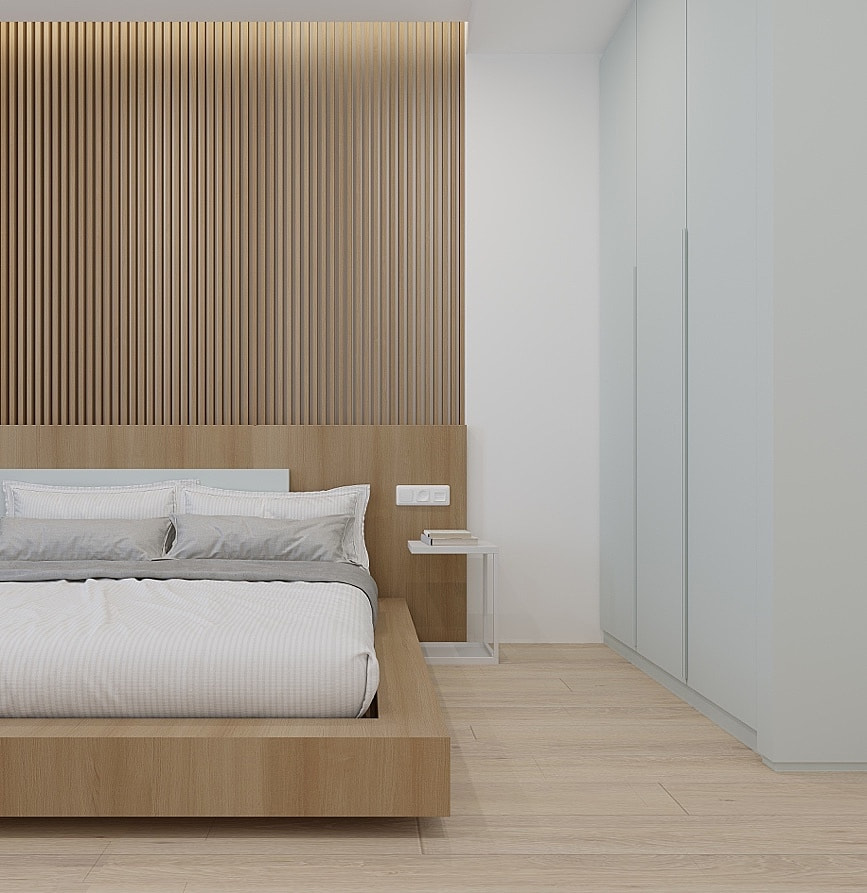 Featured laminates: PS112TH (Jade Wardrobe), PQ6830SM (Woodgrain)
Regardless of how trendy a wardrobe design is, you can never look past the simplicity of a classic wardrobe design, as seen in the image above. Although it's not white, the light jade laminate exudes calmness and innocence, capable of bringing in some good energies.
When choosing light colours for your wardrobe, feel free to select any wardrobe design. You could opt for floor-to-ceiling cupboards or even those with doors on top and drawers at the bottom to optimise your space. And you'll never go wrong with it.
Where to Get Quality Laminate Sheets?
Given that there are many laminate suppliers in Singapore, choosing the right one can be challenging if you don't know how to choose. At Jennings Laminate, you can browse the laminate sheet collection on our website and look through our social media pages to get a realistic idea of your desired laminate.
You can also forward your enquiries and request sample laminates before deciding. Besides, our laminate sheets are available in various options, allowing you to create the wardrobe of your dreams.
If you are looking for a laminate supplier in Singapore, you can reach out to us here! We offer a wide variety of laminates to give you the real deal at a more affordable price. View our full catalogue for more options and inspirations for your bedroom!