3 Reasons to Use Laminates for Your Bedroom Cabinet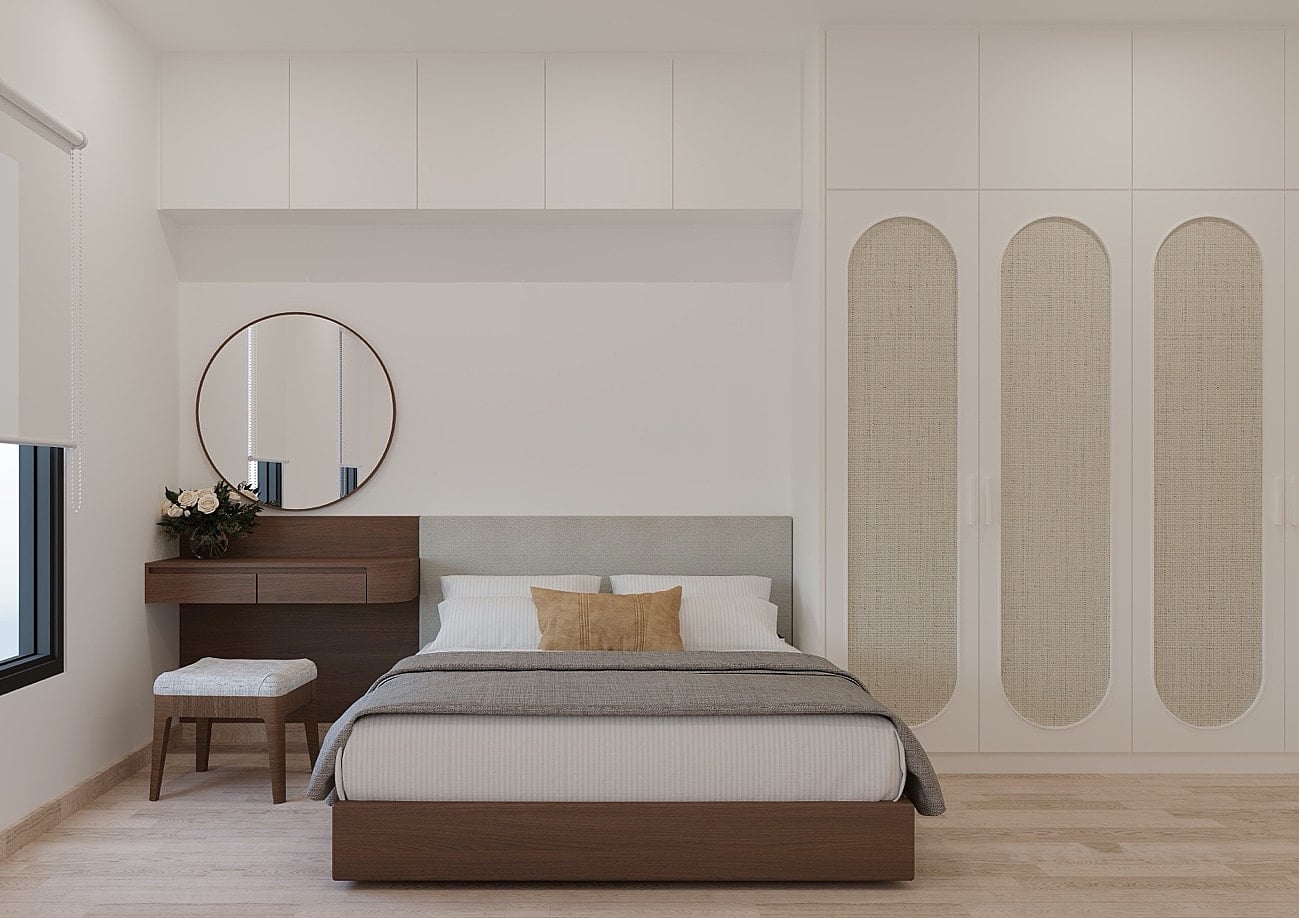 Featured laminates: PQ7718RT (Woven Rattan), PQ1090N (Woodgrain), PS104TH (Pink Wardrobe), PS126TH (White Floating Cabinets)
Bedroom cabinets are an essential part of every home. A well-designed wardrobe with an aesthetic finish can go a long way in providing storage space while improving the overall aesthetics of your bedroom décor.
While there are plenty of bedroom wardrobe designs to inspire you, it's a great idea to consider laminates for your bedroom cabinets as well. This is because laminates are available in various patterns, colours, and sizes, which can significantly impact your bedroom's appeal.
Whether you're renovating your home or resurfacing your bedroom wardrobe, this article will provide some reasons to use laminates. That's not all – you will also learn to select the suitable laminate for your bedroom cabinet.
Why You Should Use Laminates for Your Bedroom Cabinet
Reason 1: Wide Range of Designs
Laminates are designed to mimic various natural materials, including wood and stones. As a result, you have a wide range of laminate designs to choose from, such as marble, fabric, woodgrain, patterns, etc.
Since most laminates are made of several layers of kraft paper, you have a wide range of finishes to choose from. This includes glossy, matte, super matte, and textured.
Reason 2: Ease of Maintenance
Laminates are generally resistant to scratches, moisture and water, which makes them low maintenance. But this doesn't mean you shouldn't provide the necessary care for your laminated bedroom cabinet to maintain its appearance.
You might want to ensure that the laminates on your bedroom cabinet are appropriately glued to withstand moisture and water for several decades. Wipe the surfaces regularly to prevent dust, dirt, and debris from collecting on your wardrobe.
Reason 3: Affordability
Laminates are designed as an alternative to various natural materials that may be expensive for some homeowners. Plus, they are more affordable when compared to other surfacing materials, such as hardwood and stones.
This gives rise to many different types of laminates available in the market, which vary in price. With laminates, you can enjoy the best of both worlds, as you need not compromise on your bedroom aesthetics or budget.
How to Select the Right Laminate for Your Bedroom Cabinet
Selecting the suitable laminate for your bedroom cabinet doesn't have to be a challenging task. However, you should consider that the wardrobe will take up one wall of your bedroom, which means it can make or break the ambience of the space. Here are some tips:
1. Keep it Subtle
Before deciding on your bedroom design, you should determine what you want to highlight in the bedroom. If it's a feature wall, your wardrobe design should have a subtle shade to it. Opt for light-coloured laminates to complement your walls.
2. Use Illusion To Create Space
Laminates come in a wide range of colours. The most popular are white and neutral colours; these are great for small bedrooms to make it feel more spacious. Dark-coloured laminates are suitable for large bedrooms. With laminates, you can make use of illusion to create a sense of roominess.
3. Experiment With Colour-blocking
Why settle for one colour when you can bring drama into the room with colour blocks on the wardrobe? This colour design may not look good on the wall, but when done on your bedroom cabinet, it will create a sense of drama.
4. Consider The Laminate Finishing
Both the matte and glossy finish laminates are popular choices for bedroom cabinets. Many people prefer matte to glossy finish because of the non-reflective, designer's look it portrays. Some laminates have anti-bacterial properties, which are excellent for use in the kitchen and toilet.
5. Use Different Shades Of The Palette
Every shade on the colour palette is unique, and using them on your bedroom cabinet can bring out the funkiness of your personality. Besides, you can play with various shades and textures to make your bedroom wardrobe unique.
Read also: Trending Bedroom Wardrobe Design Ideas using Laminates
Where To Get Quality Laminate For Bedroom Cabinets?
There are plenty of laminate suppliers in Singapore. At Jennings Laminate, you can browse the laminate sheet collection on our website and look through our social media pages to get a realistic idea of your desired laminate.
You can also forward your enquiries and request sample laminates before deciding. Our laminate sheets are available in various options, allowing you to create the wardrobe of your dreams.
If you are looking for a laminate supplier in Singapore, you can contact us here! We offer various laminates to give you the real deal at a more affordable price. View our full catalogue for more options and inspirations for your bedroom wardrobe!