Authentic Wood Grain Laminate in Singapore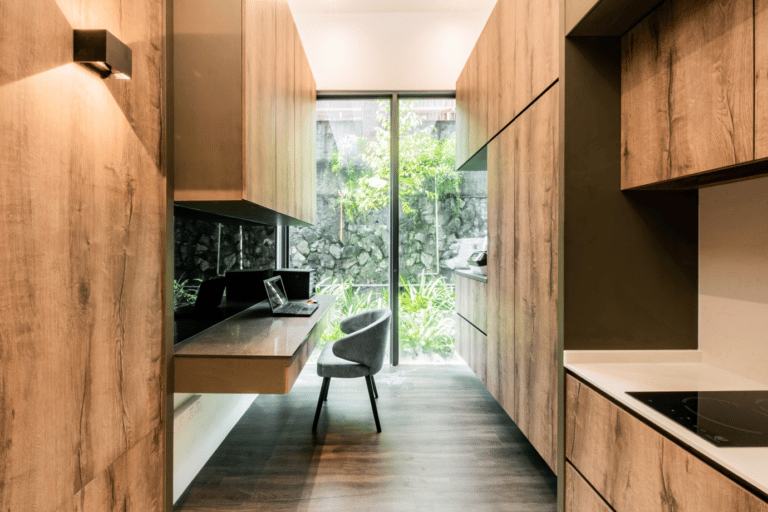 Featured laminates: WPL2906S (Woodgrain), RR21T (Military Green)
Have you ever wanted to incorporate wooden elements into your home, but you're concerned about the cost? Well, you're in luck because there's a better alternative for natural timber – wood grain laminates.
Thanks to modern manufacturing technology, wood grain laminate is produced to mimic the texture, colour, and grain pattern of natural timber at a considerably cheaper cost. As a result, wood grain laminates have been a major decorative element in residential and commercial projects. From wall panels to kitchen furniture and more.
You see, like any other laminates, wood grain laminates are made of a composite material consisting of sheets of paper with decorative wood grain paper on the outer layer. These layers are then pressed together with thermosetting resins and subjected to high pressure and temperature.
When the laminates are subjected to such manufacturing condition, it results in a surfacing material that is highly durable and resistant against impacts, making it suitable for use in various spaces like the living room and kitchen.
Wood Grain Laminate Embossed with Matte Finish
One of the best things about wood is that they never go out of style. They tend to add natural warmth to space as pictured above, goes well in the kitchen, living room, bedroom and just about any space at home.
While some wood grain laminates carry a sheen to the finish, there's also wood grain laminates that are embossed with a matte finish. Its low light reflection makes the laminate hard to distinguish from real wood. Look at how these laminates can make the room more vibrant than usual.
Living Room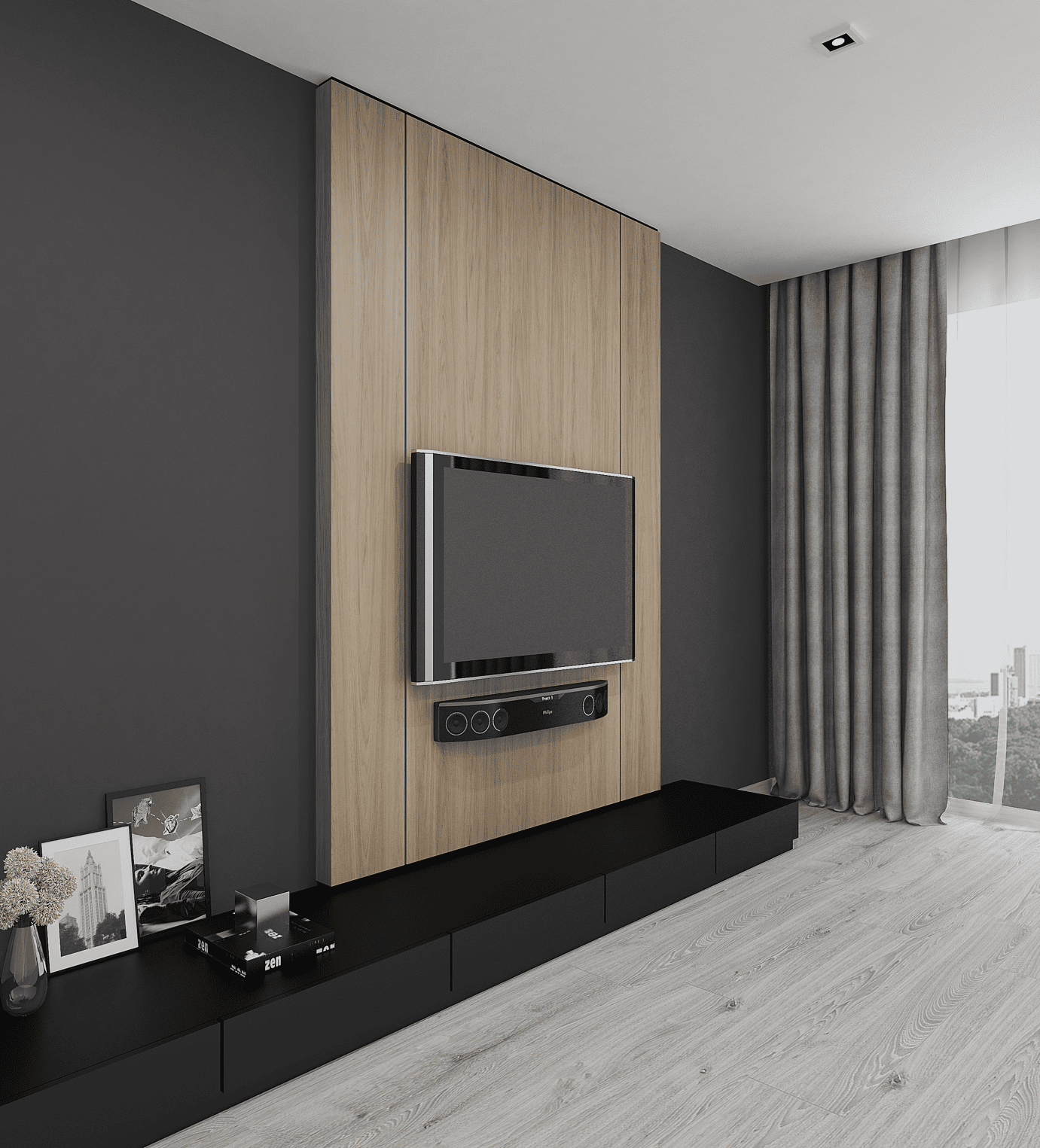 Featured laminates: PQ1077N (Feature Wall), JA2110T (Black)
One way to enhance your home viewing experience is to have the right wall design as pictured above. The wood grain laminate highlights the TV set, making the experience more relaxing and at the same time, stimulating. Meanwhile, the black matte finish works to elevate your viewing experience.
Kitchen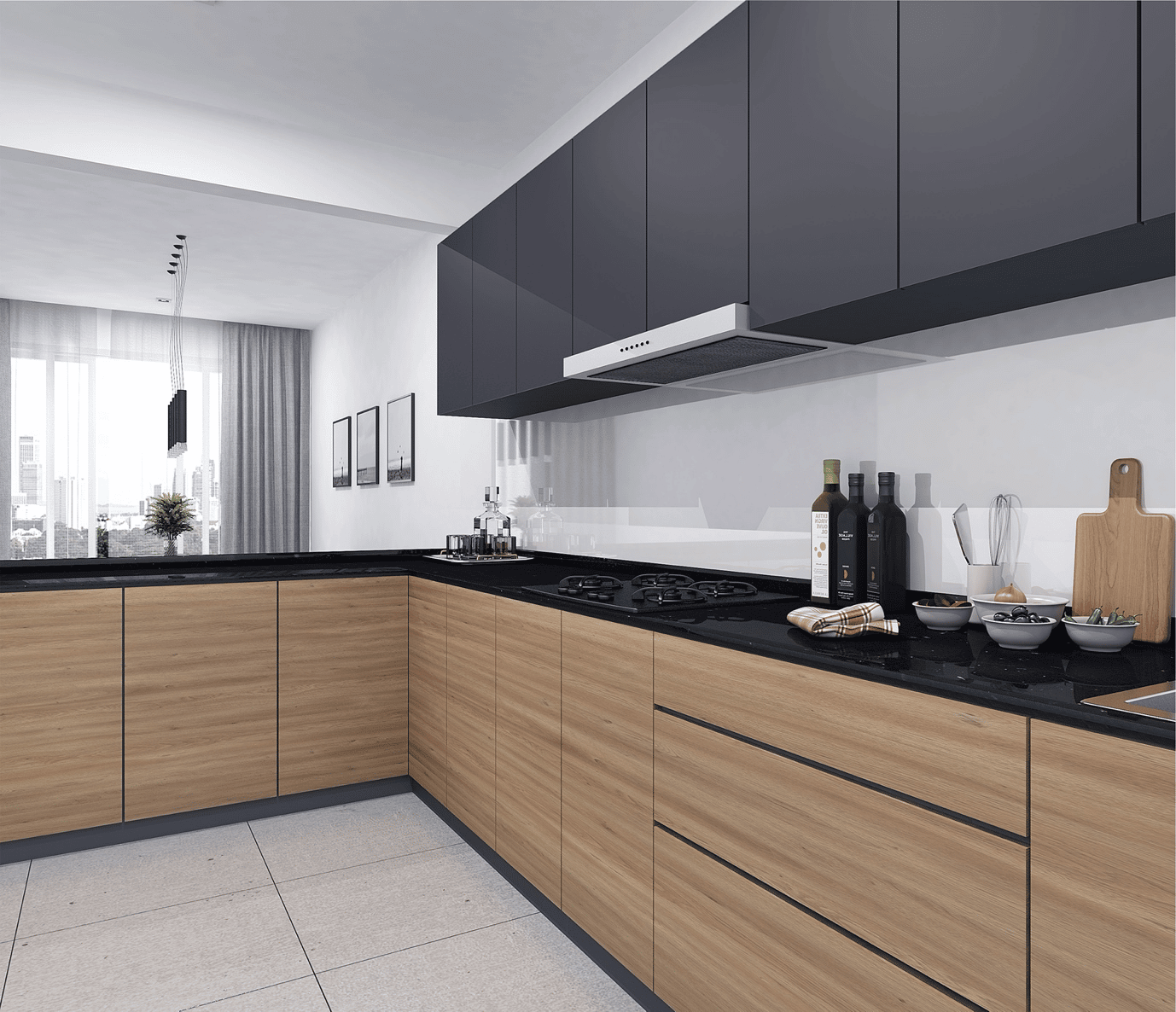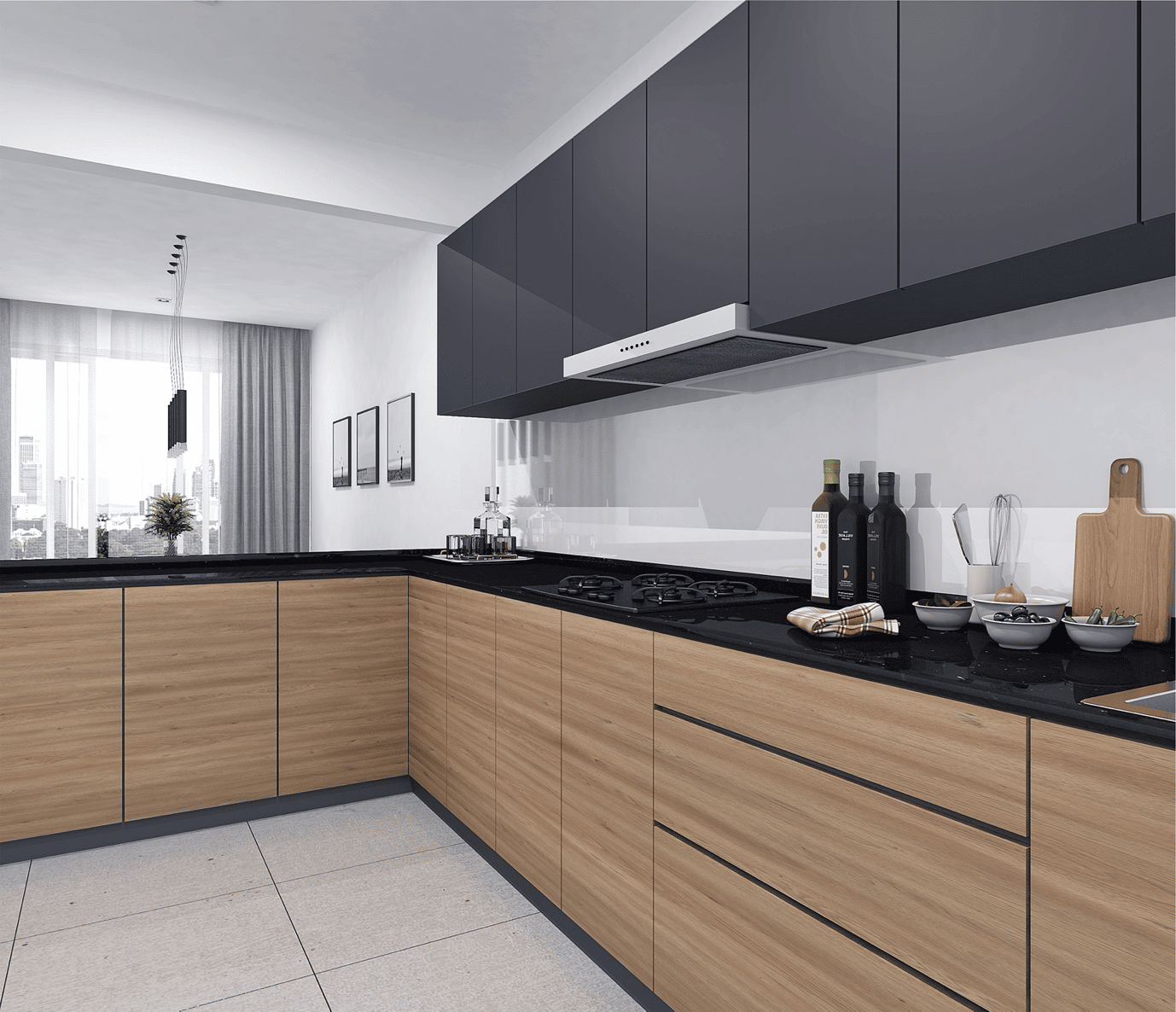 Featured laminates: WPL1802T (Bottom Cabinet), PK078CT (Top Cabinet)
If you like to mix and match the colour of your laminate to bring out your personality, you can do so as pictured above. By placing wood grain laminates on the bottom cabinet, you're creating a lining effect to showcase the edges of the cabinets. Paired with a Clean Touch laminate on the top cabinet, your kitchen will appear clean any time of the day.
Foyer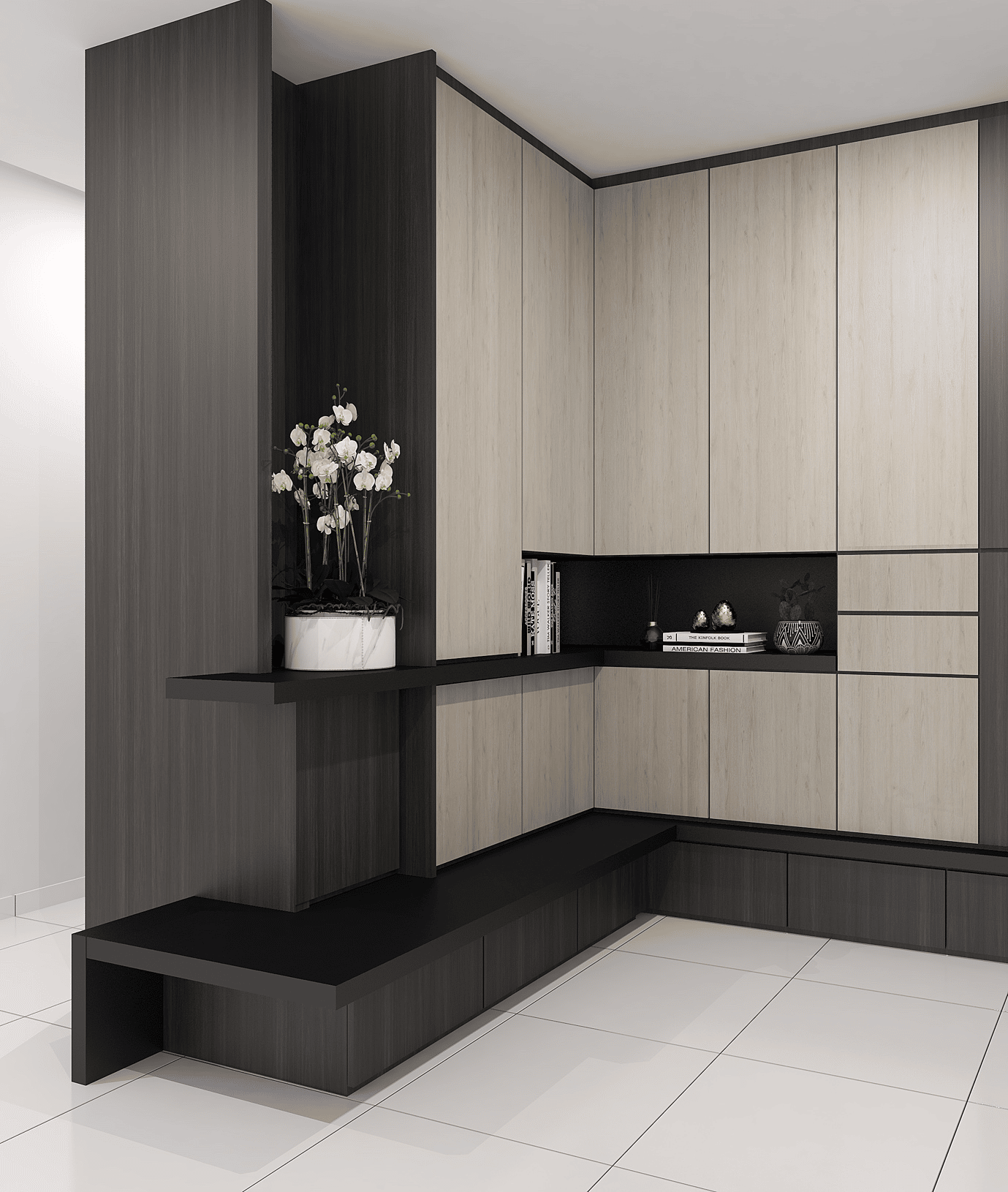 Featured laminates: PQ1075N (Dark Woodgrain), PQ1068N (Light Woodgrain)
The foyer is the entrance to your home or commercial space. It has to look pleasant to the eyes as people enter your area. Using both light and dark wood grain laminates with a matte finish gives your foyer a unique feel. Additionally, the white tiles work to accentuate the natural wood grain pattern, making it look like real wood.
Affordability and Availability of Woodgrain Laminate
Like any other natural materials, real wood can be expensive and hard to procure. Even if you procure one at a reasonable cost, you have little to no guarantee about the wood quality. On top of that, you also have to find ways to process the wood into your desired product.
Wood grain laminates, on the other hand, costs less than real wood thanks to the latest advancements in design and manufacturing technology. In other words, you can have wood-like surfaces fabricated in the form of laminates and installed in your home or office at a fraction of the cost, saving some of your budget for other things.
Instead of searching high and low for real wood, you can simply visit a laminate gallery like Jennings' to look for your desired wood grain. Available in a wide range of colour, grain pattern, and texture, there's a look to suit every taste. Here's a look at Jennings' wood grain laminates:
Crown woodgrain laminates build on a knotted wood design by creating long and thin crown rings around the knot or "eye".
Half-crown woodgrain laminates are like crown design in every way except that it is cut vertically in the middle along with the ripple, leaving only half of the long, thin crown rings.
Bold woodgrain laminates flaunt the grain pattern to capture people's attention with their thick and distinctive lines of varying wood shades.
Plank woodgrain laminates create their looks by putting together strips of wood. Their versatility allows them to create different looks simply by varying the size, placements, and colours of wood strips.
Straight woodgrain laminates are not exactly straight. The lines are a little curvy to break the monotony of its pure wood design with no knots or crown.
Yoko woodgrain laminates have a horizontal woodgrain design. This helps to reduce design headaches by allowing for horizontal designs on long vertical pieces without the ugly joint lines.
Depending on the design project that you're planning to use wood grain laminates for, you will have a variety of authentic wood grain laminates to choose from. Besides, it'll be worth every dollar because the materials are of high quality and long-lasting.
At Jennings Laminates, we offer a wide variety of authentic woodgrain laminates to give you the real deal at a more affordable price. View our full catalogue for more options and inspirations for your home!