Choosing Different Laminate Textures For Your Feature Wall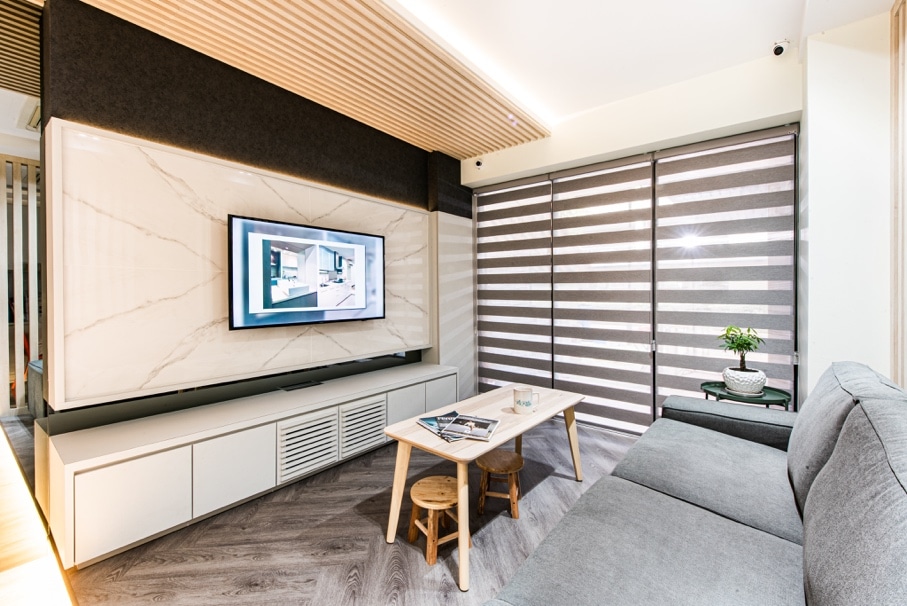 Featured laminate: PK039CT (TV Cabinet)
Take a look around your house. You'll notice that laminates are commonly used on tables, kitchen cabinets, and any wooden furniture. The use of laminates isn't limited to only home furnishing, but can also be applied on your house walls to enhance the appearance of your home.
One way for you to do that is to start with a feature wall, which can turn any room in your house from 'nice' to 'stylish'. As High-Pressure Laminates (HPL) come in a wide array of colours, designs, and textures, you can expect to impress your guest whenever they visit.
Designed to mimic expensive materials such as marble and timber, laminates are the cheaper yet highly durable alternative in home décor. However, with a plethora of options available in the market, choosing the right one for your wall can be daunting at times.
Ahead, we've put together five types of laminates that are designed to bring out the best of your space.
Sleek And Clean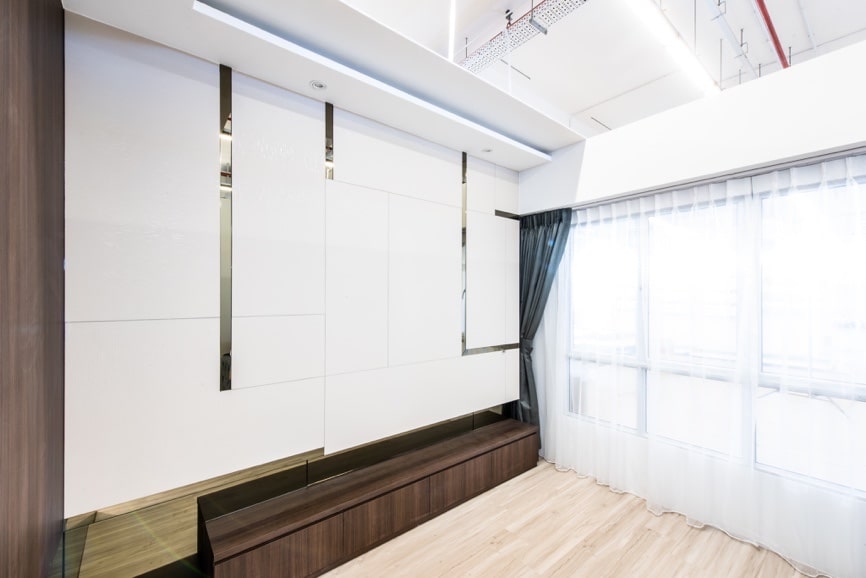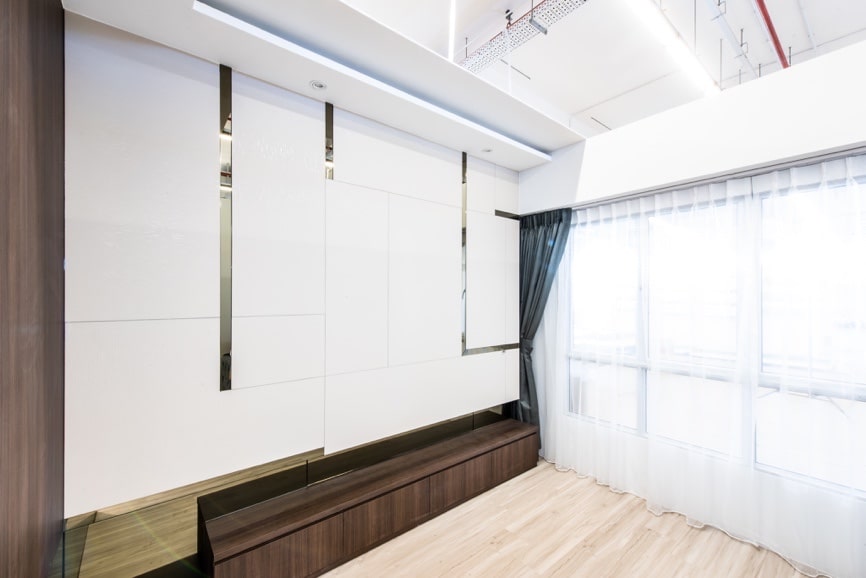 Featured laminate: PG8558R (Feature Wall)
There's a reason why light-coloured, untextured wall laminates are preferred in the living room of many Singaporeans. It gives off a minimalistic atmosphere while keeping the room looking simple yet stylish. One example will be the feature wall above.
The sleek and clean feel of the wall laminate will blend easily whenever you decide to change the living room furniture. For homes with limited spaces, light-coloured wall laminates can brighten and widen the space as it reflects more light than dark-coloured laminates.
Accent Wood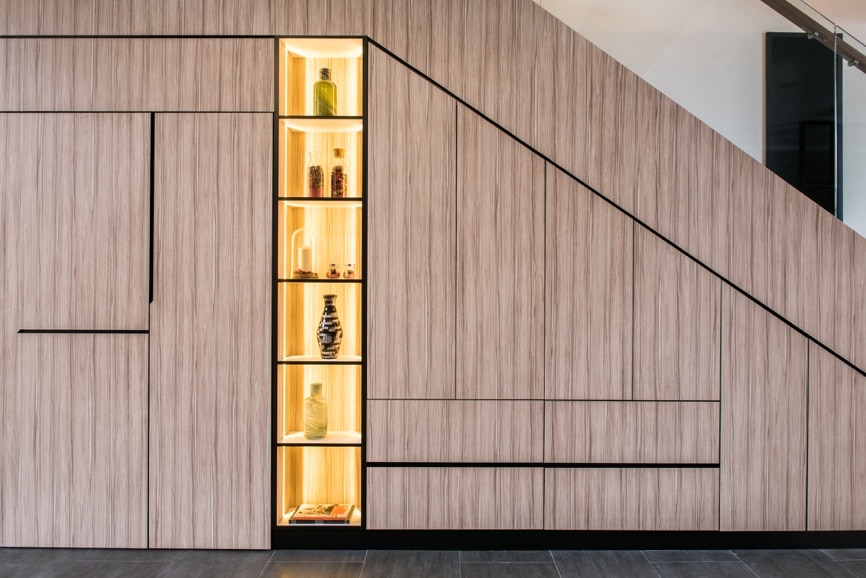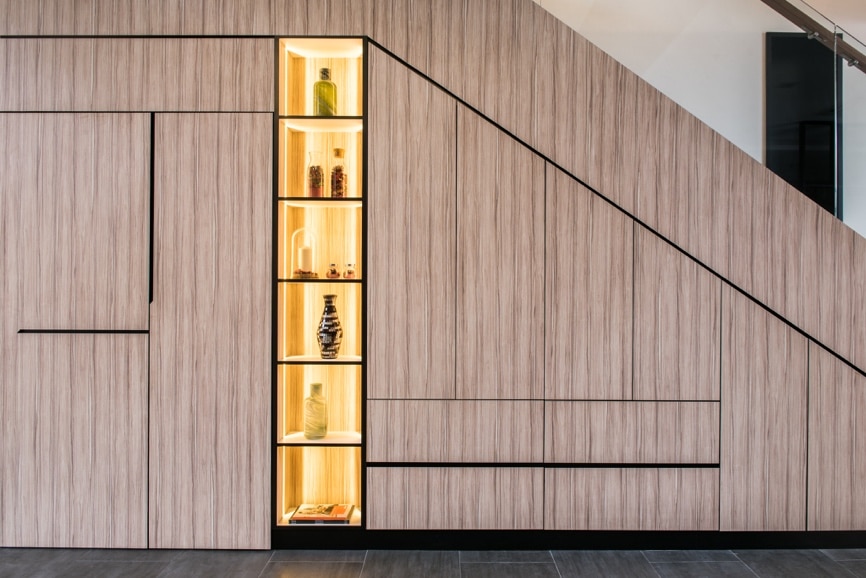 Featured laminates: PG1111V (Woodgrain), JA2110T (Shelf lining)
Notice how this wooden laminate adds some personality to the wall and hides the staircase structure behind it? As an alternative to timber, the texture of this wooden laminate can help to achieve an authentic look while adding a sense of warmth to the room.
That said, Jennings offers a range of laminates that mimics various wooden textures to give you a wide array of options to suit your needs and preferences.
Simple And Classy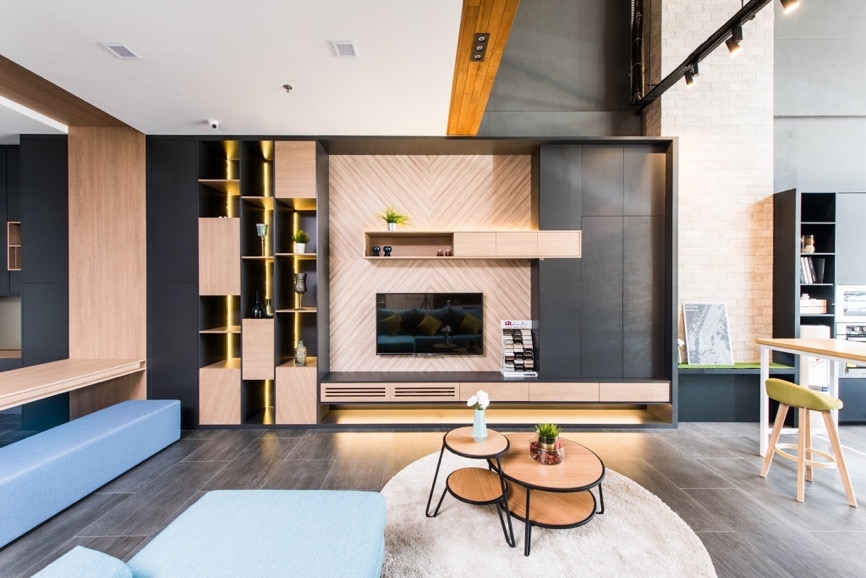 Featured laminates: PG1111V (Woodgrain), RP2192T (Dark Grey)
If you're looking to create a feature wall that's both simple and classy, a combination of different laminate textures as seen above can add some character to the room. Besides, you get to express your imagination by creating a feature wall design to liven up your space.
Note that you don't have to limit your imagination of the ideal feature wall to solid colours. Try to play around with contrasting colours and textures, and revel in the fascinating world of interior design.
Marble Chic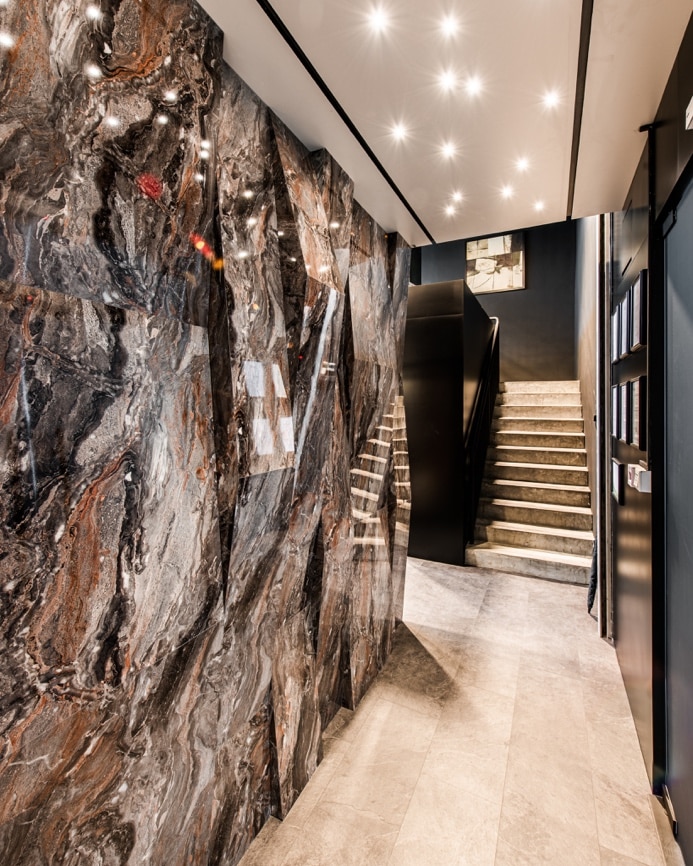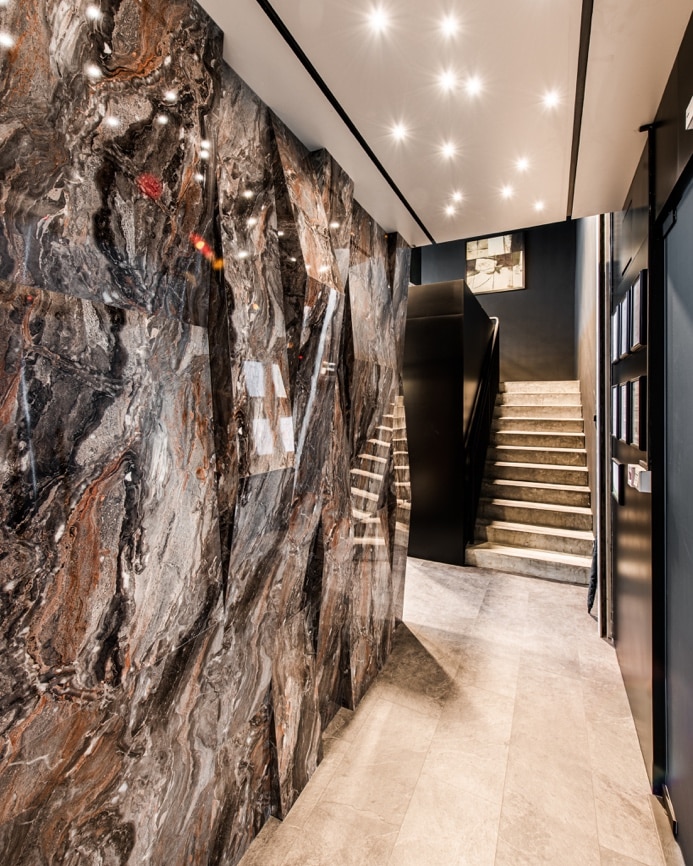 Featured laminates: PG2931HG (Marble Wall), RP2108T (Dark Grey Wall)
As one of the most expensive materials for home décor, marble laminates can certainly add instant glam to any room without the hefty price tag. Take the hallway pictured above as an example. You can easily impress your guest with a laminated feature wall that looks as real as it can get.
Depending on the tone of marble that you choose, it can easily compliment light to dark furniture. Make sure you opt for glossy marble laminate to enhance the texture's authenticity.
Urban Concrete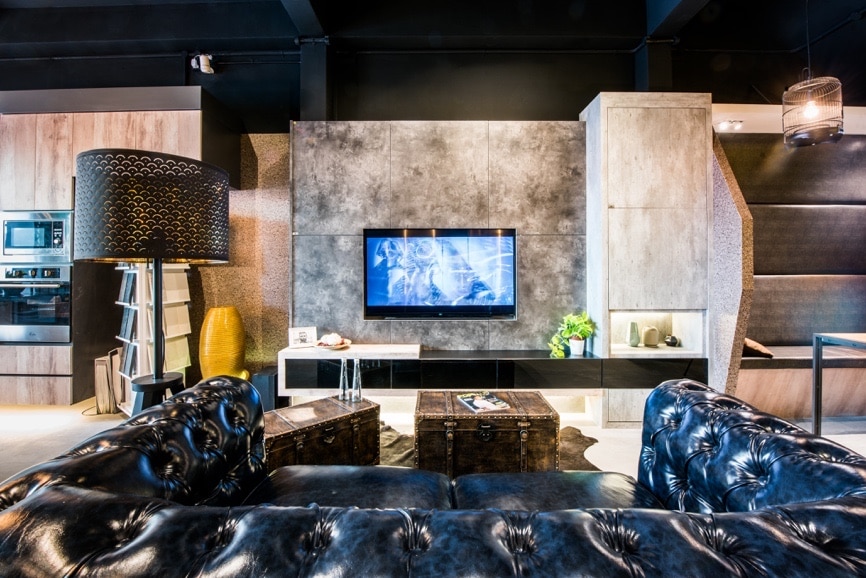 Featured laminates: WPL5599T (Concrete Wall), PJ2261WY (Woodgrain) 
For a modern industrial look, you can consider concrete-looking laminate as pictured above to add a rustic feeling to the room. Not only that, but it also works to tone down the atmosphere of the room when compared to marble laminates.
With such a feature wall, you get to highlight other features of the room such as your vintage furniture pieces. If you're looking for a lighter shade of industrial laminate, Jennings offers a few selections that are suitable for you.
When it comes to choosing the ideal laminate texture for your wall, it all boils down to your preference along with the atmosphere you wish for the room, the size of the room, and other decorative pieces in the room.
At Jennings Laminates, we offer a wide variety of laminate sheets to give you an interior of your dreams. Among the type of laminates we have are technology-integrated surfaces, marble, industrial and colours.
View our full catalogue for more options and inspirations for your home!