Laminate Singapore: Where To Use Them in Your Home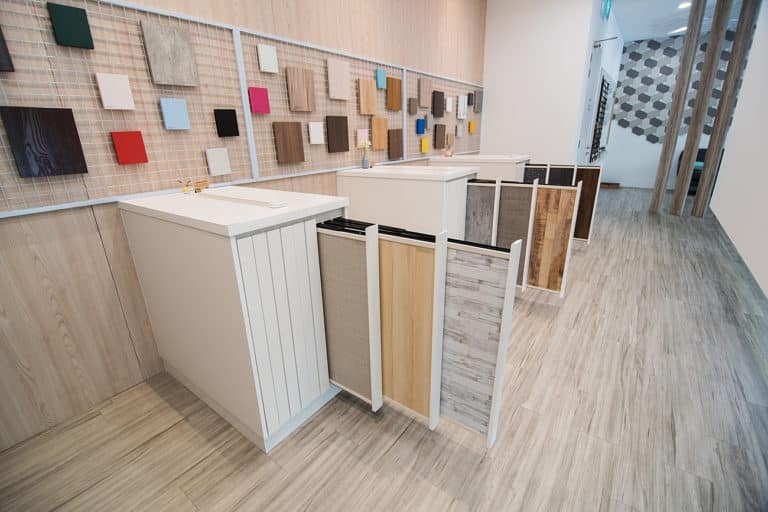 When it comes to transforming the look of your home, what's the first thing that comes to mind? Is it replacing your old and worn-out furniture? Or repainting the walls with a fresh layer of paint? Another alternative to transforming your home will be to apply laminates.
You see, laminates are decorative surface materials that are applied to a substrate such as plywood, MDF boards, or particleboard to create a beautiful interior or furniture finish. As such, laminates in Singapore make a long-lasting, low-maintenance, and simple-to-install surface treatment for various interiors and surfaces.
 Given their versatility, laminates can be installed both horizontally and vertically and can be used in a considerable variety of settings, including the kitchen, home office, and other spaces. The following are some benefits to using laminates in your home along with the five places where you can use laminates in your home.
Benefits of Using Laminates
1. Wide selection of colours, patterns, and finishes
Laminates come in sheets, panels, and boards for a variety of applications. Not only that, but they are also available in a variety of colours, patterns, and finishes. Let's say you want some of the surfaces in your home to have a wood or marble element. However, these materials are typically expensive, especially those of high quality.
The alternative would be wood or marble laminates, which are produced to resemble the textures' original properties. This allows you to create a superlative interior without exceeding your budget or breaking the bank.
2. Ease of maintenance
Replacing your house's wallpaper or repainting the walls may sound easy but they require a lot of work and continuous effort in maintenance. These solutions are also susceptible to scratches, marks, and dents. Should there be any damage to your wall or wallpaper, you will need to repaint or replace the entire wallpaper.
Meanwhile, wall laminates are easier to maintain as they require minimal maintenance. You just need to dust them regularly and clean them with a damp cloth to remove stains. The excellent resilience to stains and damage makes them last longer than marble or tile flooring.
 3. Exceptional durability
Your house in general is built with materials that deteriorate over time, which may leave your house looking dull and dingy. Instead of repainting the walls or replacing the wallpaper, removing and covering them with laminates will significantly improve its durability.
With properties such as resistance to scratch and impact, your laminated walls or surface laminate in Singapore will remain damage-free as the outermost layer will protect the inner layers while maintaining the colour and finish. Laminates are also resistant to moisture which means bacteria cannot multiply in your walls or between the surfaces.
 4. Inexpensive transformation
The most common topic around home renovations is the cost of it. While you may have to spend a little more to repair and maintain your house, installing laminates on your walls and cabinet surfaces is much cost-savvy than a constant need to repair damaged walls and surfaces.
After all, laminates are less expensive than most alternatives on the market, such as solid wood and real marble. As such, they are becoming the standard surfacing choice for kitchen cabinets and decorative furnishings.
5 Places to Use Laminates in Your Home
1. Kitchen cabinetry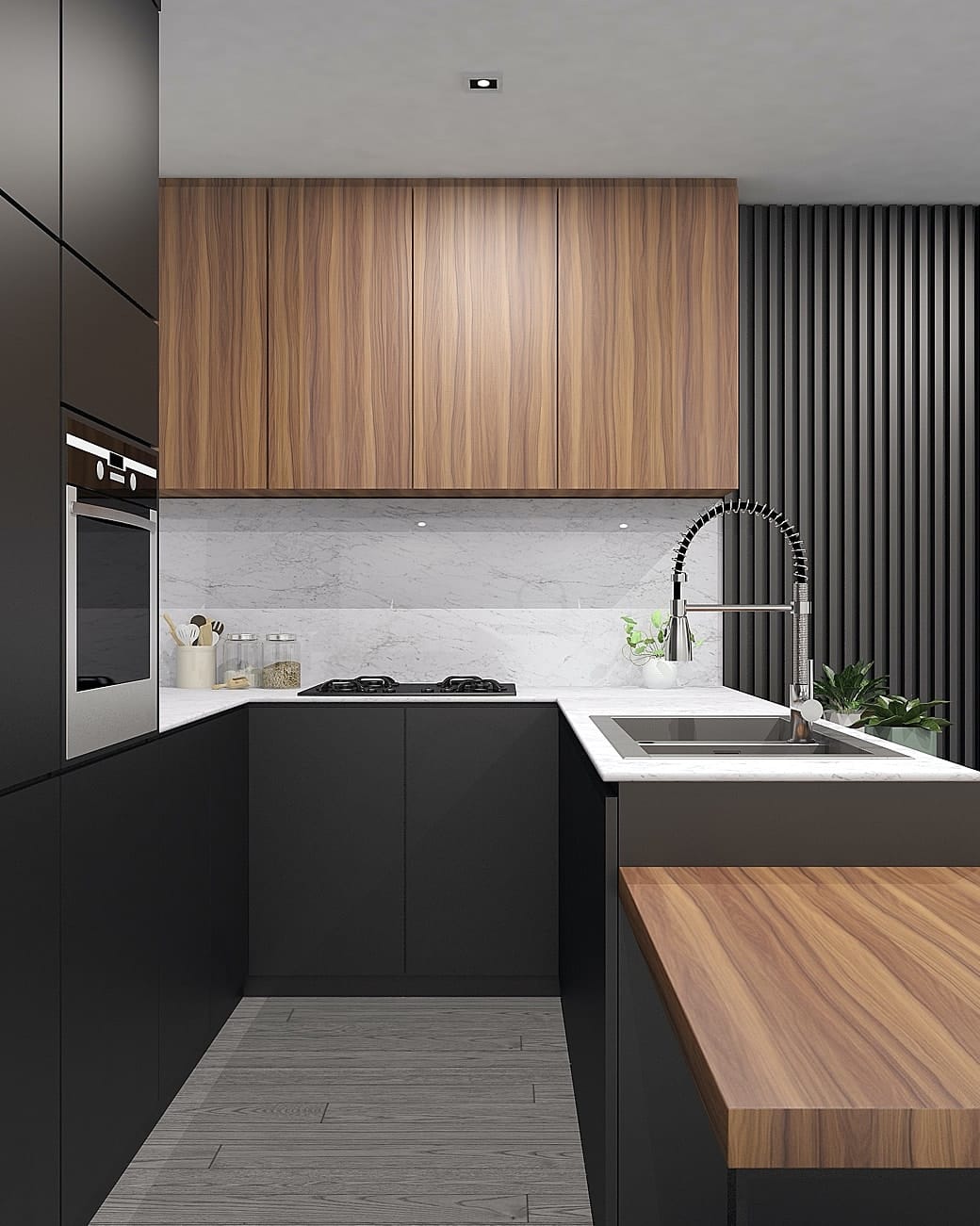 Featured laminates: PG1533MT (Woodgrain), PK078CT (Kitchen cabinet)
The kitchen is the heart and soul of a house as well as an area with heavy foot traffic. As such, maintaining the kitchen's cabinetry is likely one of the most challenging tasks for a homeowner.
Using high-pressure laminates for your kitchen that resonates with your taste offers an easy way to enhance the aesthetic of your kitchen as well as the feel of your cabinetry. They will also last longer for years to come.
2. Living room walls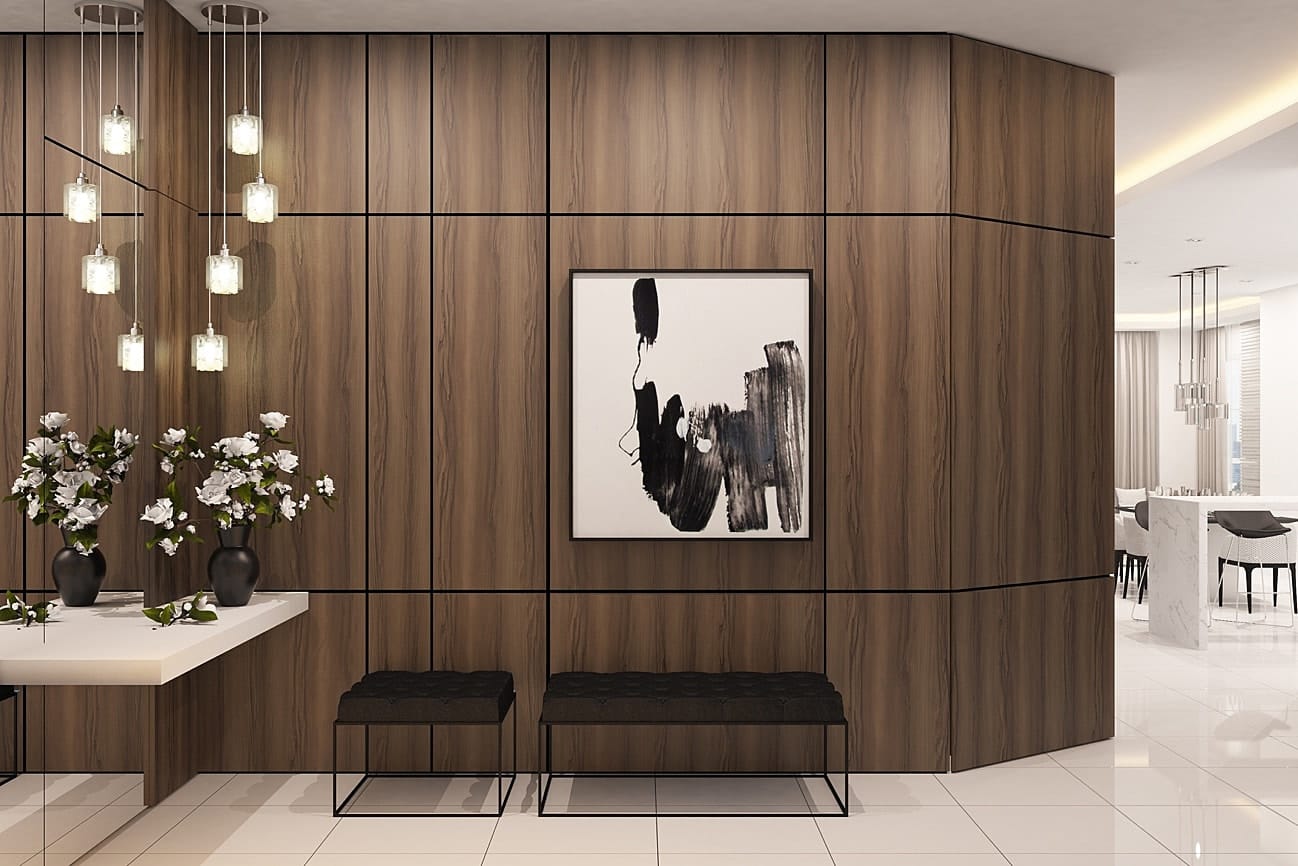 Featured laminate: JW5001MT (Foyer)
Since laminates can be used for both horizontal and vertical surfaces, they can be used on your living room walls to create a feature wall or simply as a wall covering that distinguishes one part of your living room from another.
By using wall laminates to create a feature wall, you're separating the space which functions to draw attention to it. Such instances are common for TV walls and at the entrance of homes.
3. Bedroom wardrobe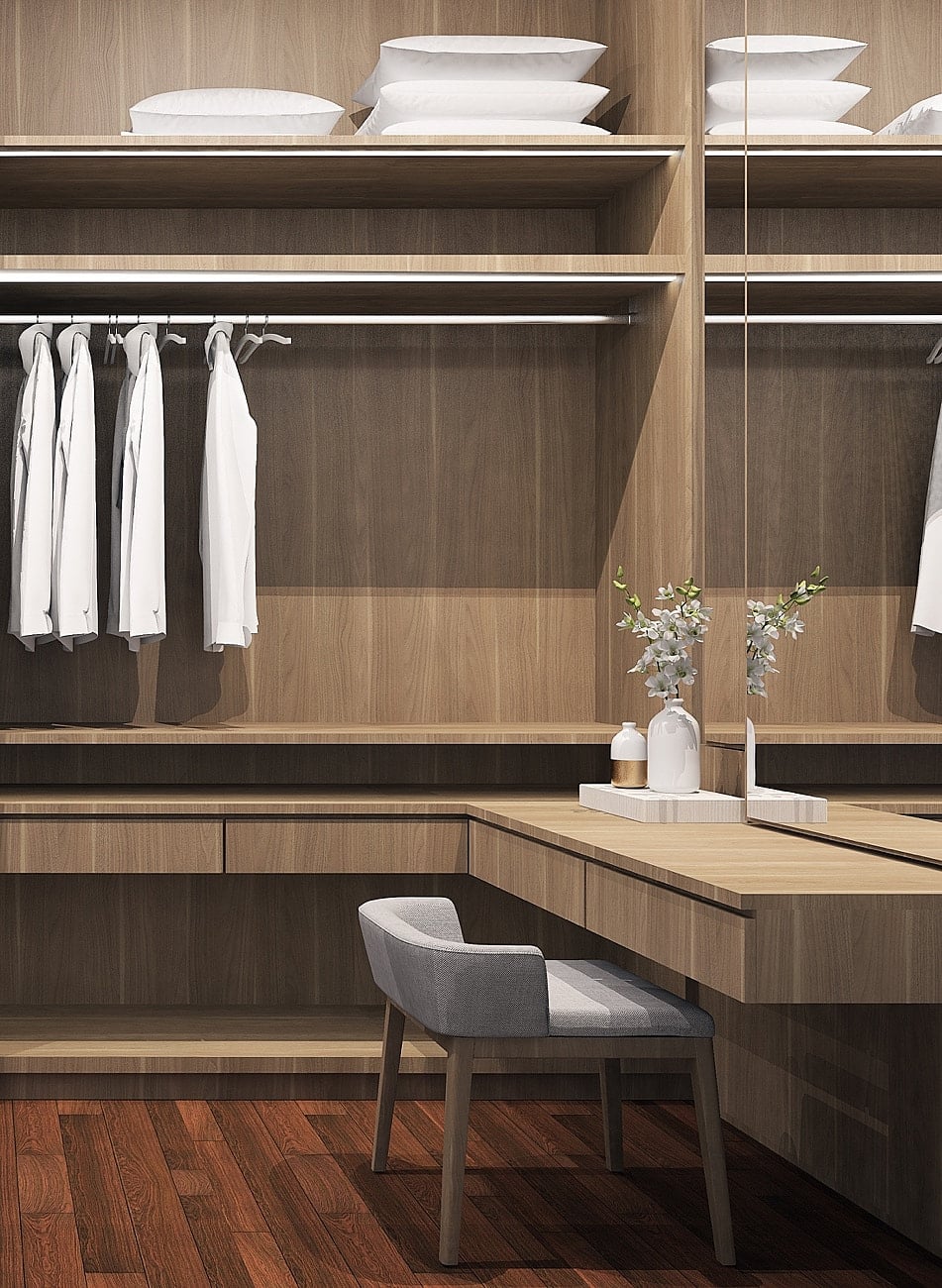 Featured laminate: PG7805VF (Wardrobe)
If you're thinking of replacing your bedroom wardrobe with a new one, why not give it some touch up with laminates? What could be better than covering up the old, worn look of your wardrobe than with laminates?
After all, it's inexpensive and you get to choose from a variety of colours, patterns, and finishes. With laminates, you can change the look of your bedroom wardrobe without needing to take out any part of your wardrobe.
4. Furniture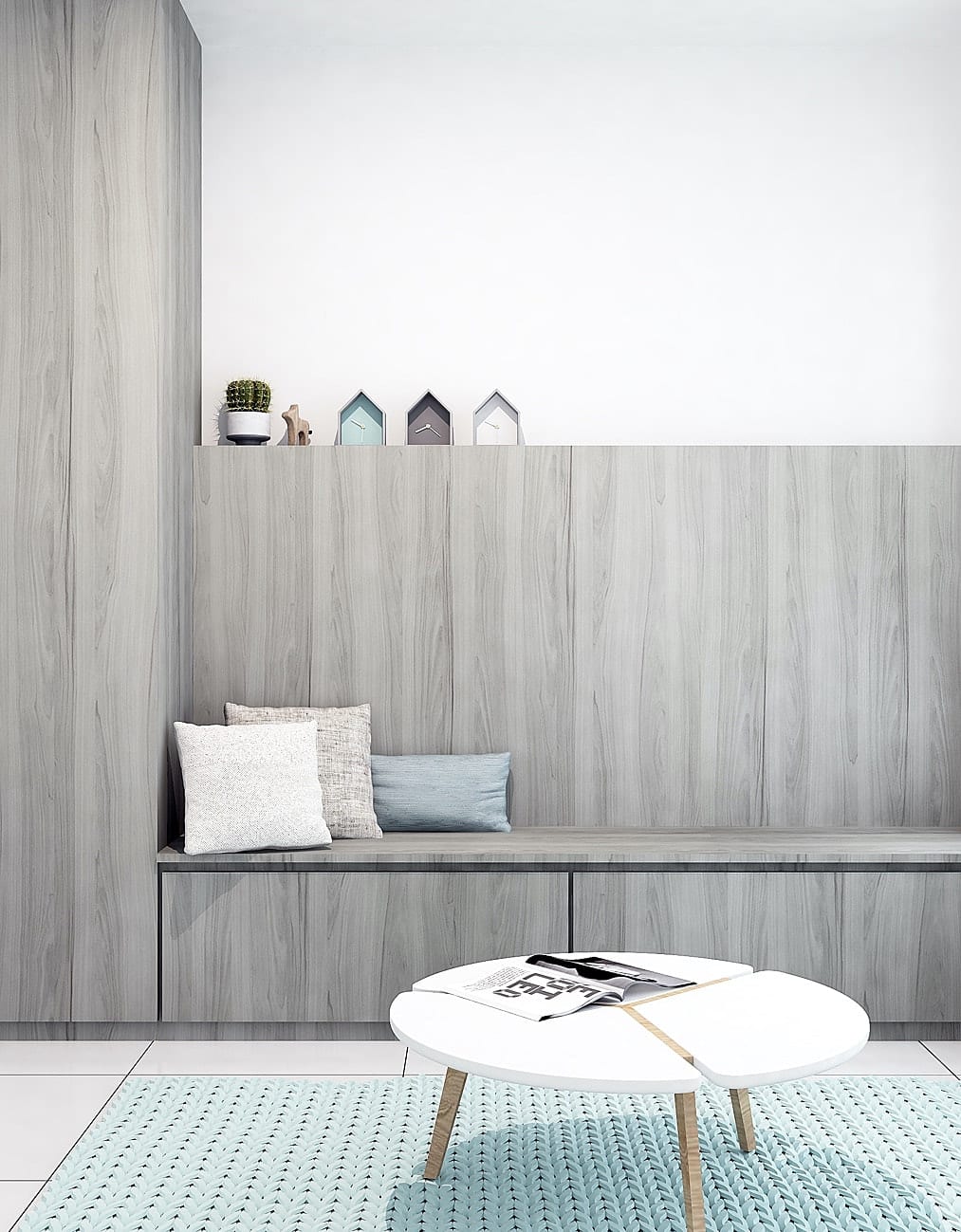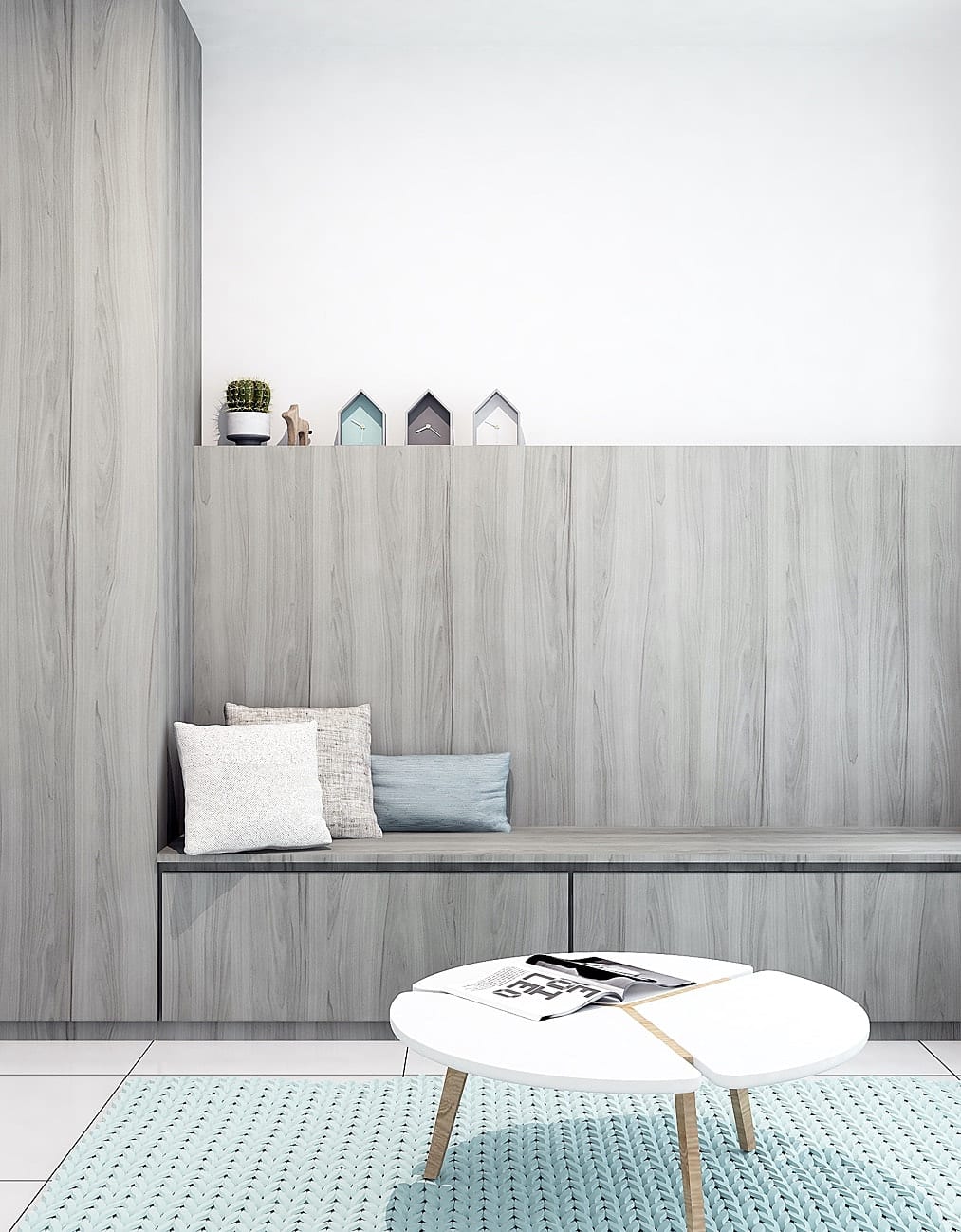 Featured laminate: PG1502T (Furniture)
Have you got furniture such as the TV console that is still in good condition but it has become weary due to daily exposure to wear and tear? You may have thought of getting it replaced with a newer design but you don't have the budget to do so.
The solution? Laminate sheets! By laminating your furniture, you're giving it a fresh new look without having to discard it or get a new one. You get to save both the money and your old furniture.
5. Bathroom carpentry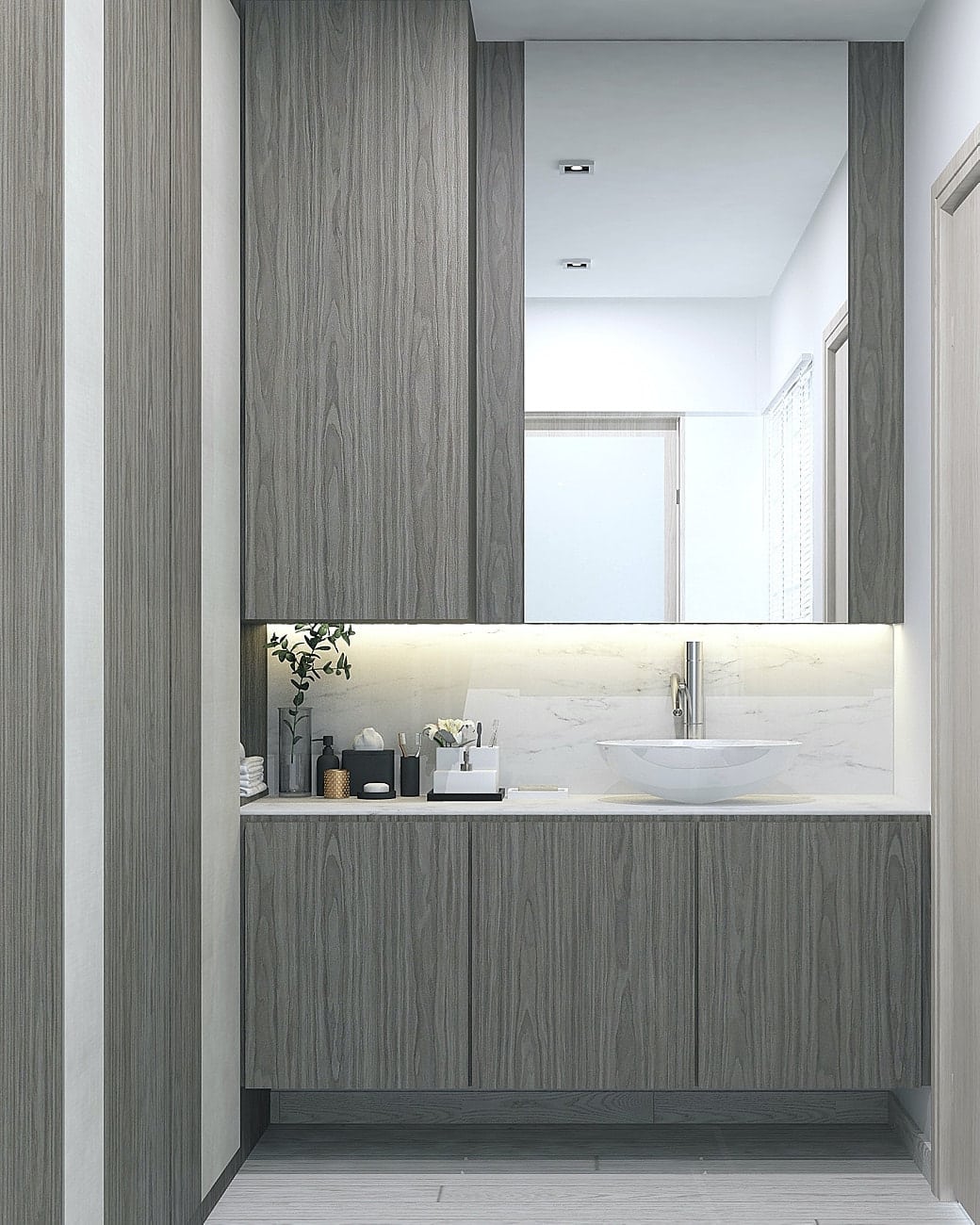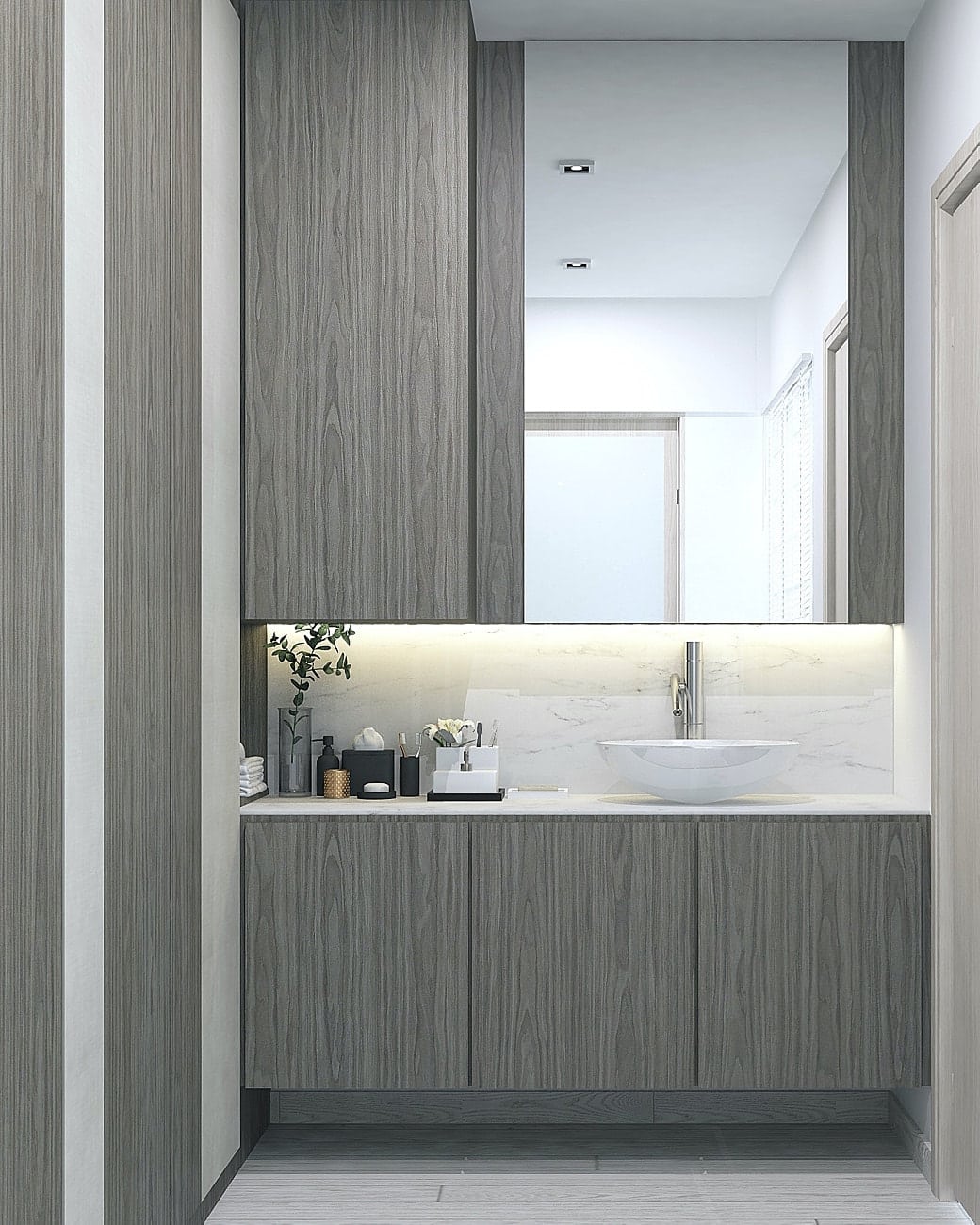 Featured laminate: WPL3772T (Bathroom vanity)
If you want your bathroom to look more aesthetic, laminate sheets are a great addition. You get to match the laminates on your bathroom carpentry with your preferred bathroom tiles to create a visually-appealing bathroom.
Besides, customised bathroom carpentry allows for greater storage space for all your toiletries, which also means that every bathroom in your house have a different aesthetic to them.
In conclusion, laminates are inexpensive, long-lasting, highly durable, and come in a variety of colours, patterns, textures, and finishes to provide you with an alternative for your home décor.
At Jennings Laminates, we offer a wide variety of high-pressure laminates to give you the real deal at a more affordable price. View our full catalogue for more options and inspirations for your home!