The Laminate Sheets You Should Get For Your Shelvings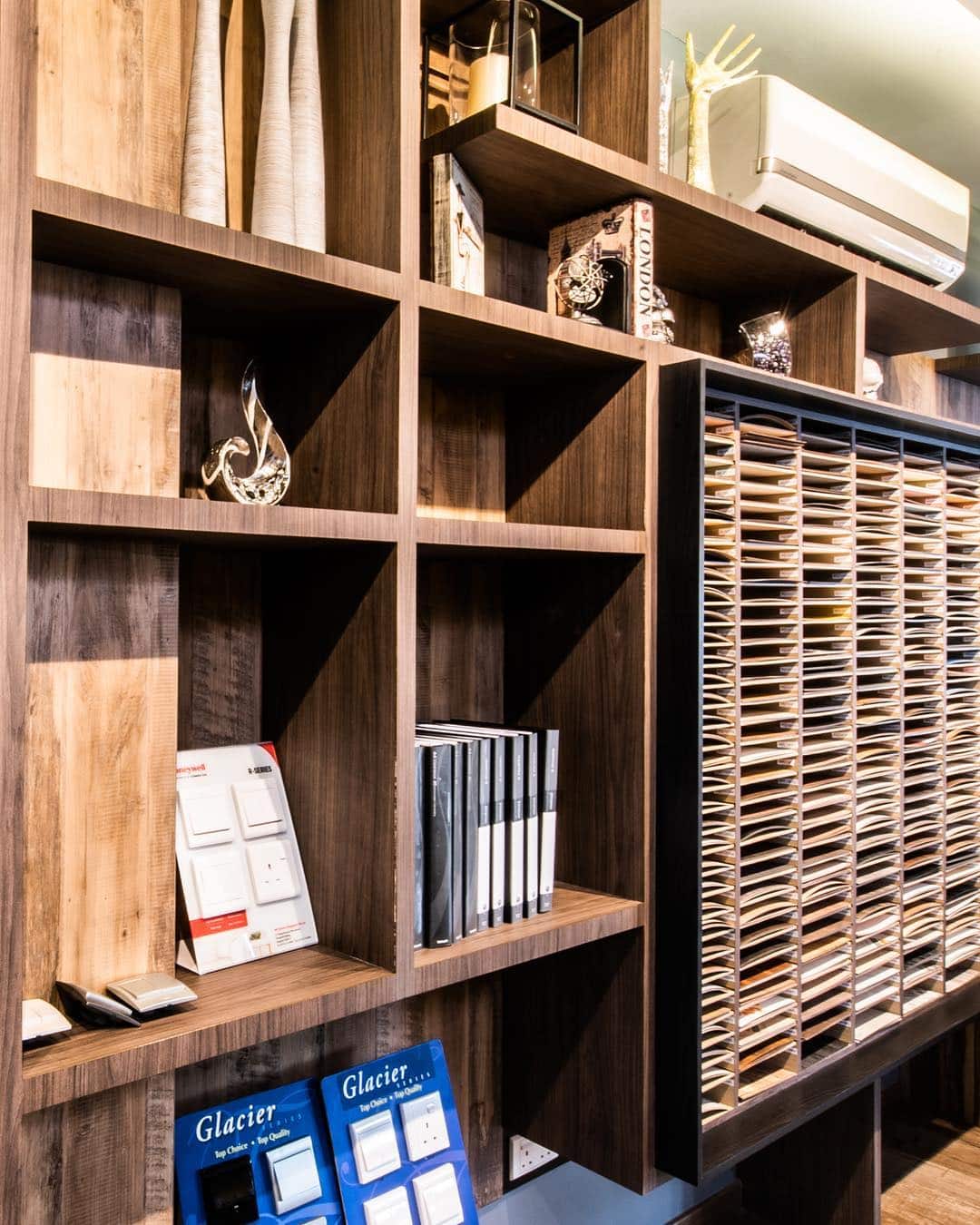 Shelves help us to keep our things organised but besides its functionality, there are ways to make it stylish as well. Especially if your bookcase already has its own unique touches, they can be further enhanced with the addition of laminates. But even if it doesn't, playing around with different laminates can add the visual interest it currently lacks. Discover our laminate sheets that will leave you with a shelf you can fall in love with all over again.
Laminates featured: CC333T, JA2110T (shelf)
A Go-To Classic
Infused into this cabinet surfaces are Ultra White (CC333T) laminates. The timeless shade of white makes it easy to harmonise with the rest of your interior. Sleek and sophisticated, Matt Black (JA2110T) laminates are added for contrast. A simple look any cabinet can pull off, this black and white shelf gives you plenty of room to dress it up with either equally monochromic pieces or style it with pops of colour.
Laminates featured: RR7800VF (upper cabinets), RR7801VF (lower shelves)
Spice Things Up
For those who want to inject more colours into your space, there are so many combinations you can explore with us. Take this cozy spot of the house, for example. Decked out in the rich blue of Nebula (RR7800VF) laminates on the upper cabinet doors, these cabinet laminates dominates the space, reminding you of the deepening dark blue night sky.
Yet, fun and lively, Camellia (RR7801VF) laminates brightens up the lower shelves in its bubblegum pink hue. Thus, when put together, these two laminates creates an effortlessly eye-catching appearance. This is especially perfect when you have kids in your home, a combination that they will not grow out of.
Laminates featured: PJ2253WY, PJ2272WY
Sunlit Wood
On the shelving frame, we have Gris Fossile Glamour Walnut (PJ2253WY) laminates. Plus, matching your shelving with your flooring gives it a more cohesive look, increasing the rustic atmosphere.
To take your colour scheme to the next level, you can create a transition of colour with Mastic Micronesian Oak (PJ2272WY) on the backing shelves. These laminates does its magic in drawing you in to reach for something. If your shelvings are facing the window, they will be truly breathtaking when bathed in the golden hue of the rising sun.
Laminates featured: PJ2321SR (cabinet doors), PJ2261WY (shelves)
Simply Picturesque
Quietly beaming in its wood grain details, Grigio Fume Micronesian Oak (PJ2321SR) laminates on the cabinet doors gives off the calmness of a cloudy sky. This adds a sophisticated twist to the homey feel of Porcini Saltlake Oak (PJ2261WY) laminates on the shelves. It is never a mistake to bring some nature in with the beauty of wood. Here, the wood tones subtly beautifies the space and under the right lighting, warmth will fill this entire space to make it look inviting to any guest.
Try Before You Buy
We hope that you have found some inspiration from these ideas for your shelvings! These laminates are just a few of the wide range we have in store for you. Especially if you are having trouble deciding on the one for your house, come take a closer look at our laminate gallery for laminates that will truly bring out the best of the books and decorative pieces you are displaying.
---
 Ready to get started?
Don't forget to first visit our blog for more nifty tips and get the latest updates on our Facebook page today!
Need more information? Drop us an online enquiry and we'll be happy to help!
Address:
23 Sungei Kadut St 1
Singapore 729323
Mondays – Fridays:
8:15am to 5:15pm
(last walk-in at 4:45pm)
Saturdays:
8:15am to 3:15pm
(last walk-in at 2:45pm)
Closed on Sundays and Public Holidays