Makeover Your Old Laminate Cabinets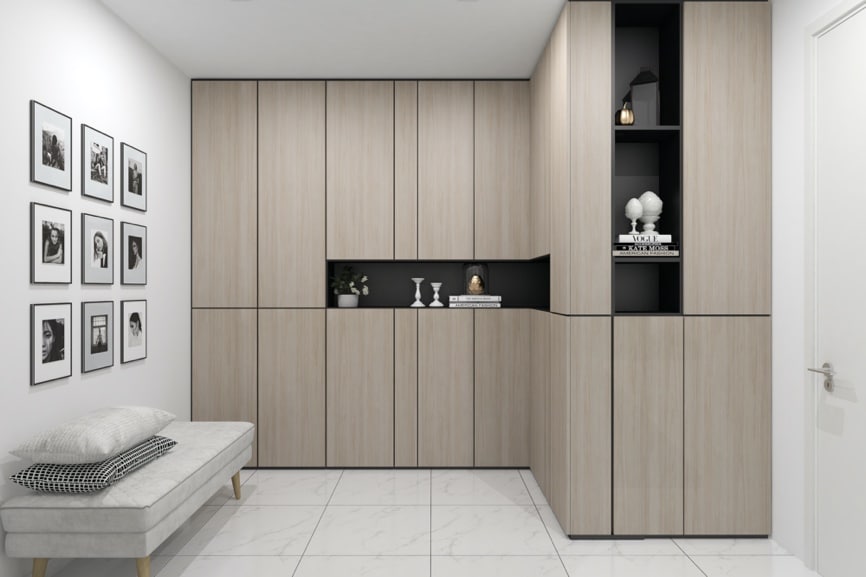 Featured laminates: PQ1076N (Woodgrain), JA2110T (Black)
When it comes to updating the look of your home, some people will either choose to replace their furniture or maintain them by giving a makeover. However, there is certain furniture that can be tricky to replace or makeover, and that is a laminated cabinet.
Over the years, you may have noticed your laminated cabinet at home becoming weary due to daily exposure to wear and tear. And because of that, you've thought of getting it replaced with a newer design as a way of keeping up with the latest design trend.
But, one question remains: do you have the budget to switch out your old, weary-looking laminated cabinet for one that may be of lower quality but with nicer designs? What if we tell you that you don't have to replace your laminated cabinet as a simple makeover will do to refresh its appearance?
If you're looking to give your old laminated cabinets a makeover, here are some tips to make it look as new as you first bought it.
Study the room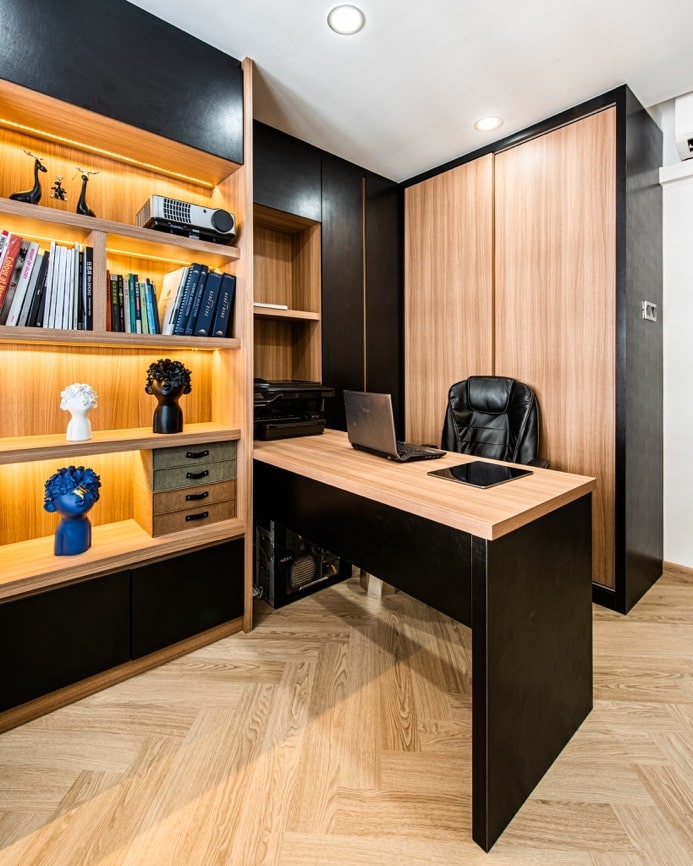 Featured laminates: PG8920ZM (Woodgrain), PQ1399LT (Black)
When it comes to revamping a room, it's important to understand how the colour and texture of a laminate can affect the overall outlook and atmosphere of the room. Take the room pictured above as an example.
The combination of wood grain and black laminates gives the room a classic look for a home office. Additionally, the application of wood grain laminates provides a calming effect in this two-toned space while the bold black laminates give off a visual contrast. This makes it the ideal space to study or do your work.
Choose a Finish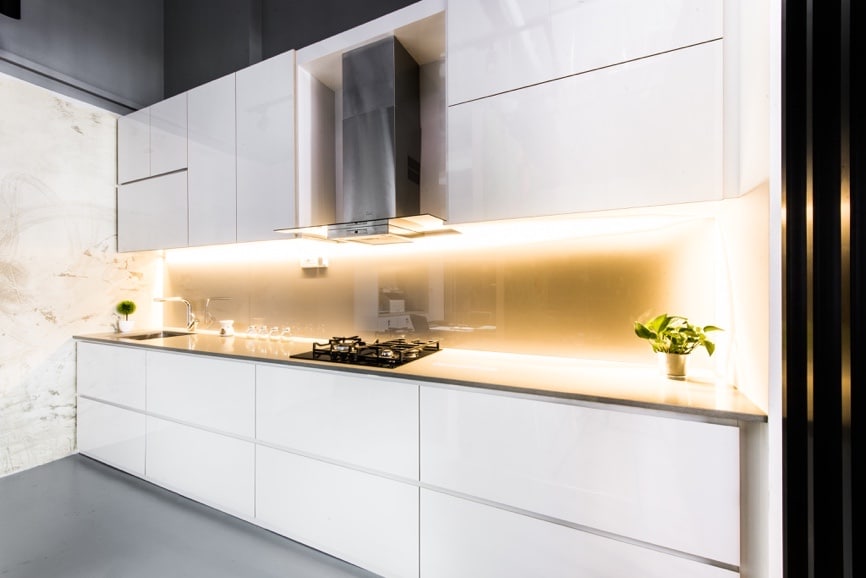 Featured laminate: PG02HG (Kitchen Cabinet)
Laminate surfaces have two types of finish, glossy and matte. It's like choosing a new screen protector for your smartphone, except this time you'll be choosing for your cabinets. Here's a brief breakdown of the two finishes.
Glossy finishes can give your old cabinets a shiny finish as it reflects light better and makes your furniture stand out. Take the kitchen cabinet pictured above as an example. You can see how the glossy laminate reflects the light and creates a presence in the room. Meanwhile, matte finishes don't reflect light, making the furniture appear flat and muted.
Choose a Colour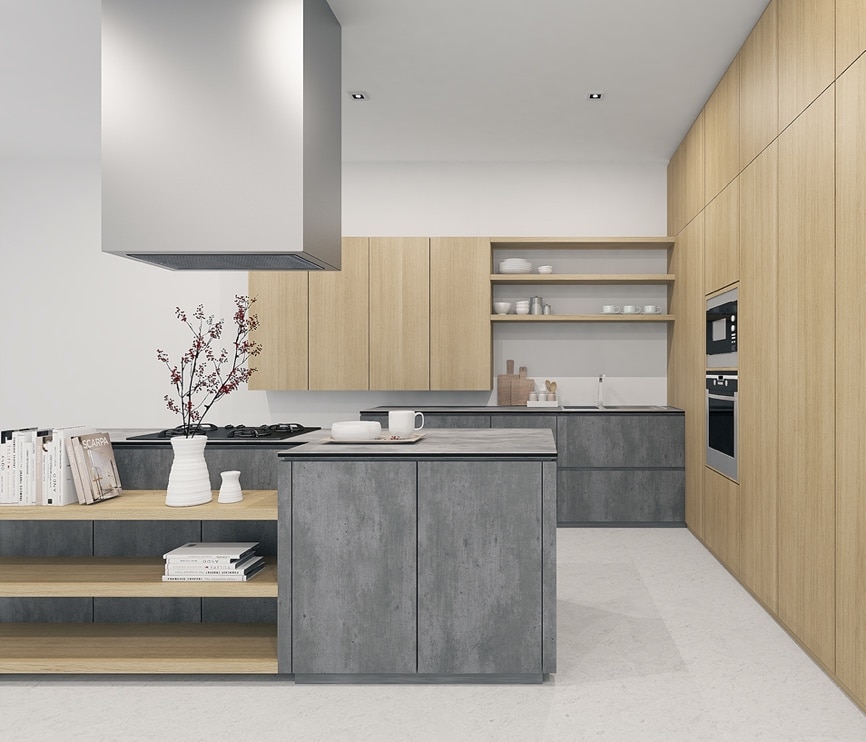 Featured laminates: WPL9595RW (Woodgrain), WPL2892S (Industrial Grey)
It's been known that colour can affect our mood and appearance of a room. If you have a small room, opting for dark coloured laminate for your cabinets may just make the room appear smaller than it is. Instead, light, muted colours can make the room appear larger due to colour illusions.
Take the kitchen pictured above as an example. The light-coloured wood grain cabinet combined with industrial grey creates an illusion of a large kitchen. Also, if you have little confidence in choosing the colours, you can take a look at the three colour combinations as suggested by us.
Choose a Texture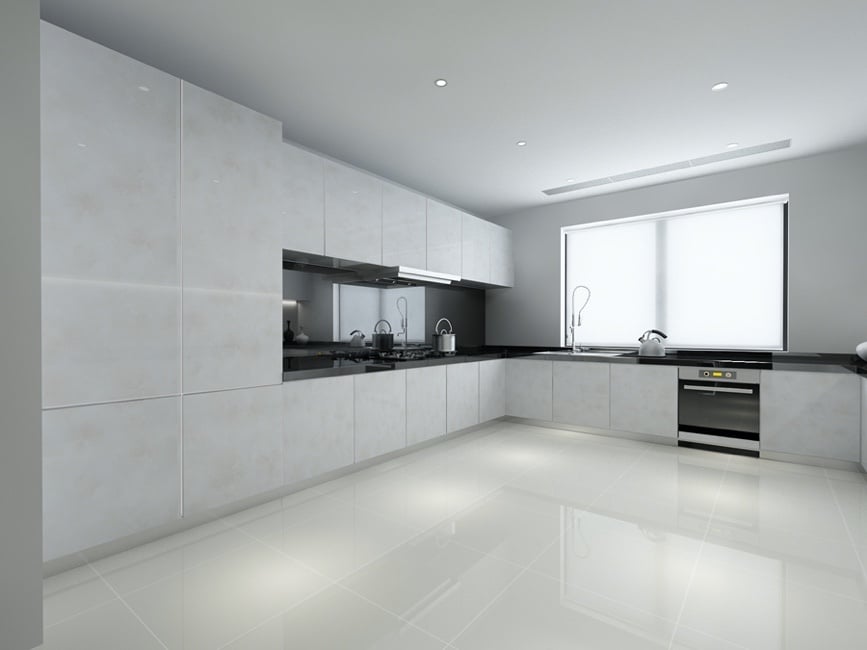 Featured laminate: WW8828WC (Kitchen Cabinet)
Laminates provide an alternative to using authentic materials such as marble and timber, which can be expensive to incorporate in your house. For that very reason, Jennings Laminate have a wide variety of laminate textures for you to choose from.
Let's take the marble kitchen cabinet as pictured above as an example. Marble is possibly one of the most expensive materials for home décor. But you can install marble laminates on your kitchen cabinet to add instant glam without the hefty price tag. You can also take a look at the variety of textures available at Jennings.
Replacing your laminate cabinets is much simpler now given the variety of options to choose from. Besides, a furniture makeover is all you need to spruce up your house. View our full catalogue for more options and inspirations for your home!