Matte vs Glossy Finish: Which is Better?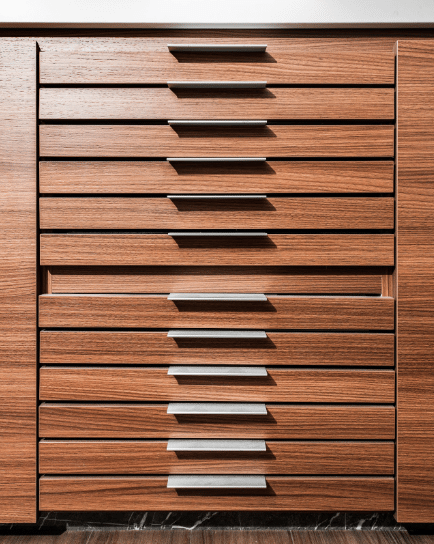 Featured Laminate: PG8921ZM
After the long process of choosing the colour, size, style and handle types of your cabinet, the final question will always be – which cabinet finish do you want? It might sound like a simple enough question – matte or glossy – a question commonly asked whenever you get a new screen protector for your handphone, however, while you are able to replace your phone screen protector easily, choosing a cabinet finish is more long-term and can create a drastic change to your space regardless of the material of the cabinets.
While your clients ponder over which design is better, they might turn to you to make a recommendation. In this article, we break it down for you to understand the differences better and make the best choice of laminate sheets that suit the personal needs of each home.
High-gloss finish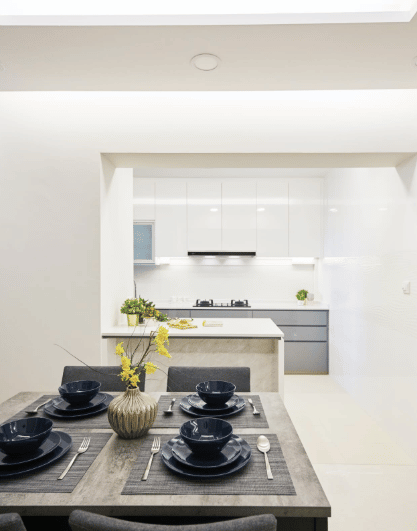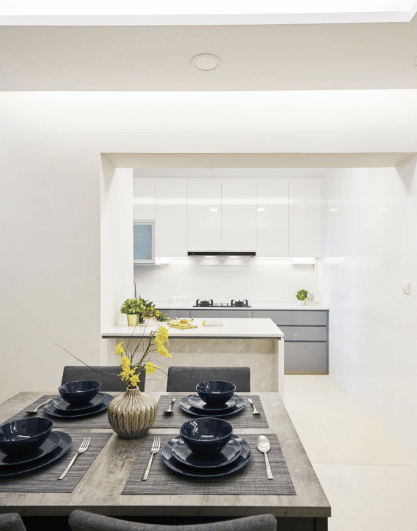 Featured Laminate: White Marble  #PG2827HG, Marmo #ASG2744HG, Design White #P0949HG
Glossy finishes give cabinet doors a shiny finish that reflects light and suits contemporary-style kitchens with flat cabinet doors as compared to traditional-style kitchens. By reflecting light, it opens up the space and gives off an appearance that the space is bigger than it really is. If the cabinets are dark coloured, then a glossy finish helps to remove the worry of a smaller space. White laminate usually enhances the space.
Another advantage of glossy finishes is that they are very easy to clean and are generally preferred by homeowners with a young family. It is no surprise that the little ones tend to create more messes and instead of feeling anxious whenever they approach your cabinets or walls, parents can easily use a non-scratch microfiber cloth to clean the surface of the cabinets while picking up any dust particles stuck on the surface as well.
However, as glossy finishes reflect a lot of light, they emphasise the presence of fingerprints, dirt or scratches as compared to matte or semi-gloss cabinets. This is especially noticeable on darker colours and results in having you wipe down the surfaces of the cabinets more frequently.
Tips on using a glossy finish 
If you wish to still go for a darker colour, you can consider matching it with a lighter colour and incorporate the glossy finish on upper or higher cabinets that are harder to reach (especially from children) as this reduces the chance of collecting fingerprints or scratches. The reflection of light is also more apparent on higher cabinets as they are more at eye level, expanding the size of the room better.
Matte finish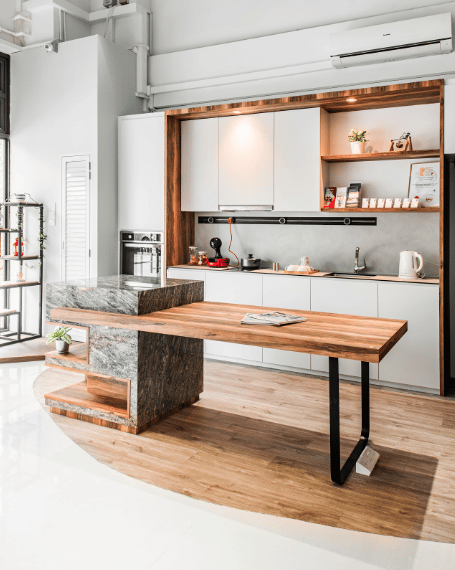 Featured Laminates: RP0949T (White) & PG1178SM (Woodgrain)
Matte finishes do not reflect any light and appear more flat than gloss finish cabinets. They tend to be more suitable for traditional-style or country-style cabinets with routed fronts. It is also possible to incorporate this texture onto contemporary-style flat cabinets as it gives off a more vintage feel.
A major advantage of matte surfaces is that fingerprints or scratches are much less obvious as compared to glossy finishes. Furthermore, the colour of matte finish cabinets can look more consistent as there is no reflection of light to make some areas look brighter or darker than others. This gives it a more clean and chic finish across the entire surface.
Depending on the preferences of consumers, a matte finish gives a more muted look and won't be able to make a room seem bigger than it really is. You should also check the samples of the materials as some will be less smooth than others. This makes it harder to clean as dust can be stuck on these harder to reach surfaces.
Tips on using a matte finish
To add more dimension to the space, you can consider choosing a door that has a simple routed profile i.e. Shaker-style. This layout will cast different shadows on the cabinet fronts and creates a feeling of depth and interest.
You can also consider mixing different colours together to create a contrasting effect which makes the matte seem less dull and more lively.
Visit Jennings showroom
Come down to our showroom to have a look and feel of the various finishes and how they can complement the theme of your home! You can also gain some style inspirations and seek assistance from our staff about the latest finishes and receive advice on the most compatible option for your home.