Industrial Laminate Sheets in the Modern Age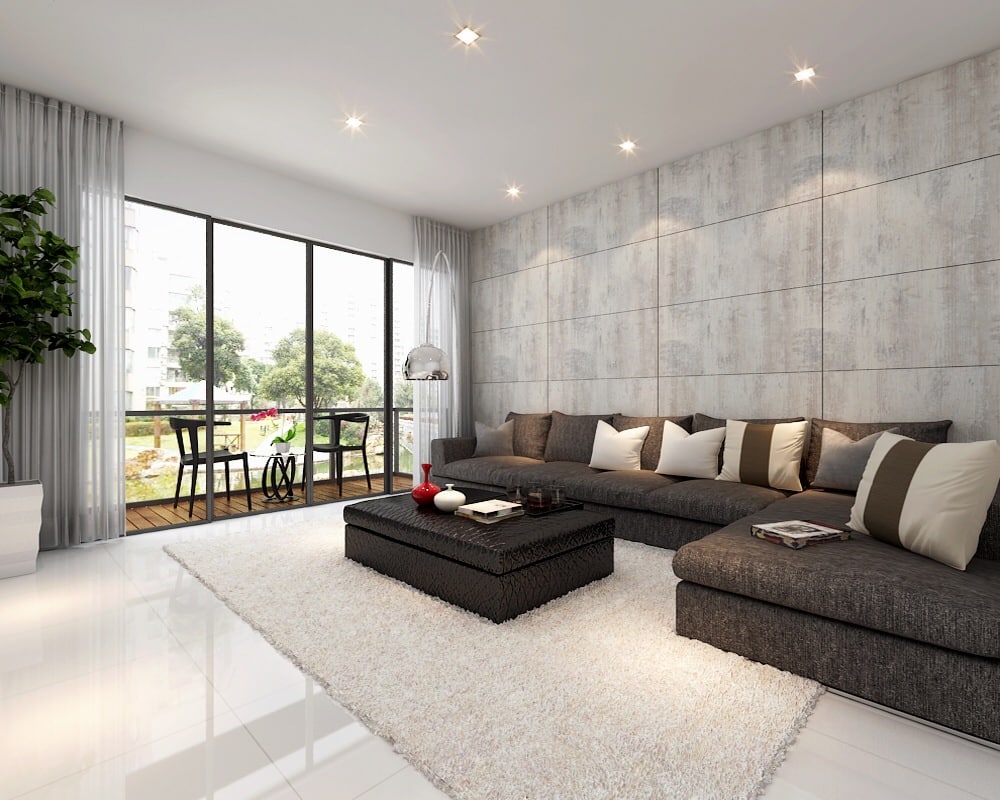 The industrial age marked the start of early innovations where homes are manufactured using hand tools and the simplest of machinery. People remain constantly fond of the timeless appeal in the handmade look of industrial furniture, and such designs are becoming more and more popular. But actual concrete will discolour and crack once it is exposed to moisture, and this could be troublesome in the future. Our industrial laminate sheets are much easier to manage and you can still achieve that industrial look in your home.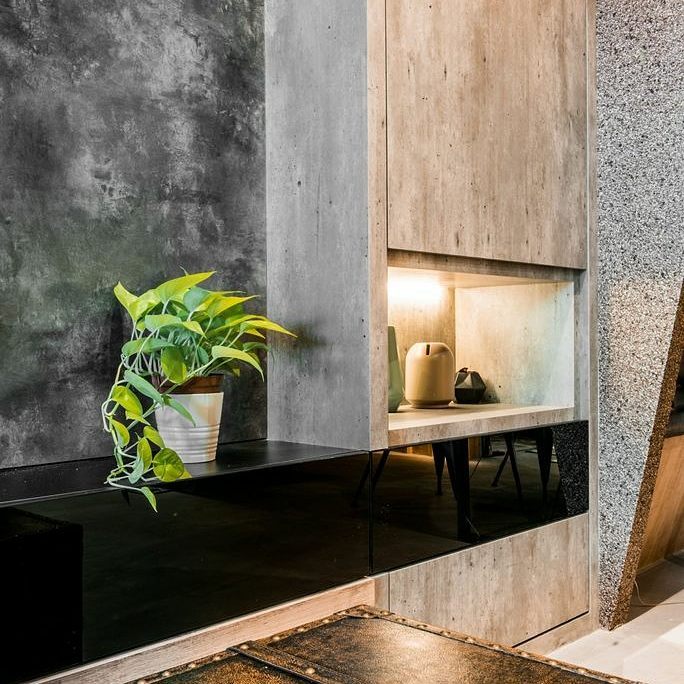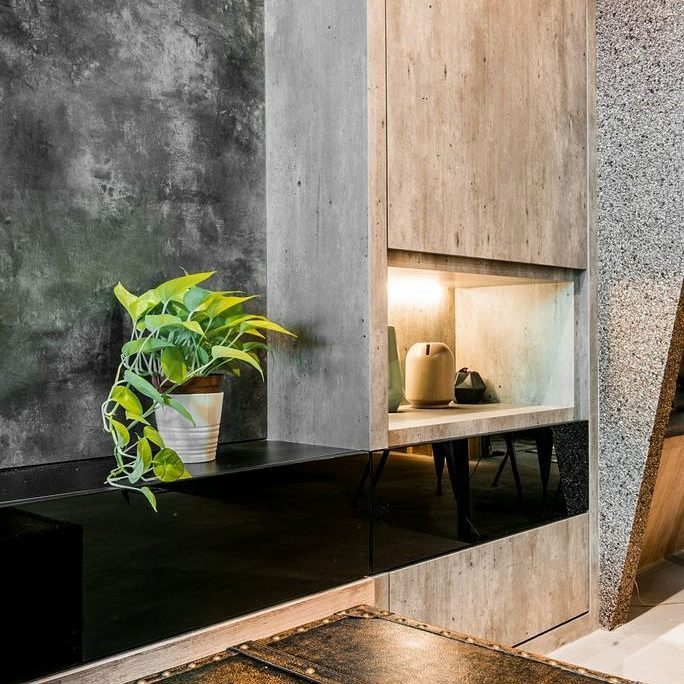 Featured laminate: WPL5599T (feature wall), WPL2892S (storage spaces)
The Modern Dystopian Look
Raw Aesthetic Grey (WPL5599T) and Talasa Carbon (WPL2892S) laminates on the feature walls and storage spaces come together to create a raw and rustic feel in this part of the living room.
And if you are an avid lover of nature, it will excite you to know that these two laminates will make your plants the star of the show in your house-warming party. As you see in the picture, the laminates allow the green in your potted plants to stand out, adding a pop of colour in this beautiful dystopian look.
Featured Laminate: WPL2897S (storage spaces)
The Concrete Chic Look
The smallest details can make a big difference. Even with a small kitchen, our laminates can change up the look of it almost immediately. If you are into the unfinished, work-in-progress feel, having Grey Sanded Stone (WPL2897S) laminates on your storage spaces would bring out a smoother, stone-like appearance to this otherwise stark white kitchen. As featured in the image, it would give the space a concrete chic look, portraying a combination of luxury and rusticity.
Featured Laminate: WPL5050T (feature wall)
The Futuristic Look
You can also step out of your comfort zone and let the living room be a space to create your imaginary world. You can still be innovative while embracing the old character in your living room. Along with the sleek furnishings in the room, notice how the warm lights against the grey aesthetic of Souris Rustico (WPL5050T) give off a rather futuristic look. Just this feature alone can transform the look as a whole. At a glance, anyone can tell that it is aesthetically pleasing and oddly calming to the eye.
Featured Laminate: RW1464T (feature wall)
The Light, Elegant Look
Instead of the usual dark hues, you can also opt for a lighter industrial look instead. This design of Larice Rustico (RW1464T) as a feature wall for your living room is simple but a classic to have. With the copious amount of sunlight coming from your wide windows, incorporating this laminate on a feature wall would exude much elegance, especially in a room painted white. Together, the colours blend seamlessly. Overall, this industrial look is softened.
Decide On The Look You Want
These are just some examples of the different feels our High Pressure Laminates (HPLs) can produce and we have an eclectic mix of choices for you to decide on. Whether on feature walls or on storage spaces, Jennings laminates are raw elements that will definitely come in useful in bringing together the true industrial look of your home.
---
 Ready to get started?
Don't forget to first visit our blog for more nifty tips and get the latest updates on our Facebook page today!
Need more information? Drop us an online enquiry and we'll be happy to help!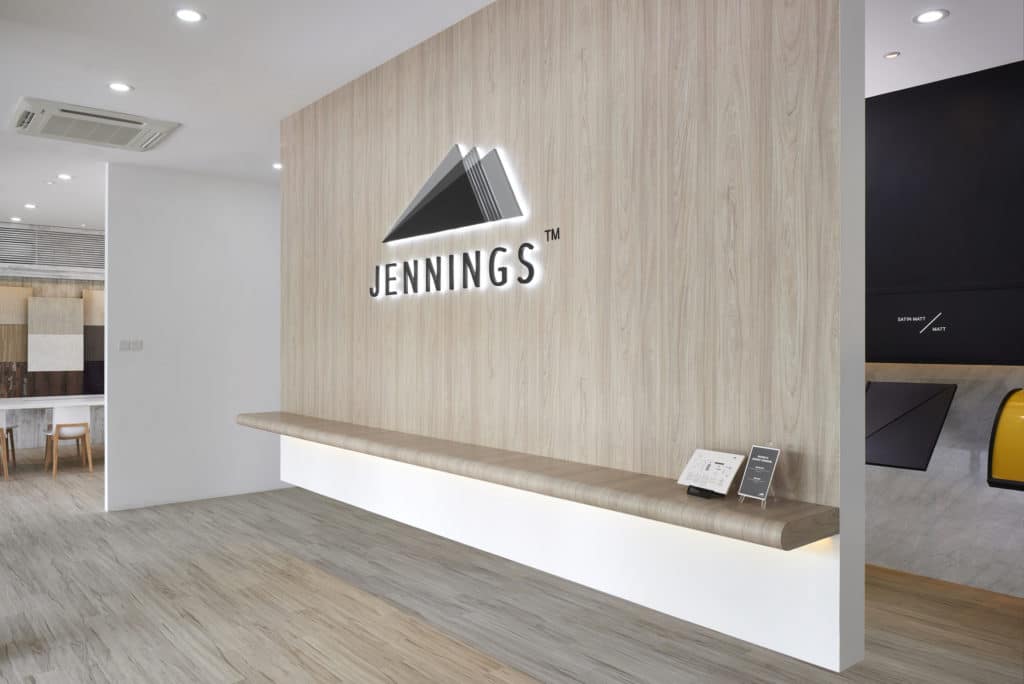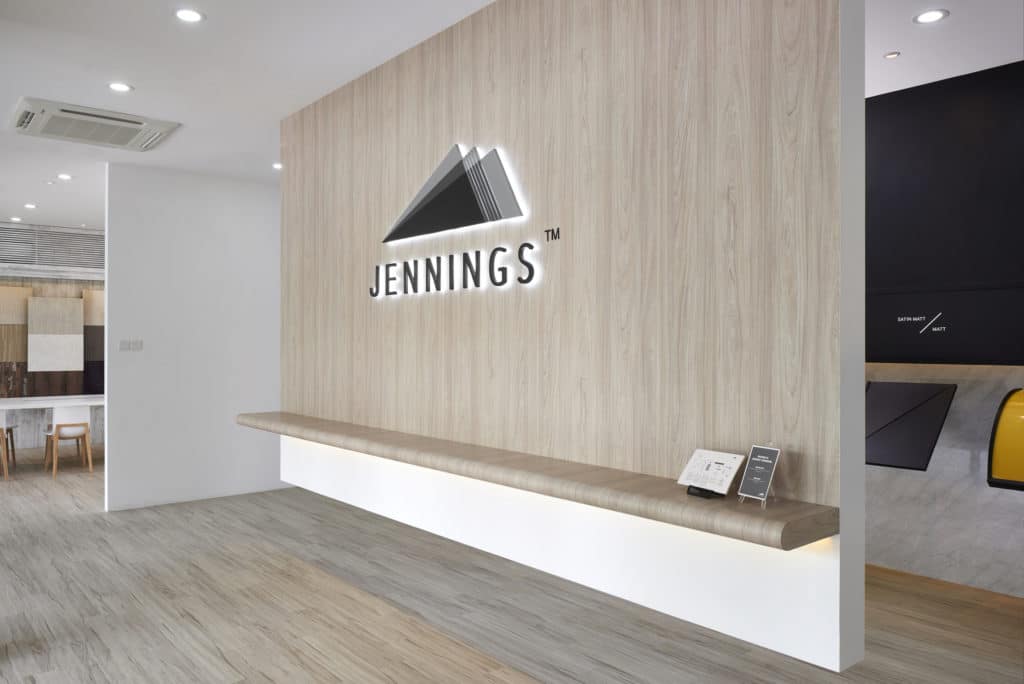 Address:
23 Sungei Kadut St 1
Singapore 729323
Mondays – Fridays:
8:15am to 5:15pm
(last walk-in at 4:45pm)
Saturdays:
8:15am to 3:15pm
(last walk-in at 2:45pm)
Closed on Sundays and Public Holidays