Pair These Laminates With Nature For A Peaceful Home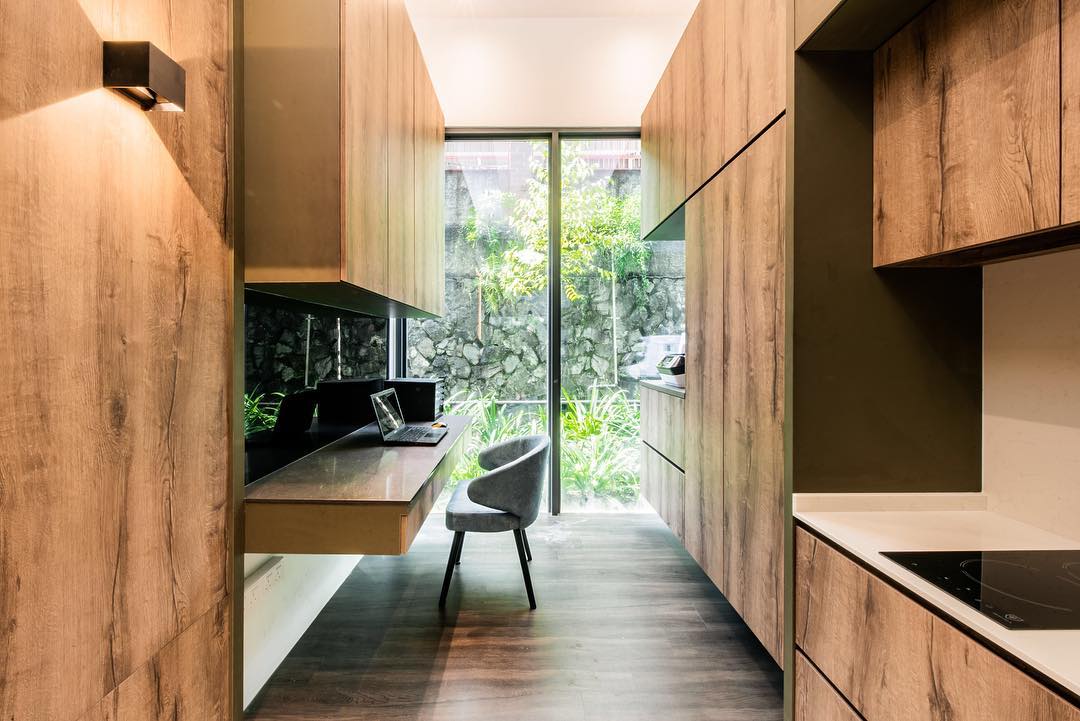 We all love plants that fill our homes with its lovely scent, the oodles of green bringing life to your abode. But if you do not create spaces dedicated for your indoor greenery, your beautiful blooms will look out of place and all that effort might go to waste. Here is one pairing of decorating that you are missing out on: plants and laminate sheets. They go well together so if the love of plants runs through your veins, take a look at some of these laminate sheets that will totally rock the botanical theme!
Laminates featured: PG8001WL, PG8000WL (table)
Welcome To My Green Oasis
If you are decorating with a large group of plants, the green can make the overall space feel overwhelming if the rest of the interior is not planned carefully. The combination of Black Woody Ash (PG8001WL) and White Woody Ash (PG8000WL) laminates is a classic choice for you, taking a backseat to allow your tiny succulents and cascading greens to make a true statement. This will surely be the first place your friends and family head to when they come by for a visit!
Laminates featured: WPL2802ST (bottom cabinets)
In The Mood For Relaxation
If you prefer scattering individual plants instead of grouping them together, the toilet is a great place to do that. Having a single plant would otherwise look lost in a larger space.
Here, Sorvette Wood Celtic Gray (WPL2802ST) laminates adorns the toilet cabinets, its cool tones balancing out the warmth of your indoor foliage. In fact, gray has been dominating the interior decor scene with its versatile, effortlessly stylish shade. Adding these small refined touches of laminates creates a spa effect that will certainly get you in the mood to relax, be it quiet mornings or soothing evenings. Overall, such a combination of gray and green will definitely leave you feeling rejuvenated with its fresh appeal.
Laminates featured: RR29T (island)
Say No To Monday Blues
You can have these organic elements paired with these Deep Blue (RR29T) laminates. Often described as a tranquil, safe and orderly colour, the colour blue is said to lower your heart rate as well as your blood pressure. Thus having such a powerful colour as a backdrop can have a profound effect on you, providing you with a greater sense of calm and control over your environment when integrated into your green mix.
Laminates featured: WPL2906S, RR21T (cabinets)
Where There's Time To Grow
If your greenery is outside, these (WPL2906S) laminates perfectly complements the shades of green, bringing the outdoors in to achieve a serene atmosphere in this entire setting. These wood grain laminates are a safer option for those who are concerned about the colours of the leaves and flowers clashing with their decor.
To style this study space further, Militare (RR21T) laminates adds a touch of green to bring the decorative scheme together. Together, these two types of laminates melds beautifully together and the effect is cohesive. Especially for an area meant to let ideas grow and flourish, the design of this room is now sure to inspire.
Green Thumbed Or Not
Beyond plants, your interior design will ensure your living space is comfortable and breathable, one that you will never want to leave. This can be achieved with our Jennings laminates sheets, which will further accentuate the beauty of your plants. It lies in your hands to make your home truly your own, so come down to our laminate gallery and we are sure you can find at least one type of laminate to love.
---
 Ready to get started?
Don't forget to first visit our blog for more nifty tips and get the latest updates on our Facebook page today!
Need more information? Drop us an online enquiry and we'll be happy to help!
Address:
23 Sungei Kadut St 1
Singapore 729323
Mondays – Fridays:
8:15am to 5:15pm
(last walk-in at 4:45pm)
Saturdays:
8:15am to 3:15pm
(last walk-in at 2:45pm)
Closed on Sundays and Public Holidays