You Are Missing Out On These Industrial Laminates Sheets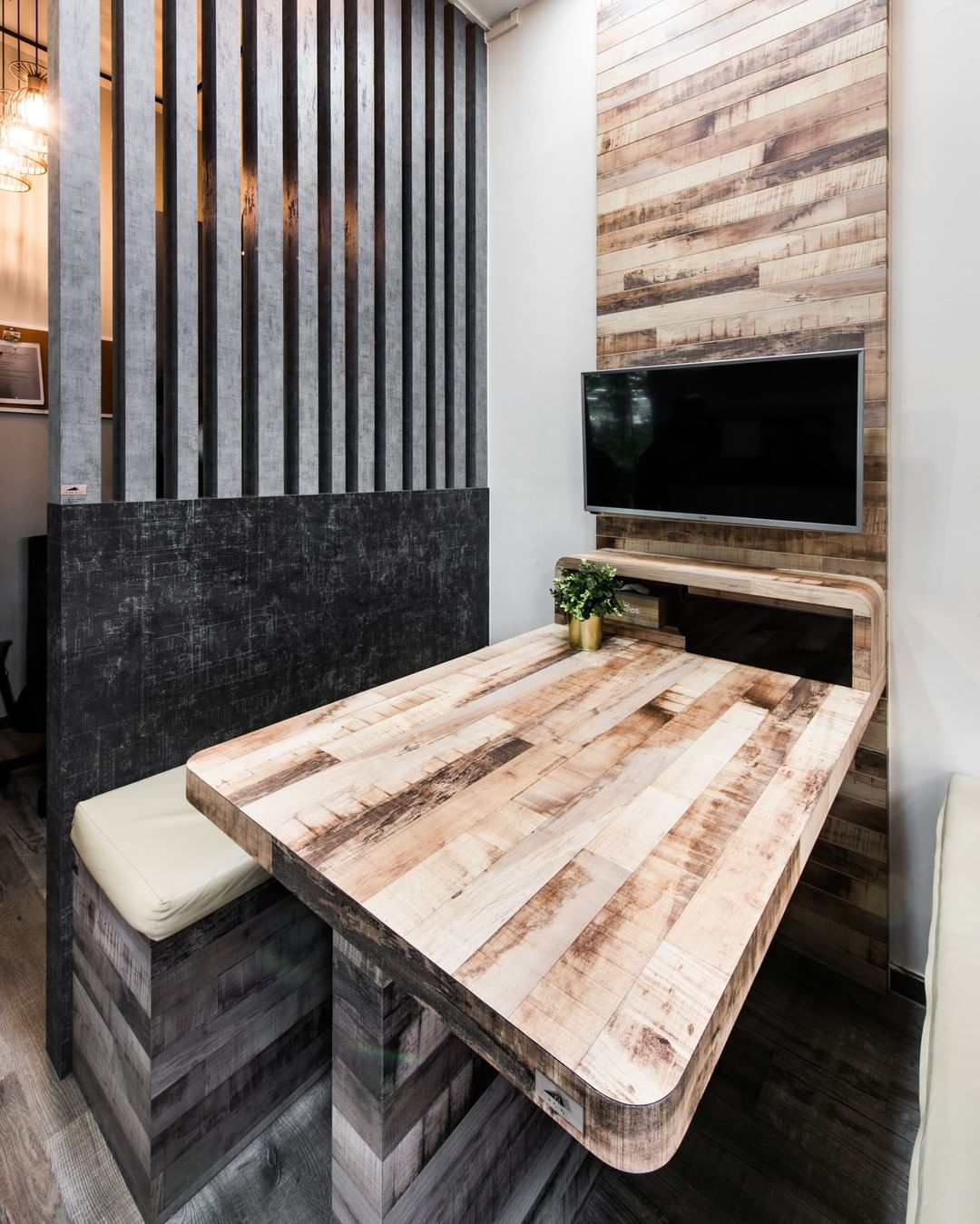 For people who wants a weathered and unfinished look in their home, the industrial home design might be one to consider. If you think that there is no other way to make your home more industrial-looking than it already is, you are wrong about that. Laminates can elevate and enhance the scheme of your space. We have picked some laminates that can pull the look together, so continue scrolling to find out more!
Laminate Featured: WPL5599T (feature wall)
Matching Grey
Considering that the living room is the most lived-in room, it plays an important role in setting the tone for the rest of your house. Using Raw Aesthetic Grey (WPL5599T) laminates, the colour of the sofa is repeated in the choice of laminates, tying the entire scheme together harmoniously. The details within these laminates gives it a raw, textural look and a canvas like this will definitely allow you to be creative in adding pops of colour whenever you feel like it.
Laminate Featured: WPL5151T (counter table, shelves)
All About Balance
This room incorporates different shades of brown, a perfect choice as this neutral colour is often associated with security, comfort and safety. But when used in large quantities, just having this colour alone can seem drab and boring. To maintain a right balance of warmth, combining industrial laminates lends an element of elegance.
Here, touches of Negro Rustico (WPL5151T) laminates are applied on the counter table and shelves, injecting modern sleekness amidst the earthy, rustic tones. These laminates also give your dark hued objects room to shine and ultimately, it is a thoughtful detail that softens the overall look to prevent it from looking too austere.
Laminate Featured: PG5597MT, WPL5151T (feature wall)
Functional Comfort
If the industrial style is meant for any room, it is your home office. This should be a place that encourages you to get down to business, encouraging concentration to keep you motivated. Here is another example of how Negro Rustico (WPL5151T) laminates adorns the feature wall to give off a clean and calming effect.
Additionally, the idea of an industrial-theme home is to make it feel as open as possible. Even if you are working with a small space, there are certain tricks to allow it to look vast. When put vertically, Patinated Zinc (PG5597MT) laminates plays a part in creating an impression of height. These laminates blends out nicely with Negro Rustico (WPL5151T) and there you have it, a dedicated space that makes you equally inspired to work just as hard at home.
Featured laminate: PJ8302UR, WPL5050T (chair), JV5200RW, JV5202RW (table)
Same Same But Different
Rock your dark side with (WPL5050T) and Pewter Leaf (PJ8302UR) laminates. Paired with white cushioning, they make a great seating area that beckons one to start a productive day of work.
For those inclined to go more than industrial, you can opt for the same design in different shades such as (JV5200RW) and (JV5202RW) laminates to maximise the visual interest of the space. Coupled with potted plants, incorporating the rustic wood look will add such an invigorating vitality to your work space and at the end of the day, you want to be able to admit, "Yes, this is definitely a place I want to keep doing my work at!"
Full Of Imperfections
That is how we would describe the industrial design. And if we had to name one perfect way in achieving this look, it will be using our laminates. When used as a large-scale piece such as on feature walls, they get half the work done in making a difference to your overall industrial design. We have many more industrial laminates jam-packed in our laminate gallery, so hop on over to keep up to date with our laminate selections.
---
 Ready to get started?
Don't forget to first visit our blog for more nifty tips and get the latest updates on our Facebook page today!
Need more information? Drop us an online enquiry and we'll be happy to help!
Address:
23 Sungei Kadut St 1
Singapore 729323
Mondays – Fridays:
8:15am to 5:15pm
(last walk-in at 4:45pm)
Saturdays:
8:15am to 3:15pm
(last walk-in at 2:45pm)
Closed on Sundays and Public Holidays