High Pressure Laminates for the Minimalist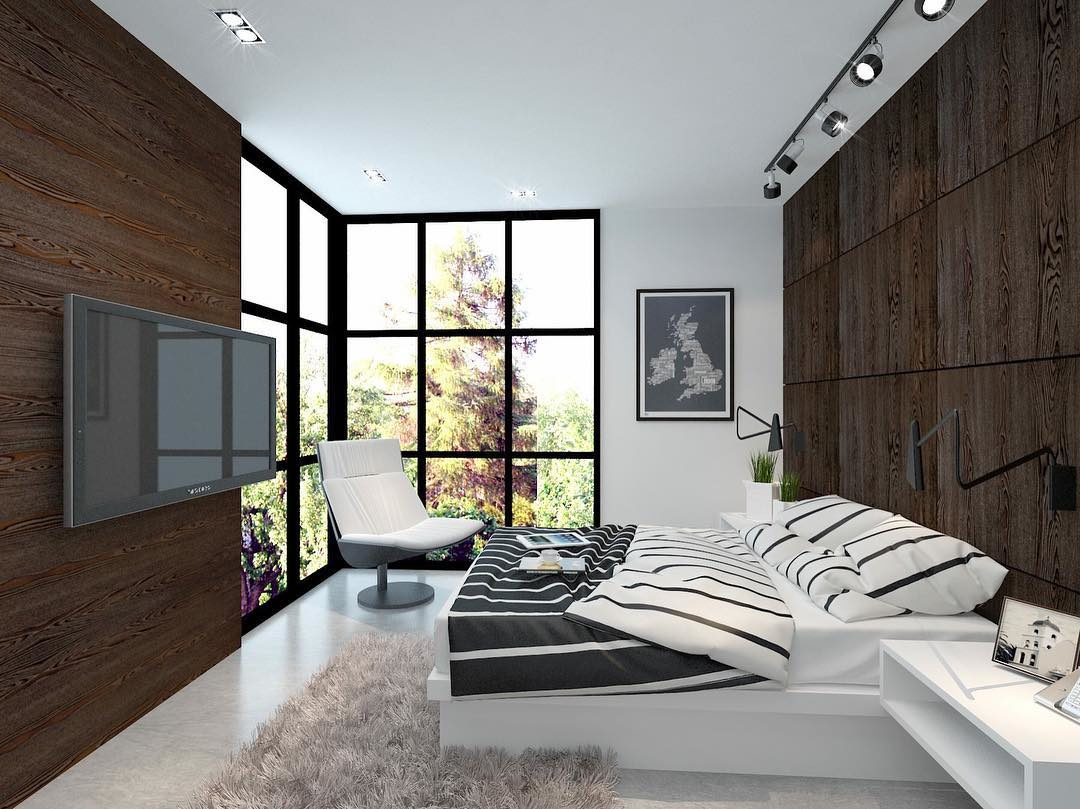 Imagine neatly lined up photo frames and the classic black and white painting, all carefully structured on your cabinet to suit your taste. Feeling calm and serene, you gaze at yourself from the mirror that was leaning against a subdued shade of white marble. Truly, what really makes all these items pop is the monochromatic surfaces of our High Pressure Laminate (HPL) in Singapore that exude unity to everything you ever dreamt of. This is a minimalist home, your minimalist home.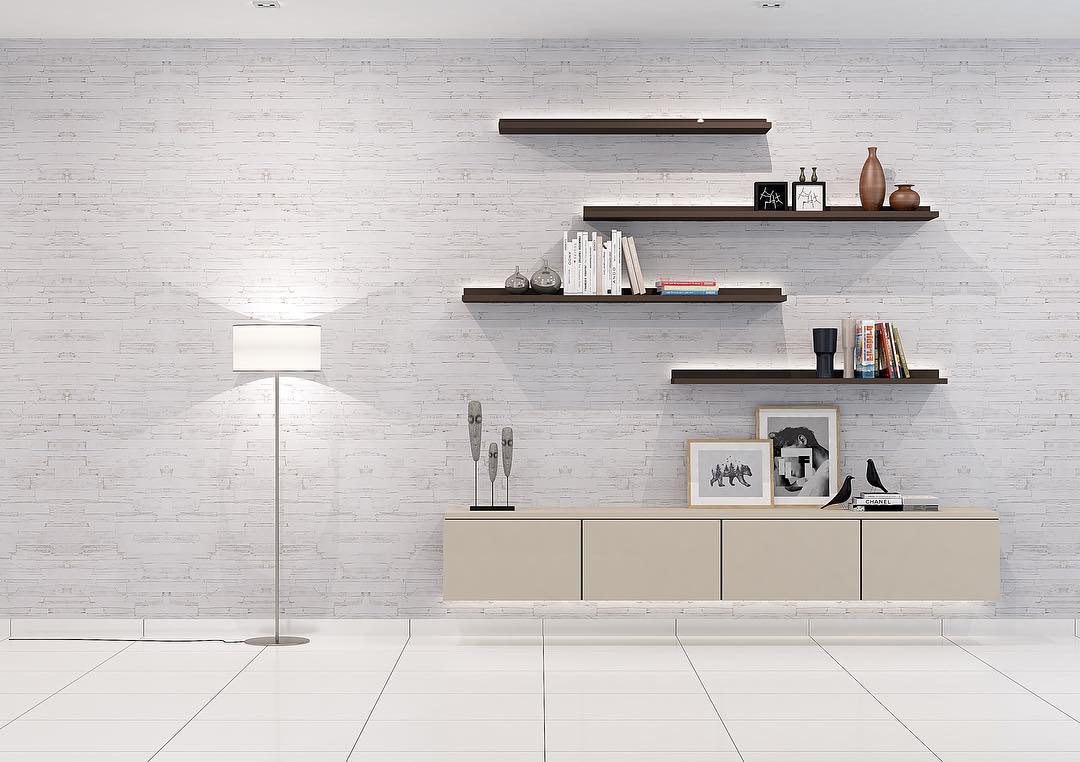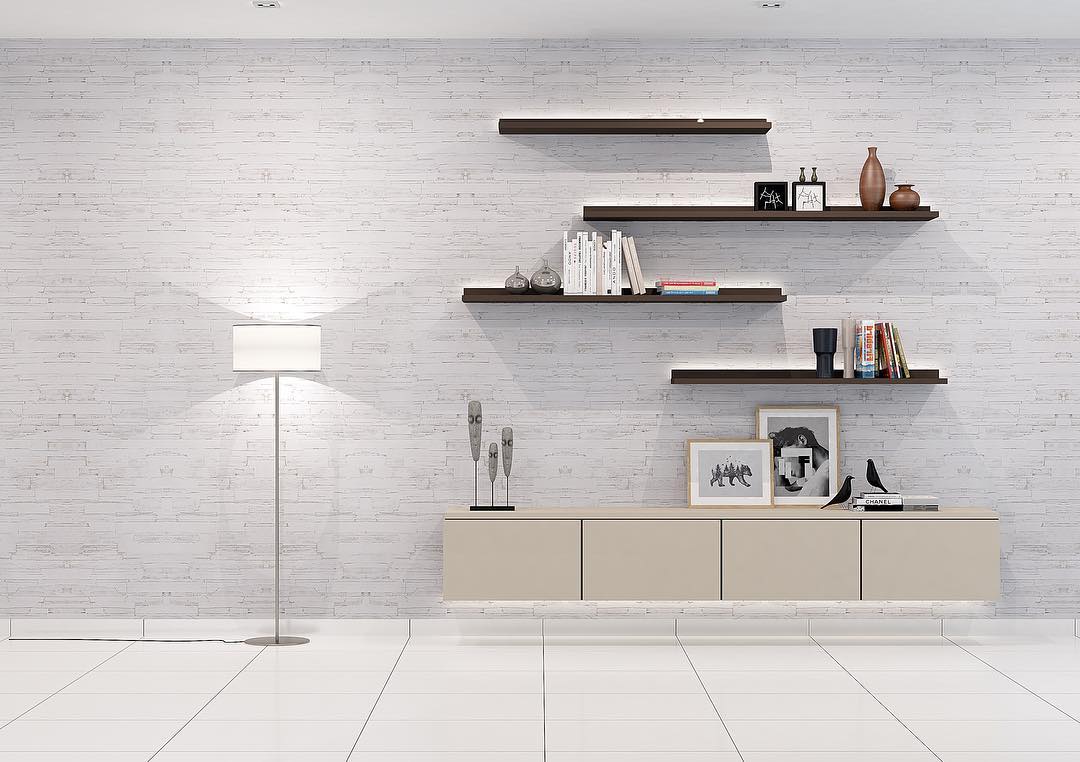 Featured laminates: WPL2804ST (feature wall), RP2174T (shelves), RP2165T (storage spaces)
For The Aesthetic Minimalist
You know exactly what you want and you are clear about your aims. If you are looking for something more textured, Matigas White (WPL2804ST) laminate on a feature wall could be what you are searching for. And rather than blending everything together, we feel having shelves of a darker colour like Graphite (RP2174T) would be a good contrast.
For a finishing touch, have something in between like Taupe (RP2165T) table cabinets and you will have a pretty balanced colour palette portrayed in this featured room.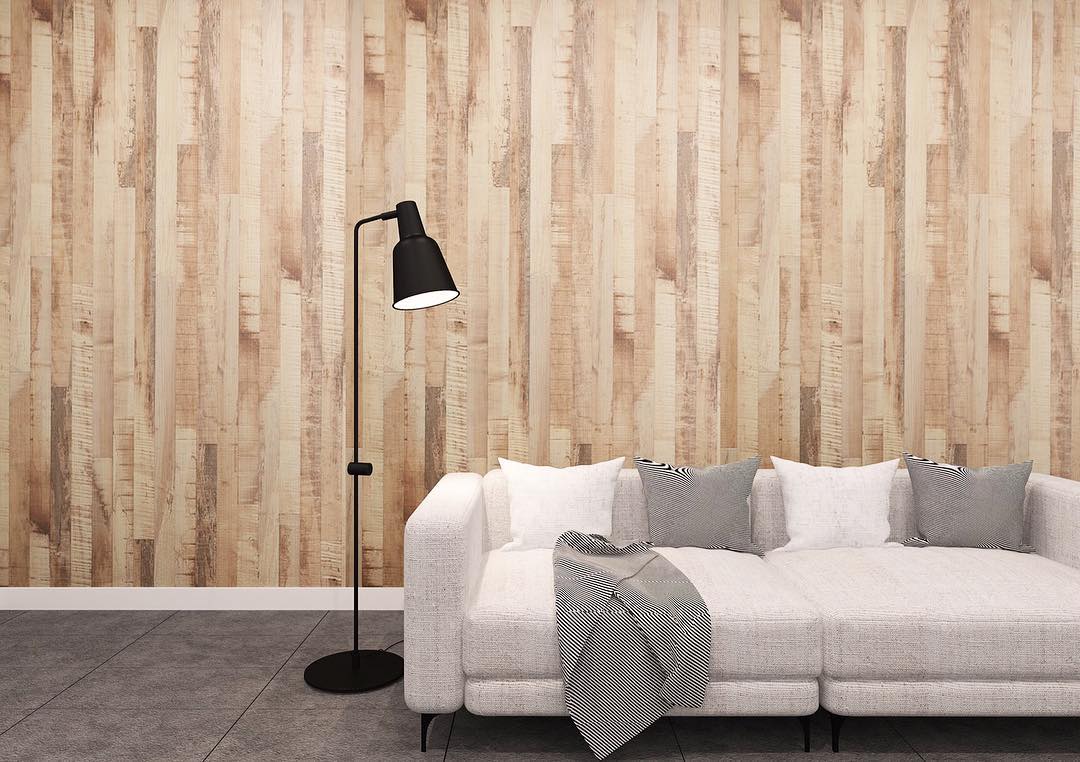 Featured laminates: JV5200RW (feature wall)
For The Essential Minimalist
You are all about the necessities. A couch and a floor lamp in your living room is just right for you. You secretly want your place to look warm and homely but you are still a minimalist at heart. This Light Brown (JV5200RW) laminate on the feature wall brings a subtle warmth to the room and together with your simple furniture, does this not make the space look cozier?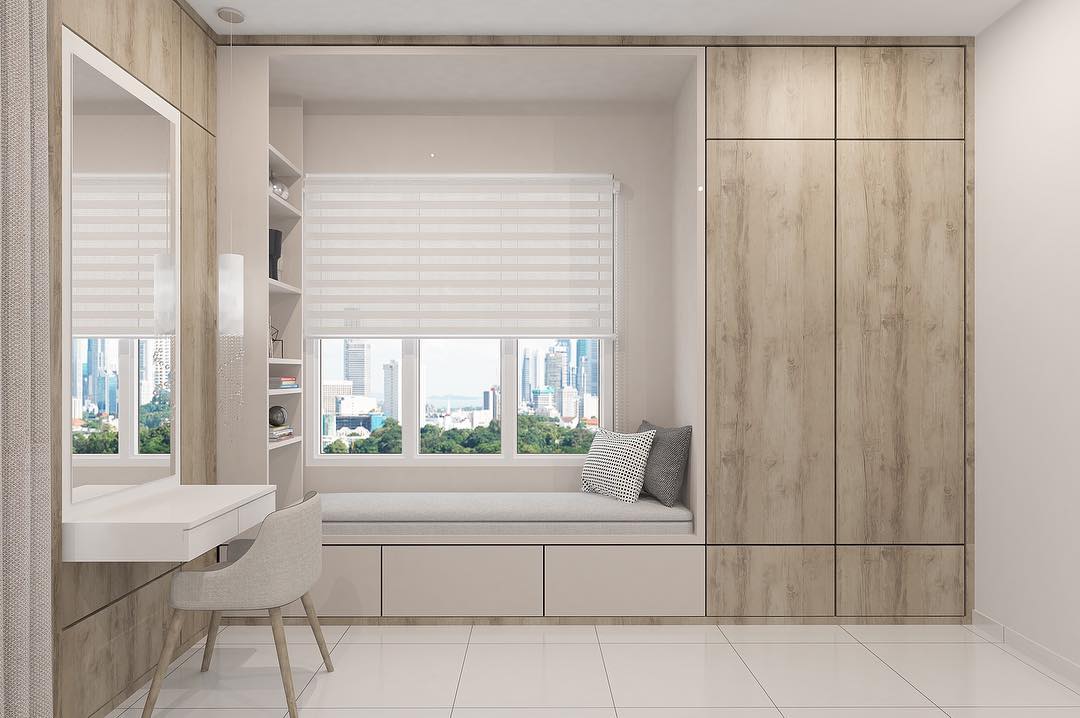 Featured laminates: PJ2257WY (cupboards)
For The Soul Minimalist
You are all about calmness and tranquility, and muted tones give you just that. New Bisque Vintage Wood (PJ2257WY) laminate applied on the cupboards would be easy on the eye as desired and yet, still give off the same cozy feel. With such complementing colours, you can easily soak into its comfy ambience amidst this roomy simplicity. This is another example of an interior design done right with our laminates.
Featured laminates: PQ8181SY (feature wall), PQ8282SY (storage spaces), PQ8484SY (feature wall)
For The Sustainable Minimalist
Already being amidst nature makes you happy. To wake up in the morning to see greenery right in front of you brings a smile to your face. But a certain part of you wants to make your tiny space feel more spacious. One aspect about minimalism is to not make everything stand out at once. So when someone enters your bedroom, what do you want them to see first?
Well, here we used both Choc Wood-on-wood (PQ8181SY) and Cafe Wood-on-wood (PQ8484SY) laminates on the feature walls to highlight the space of the room while maintaining its minimalistic appeal. The dark earthy brown colours only draw you closer to Mother Nature, creating depth and Lite Wood-on-wood (PQ8282SY) ultimately completes the white space within the room, helping in making the room seemingly bigger.
For The Minimalist In You
Whichever minimalist you are, our laminates can play a significant part in creating the home you aspire to have. Jennings allow you to explore, to expand beyond your limits with our variety of options. Our laminates can either contrast or complement, and will complete your minimalist home look altogether.
---
 Ready to get started?
Don't forget to first visit our blog for more nifty tips and get the latest updates on our Facebook page today!
Need more information? Drop us an online enquiry and we'll be happy to help!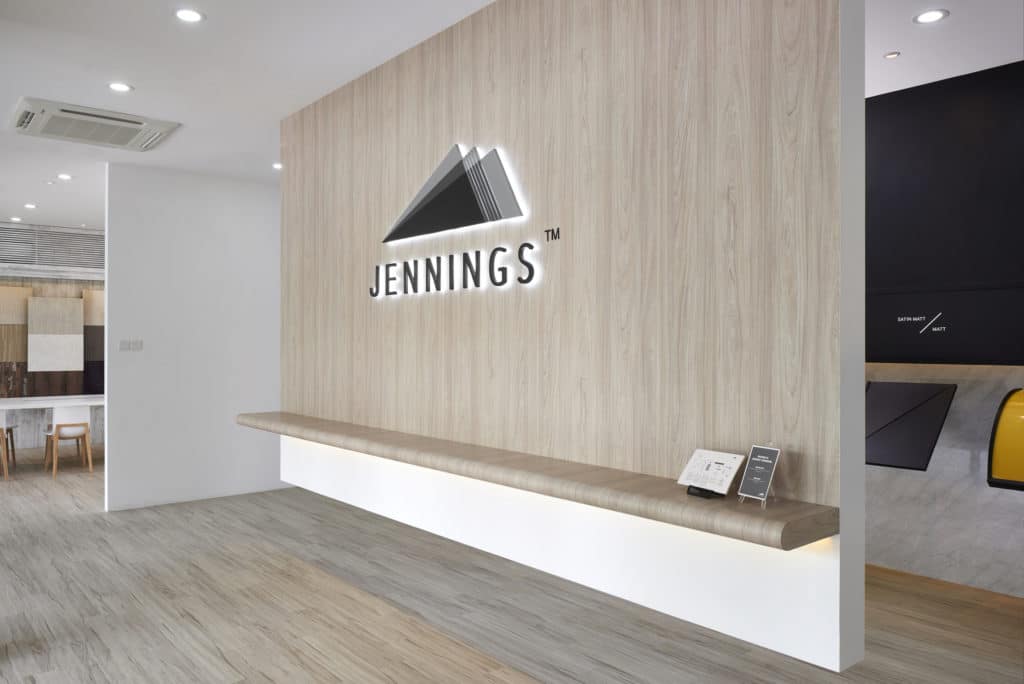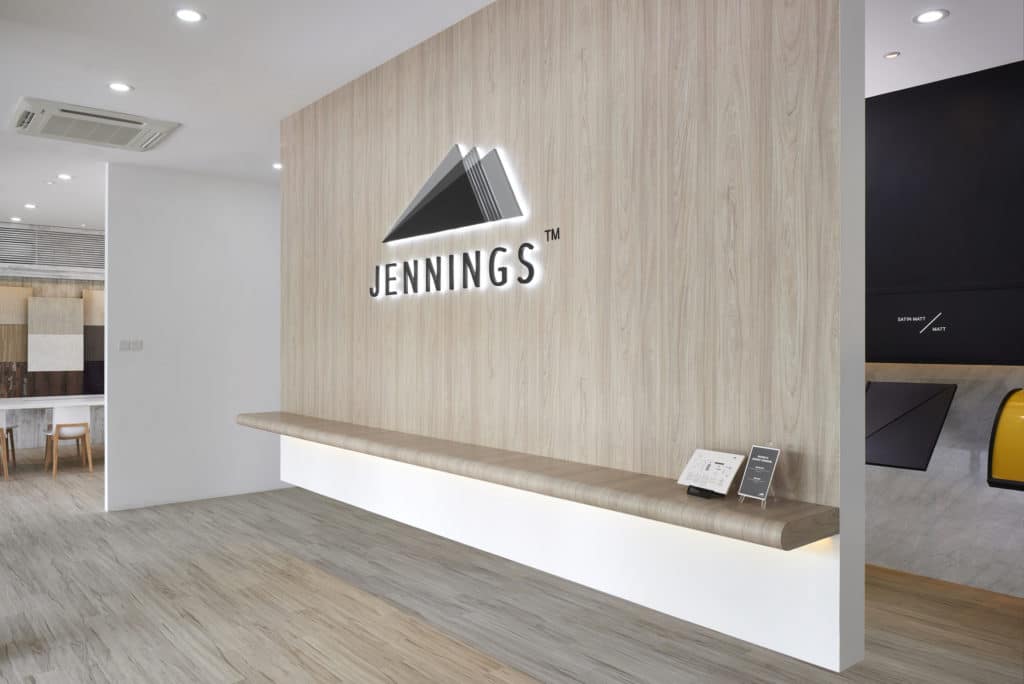 Address:
23 Sungei Kadut St 1
Singapore 729323
Mondays – Fridays:
8:15am to 5:15pm
(last walk-in at 4:45pm)
Saturdays:
8:15am to 3:15pm
(last walk-in at 2:45pm)
Closed on Sundays and Public Holidays