Use These Laminates For Your Interior Design Makeover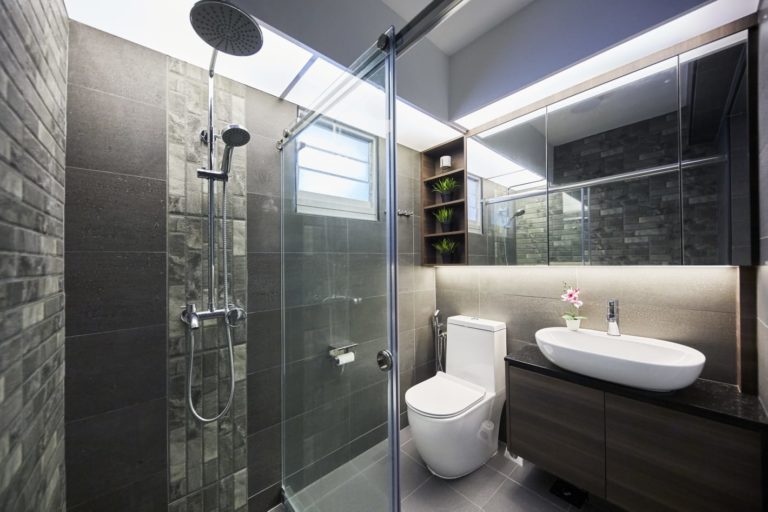 Many in Singapore have ideal expectations of what they want in their dream home or office. But few ever make that dream into reality due to prior time, design or financial constraints during the decor process. If you are in this situation, there is always room for improvements when you use laminate sheets. If there is something you want to correct such as your wardrobe surface, give it a second chance with the application of laminates. To help you visualize what laminates are like when applied in an interior setting, keep scrolling for our inspiration below.
A Blank Canvas Of Possibilities
Find that your decorative pieces clash against distracting wall colours? When there is too much colour in your abode, this is a great opportunity to take a step back with neutral shades. Here, White Marble (PG2827HG) Wall laminates are applied on the feature wall while Design White (P0949HG) laminates are used on the television console table.  If you already have plenty of light coming from your windows, these white laminates can be a refreshing addition by brightening up your living space. Any decorative pieces such as photo frames and artwork will stand out even more beautifully against this all-white backdrop. As a final touch, Marmo (ASG2744HG) laminates add dark grey accents to this predominantly monochromic colour palette.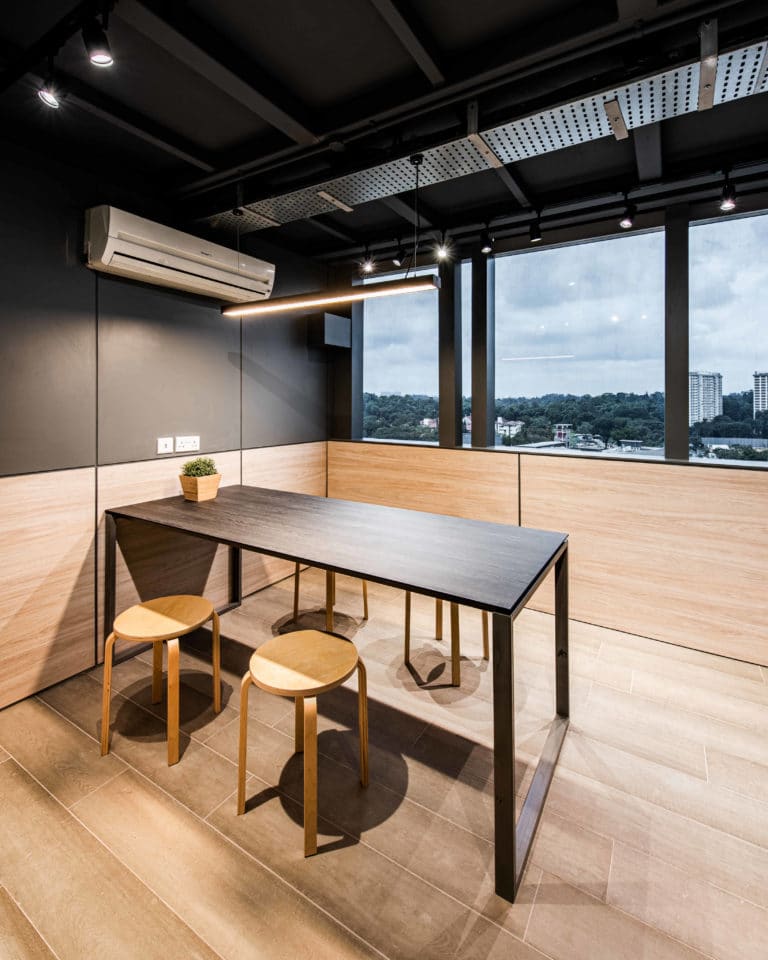 All For Productivity
Intrigued by earthy tones and always wanted to implement it in your home? In a workplace setting, your office design not only creates an important first impression on potential clients, but it also has an impact on how productive your employees are. With that in mind, one thing you want to avoid is using too many bright colours, which makes it easy for anyone to be distracted. Using Saratoga White (PQ1076N) laminates, matching wood tones with your wooden flooring is a great way to start. Mouse (RP2193T) laminates also add contrast and as a whole, this design scheme looks more collected and put-together.
Simple Can Be Beautiful
Have yet to dress up your cupboards with laminates inspired by nature? Dark Lenox Oak (PG1991V) laminates work particularly well in infusing a feeling of freshness into the area. It is a simple change that can make the bedroom look warmer and more inviting, the best atmosphere to get a peaceful night's sleep. For a more cohesive look, Gris Fossile Glamour Walnut (PJ2253WY) laminates are incorporated to enhance the aesthetics of the room with its darker wood tone.
A Show-Stopper Indeed
Ever fancied the idea of a dark, sultry bathroom? As it is not a typical go-to style for most homeowners, you can really make a bold statement with this moody colour palette. Here, Smoked Ash Yoko (WP8853MT) laminates are applied on the bottom cabinet, enhancing the visual appeal of the space. The shine of your metallic accessories will look more luxurious against this dark bathroom setting as a result.
Get The Look
We hope this has helped you kickstart your home or office makeover. With laminates, it is worth the update to make it a space you will love for years. Here at Jennings Laminates, you are sure to find laminate designs that suit your style and budget. Before you make your decision, you can always visit our showroom and take some of our laminate samples home. With almost thirty years of experience dealing in High-Pressure Decorative Laminates since 1988, we believe in providing homeowners with the best. Get started with Jennings Laminates today!
---
Ready to get started?
Don't forget to first visit our blog for more nifty tips and get the latest updates on our Facebook page today! Need more information? Drop us an online enquiry and we'll be happy to help!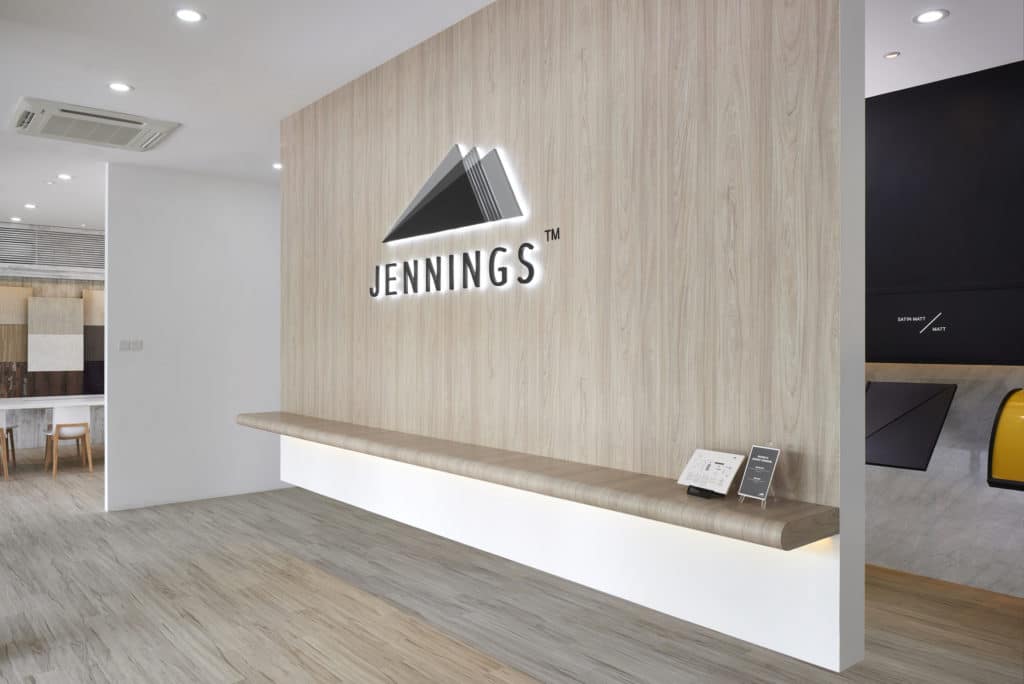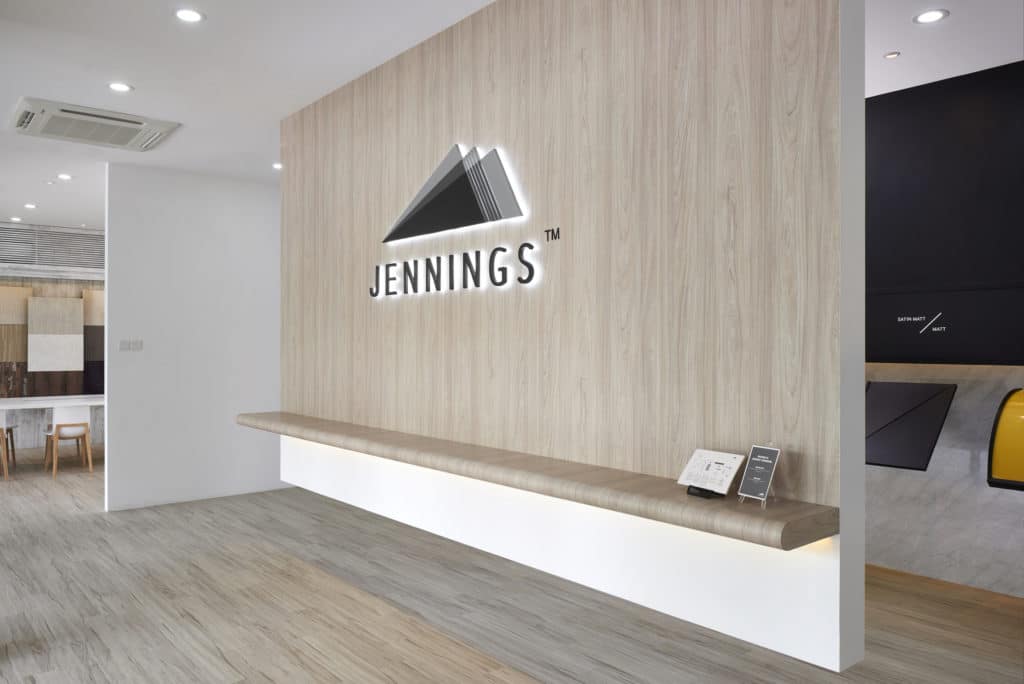 Address:
23 Sungei Kadut St 1 Singapore 729323
Mondays – Fridays:
8:15am to 5:15pm (last walk-in at 4:45pm)
Saturdays:
8:15am to 3:15pm (last walk-in at 2:45pm)
Closed on Sundays and Public Holidays